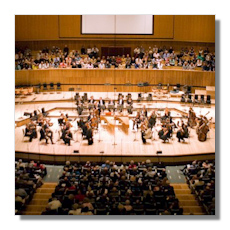 It has been called the world's leading festival of early music by The Times, London, and it's been touted as paradise for fans and performers of early music by The New York Times. But no matter what you call it, the Boston Early Music Festival is sure to steal your heart and keep you coming back every other June. The next Early Music Festival is 2011 and then again in 2013 and so on, and when the festival comes to Boston, the city comes alive with music. It is a weeklong extravaganza of early music, and it's well worth your time.
Getting There
Because of the extensive musical presentations and operatic productions, there are several different venues in the Boston area for the weeklong celebration of early music. They include: the First Church in Cambridge, 11 Garden Street in Cambridge; the Cutler Majestic Theatre at Emerson College, and the Morgan Library & Museum, 225 Madison Avenue in New York City.
To get directions to the various venues and to find your way around the City of Boston, you can peruse the Visitor's Guide online at http://www.bemf.org/pages/fest/visit.htm for those details. If you need a hotel room in Boston, we recommend Boston Hotels. Cheap flight tickets to Boston can booked at CheapFlight.org
History and More
Founded in 1980, the Boston Early Music Festival has earned a high place in the musical community, and is now the largest and most respected early music festival in the world. Every two years, this prestigious festival comes to Boston and offers a week of fully-staged Baroque opera masterpieces, concerts by outstanding soloists and ensembles, nearly 100 Fringe Concerts put on by both established and emerging artists, many Masterclasses, interesting Pre-opera lectures, the Public Symposia, a fantastic Family Day and the highly-esteemed Exhibition.
In addition to the exciting main opera that each Boston Early Music Festival offers, the festival also features a series of concert performances that showcase some of the most celebrated artists and ensembles in early music. It's a tour of history and the world via diverse musical programs. Also, music enthusiasts can attend the many Fringe Concerts throughout the week. These concerts feature some of today's up-and-coming musical performers as well as established early music artists. Past Fringe Concert performers include: Camerata Koln, Capriccio Stravagante, Quicksilver, Bimbetta, Exsultemus, REBEL and The King's Noyse to name a few.
While there are other early music festivals in the world, few offer Family Day, which is festival favorite. On that day, children and parents alike are treated to a day of fun-filled education on a variety of musical topics, ranging from the study of certain instruments to a guided tour of instruments displayed at the highly-acclaimed Exhibition. Speaking of the Exhibition, some call it the heart of the festival. You can visit more than 100 craftspeople and service organizations, which features instrument builders, music publishers, historical societies and more. It's simply a must-see if you're into early music. Whether you're 9 or 109, you'll love your time spent at the Boston Early Music Festival.