Malcolm Arnold's music has always been more musician-friendly than critically acceptable, which probably helps explain his healthy discography… the list which follows is not meant to be exhaustive; but is simply a introductory listening guide. For those interested in a more detailed current discography, the "Arnold at 75" supplement published by Gramophone magazine (see above) is essential; but in general terms, the following recordings are presently available:
Symphonies: As mentioned in the main article, at the time of writing (September 1996), there were three separate cycles of Arnold's symphonies under construction: the London Symphony Orchestra/Richard Hickox on Chandos; the National Symphony Orchestra of Ireland/Andrew Penny on Naxos and the Royal Philharmonic Orchestra/Vernon Handley on Conifer. The Conifer set is unusual in that it has been pairing the symphonies with other orchestral works by Malcolm Arnold, to form an expanding edition of Malcolm Arnold's music on the label; the other two cycles tend to be symphonies-only. A number of symphonies are also available in recordings by Malcolm Arnold himself, on the EMI and Everest labels.
Concerti: Conifer has released two of collections of concerti with chamber orchestra as an adjunct to their symphony; while Emma Johnson and Thea King have recorded competing collections of the two concerti of clarinet for AS&V and Hyperion respectively (the Emma Johnson version has only been preferred here because it adds additional, non-concerti Malcolm Arnold works to the collection; where King includes works by Britten and Maconchy). Hyperion has another miscellaneous concerti collection available; while EMI Eminence has a reissue collection forthcoming. Individual concerti are also available on performer-driven collections, such as the Julian Bream guitar concerti collection listed below.
Dances, Overtures and Orchestral Works: Incomplete sets of the Malcolm Arnold dances are available on Lyrita (Malcolm Arnold conducting) and Chandos; but the new (complete) set forthcoming from Naxos may be worth waiting for. Malcolm Arnold has also recorded a collection of overtures with the American Reference Recordings label; while Hyperion has released a set of the complete Sinfoniettas (Sinfonietti?) (Koch International has paired a recording of the first two works with the Serenade for small orchestra). BBC Classics has promised a 2 -disc set of live Proms performances to be released this year; but at the time of writing, no further details are available. Going from the sublime to the (intentionally) ridiculous, the original Hoffnung Festival concert recordings (including the final Hoffnung Astronautical Music Festival (1961) which was actually supervised by Malcolm Arnold) have been released on EMI; while a celebratory festival recording has been issued on Decca.
Music for Brass: The "Grimeys" (alias the Grimethorpe Colliery Band) and the Dallas Wind Symphony have competing editions of Malcolm Arnold for brass available (Conifer and Reference Recordings respectively… I lean towards the GCB only because Malcolm Arnold takes over the baton for his amazing The Padstow Lifeboat – see below); but neither has included Arnold's brass masterpiece, the Symphony for Brass Instruments . Fortunately, this work is available in a powerful performance by the Phillip Jones Brass Ensemble (see below) as part of a British music for brass collection on London.
Film music: Original soundtrack albums drift in and out of availability; but the collection on Chandos (see below) – if flawed – remains a useful introduction to Malcolm Arnold's filmic style.
Chamber and Instrumental Music: The Nash Ensemble has recorded the complete chamber music for Hyperion (three CDs); while Benjamin Frith has recorded the complete piano music for Koch International. Both sets are worth sampling for the "other side" of Malcolm Arnold's music.
At the time of writing, none of Malcolm Arnold's vocal music seems to be available on disc.
(A recording of symphonic Deep Purple conducted by Malcolm Arnold was considered for inclusion in this list… although clearly essential listening for anyone interested in Sir Malcolm's musical development, it may be slightly beyond the conceptual boundaries of the Classical Net site)
(Please note that the Malcolm Arnold Society (address included in main article) releases regular current discography lists to members; as well as advice on forthcoming performances of Malcolm Arnold's music. The author of this page is a member of the Malcolm Arnold Society; but the opinions expressed here should be taken as his own, and should not be construed as reflecting the opinions of the society or its (other) members)
Introductory Listening
More than most composers, Malcolm Arnold was a remarkable conductor of his own music (although he could play fast and loose with rubato… his must-hear version of the First Symphony adds more than ten minutes to the versions by Hickox and Penny); so these versions have generally been preferred over more recent (but still excellent) recordings. It goes without saying that this choice is entirely personal (of course); and all correspondence will be happily entered into.
Symphony No. 1, Op. 22 (1949)
(with: Concerto for Two Pianos (Three Hands); Sarabande and Polka from Solitaire; "Tam o' Shanter" overture; English Dances: Nos. 3 and 5)
Bournemouth Symphony Orchestra/Malcolm Arnold
EMI "British Composers" CDM764044-2
If Parry thought Ralph Vaughan Williams' "A Sea Symphony" was "full of impertinences", what would he have made of this one? An opening Allegro which sounds like Shostakovich stuck in a groove; an Andantino second movement which drifts helplessly towards the brink; and a fugal Vivace con fuoco finale which turns into the Strauss waltz from hell before collapsing into dead silence. To borrow a line from another Arnold (Schwarzeneggar), Malcolm was getting seriously pissed off when he wrote this symphony; and no one has ever caught that quality quite as savagely as the composer himself.
Symphony No. 5, Op. 74 (1961)
(with: Symphony No. 2; "Peterloo" overture)
City of Birmingham Symphony Orchestra/Malcolm Arnold
EMI CDM763368-2 or CDM566324-2
A eulogy-symphony for lost friends (included famed horn-player Dennis Brain and satirist Gerard Hoffnung), this is my favorite Malcolm Arnold symphony.
Symphony No. 9, Op. 128 (1986)
(with an interview between conductor Andrew Penny and Malcolm Arnold)
National Symphony Orchestra of Ireland/Andrew Penny
Naxos 8.553540
The amazing Ninth, in its premiere commercial recording.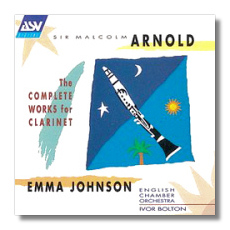 Concerti for Clarinet and Orchestra - No. 1, Op. 20 (1948); No. 2, Op. 115 (1974)
("The Complete Works for Clarinet" - with the Three Shanties for Wind Quintet; Sonatina for Clarinet and Piano; Fantasia for Clarinet; Divertimento for Flute, Oboe and Clarinet)
Emma Johnson (cl); English Chamber Orchestra/Ivor Bolton
AS&V CDDCA922
The first clarinet concerto was written for Frederick (Jack) Thurston, the second for Benny Goodman… but Johnson (as with King on the rival Hyperion disc) takes these very different musical portraits in her stride. The addition of four chamber works with clarinet by Malcolm Arnold is an enjoyable bonus.
Concerto for Guitar and Chamber Orchestra, Op. 67 (1959)
(with Rodrigo: Concerto de Aranjuez; Bennett: Concerto for Guitar and Chamber Ensemble)
Julian Bream (g); Melos Ensemble/Malcolm Arnold
RCA Victor Gold Seal (Julian Bream Edition) 09026 61598 2
It isn't easy choosing between the two JB recordings of the guitar concerto… they're both excellent (& both include the Orange Juice (Rodrigo's Concerto de Aranjuez) as one of the couplings. In choosing this one, I've been swayed by the second coupling as much as by Malcolm Arnold's conducting… much as I enjoy Tōru Takemitsu's "To the Edge of Dream", Richard Rodney Bennett's guitar concerto is a work which must be heard.
The Padstow Lifeboat, Op. 74 (1968)
("Arnold on Brass" - with: Fantasy for Brass Band; Little Suites for Brass Band, Nos. 1 and 2; (arr. Farr) English, Scottish and Cornish Dances)
Grimethorpe Colliery Band/Malcolm Arnold
Conifer CDCF222
The "authentic" foghorn of the lifeboat at Trevose, Cornwall is said to be notoriously raucous; so any normal composer writing a tribute to it would bend over backwards trying to hide it. Not Malcolm Arnold: he throws its off-key moaning and groaning at the listener from all directions at one. Once heard, never forgotten (no matter how much you try).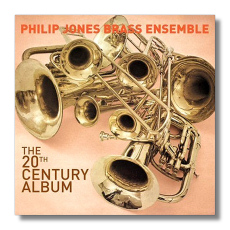 Symphony for Brass Instruments, Op. 123 (1978)
(with Arnold: Quintet for Brass; Bax: Fanfare for the Wedding of Princess Elizabeth, 1947; Bliss: Antiphonal Flourish for Three Brass Choirs; Flourish for Two Brass Orchestras (Greetings to a City); Fanfare for the Lord Mayor of London); Britten: Fanfare (The Eagle has Two Heads); Russian Funeral; Fanfare for St Edmondsbury; Havergal Brian (arr. McDonald): Fanfare from "The Cenci"; Tippett: Fanfare for Brass; Walton (arr. Howarth): Spitfire Prelude and Fugue)
Phillip Jones Brass Ensemble/Howard Snell
Decca/London 430369-2LM or 470501-2
Malcolm Arnold's masterpiece for brass, performed by its dedicatees.
The Sound Barrier (A Rhapsody for Orchestra), Op. 38 (1952)
("Malcolm Arnold - Film Music" - with: (arr. Palmer) music from The Bridge on the River Kwai; Whistle Down the Wind; Hobson's Choice; The Inn of the Sixth Happiness)
London Symphony Orchestra/Richard Hickox
Chandos CHAN9100
If Malcolm Arnold's music is defined best by its sound, the nightmare faced by an arranger (even one so talented as the late Christopher Palmer) is greater than ever. This disc is still an enjoyable tribute to Malcolm Arnold's film music; but could have been so much more. The highlight is (not surprisingly) Malcolm Arnold's own arrangement of music for David Lean's film "The Sound Barrier", complete with percussion sonic booms and piccolos per ardua, ad astra (as it were). Of the arrangements, the bouncing "Hobson's Choice" comes closest to the Malcolm Arnold ideal; but the loss of the children's chorus from "The Inn of the Sixth Happiness" finale makes the "This Old Man" variations seem rather odd….
A Grand, Grand Overture (for three electric vacuum cleaners, electric floor polisher, rifles and orchestra), Op. 57 (1956)
("Hoffnung's Music Festivals" - with assorted musical idiocy by Arnold, Reizenstein, Searle, etc)
(very) miscellaneous soloists; the Hoffnung (alias Morley College) Symphony Orchestra/Malcolm Arnold
EMI Classics CMS763302-2
Dedicated, inevitably, to President Hoover, this pump and circumstantial overture remains one of Malcolm Arnold's most popular works (during an American tour, the work's popularity induced Hoover Corp. to hold a reception in his honor); but all of the Hoffnung Festival pastiches are delightful: The United Nations (which adds as many brass bands as there are entrances to the hall to your basic, non-Hoffnung orchestra) and Leonara No. 4 (which improves Beethoven's greatest (also, only) opera with chronologically-challenged off-stage brass and "The Happy Wanderers"). Of course, listening to "A Grand, Grand Overture", you can't help wondering what noise-wrecked rehearsal inspired its composition….