Prokofieff's fantastic opera, The Fiery Angel (1920-26), has intrigued audiences ever since its belated premiere in Venice in 1955, two years after the composer's death. There was a concert performance a year earlier conducted by Charles Bruck, and a recording released in 1956 led by him and featuring most of the cast from that effort. When I finally heard the opera, about twenty years later, courtesy of that pioneering LP set, I was fascinated by the work, despite the screechy, weak monophonic sound and the substitution of the French language for Prokofieff's Russian. Neither did I realize then that I would eventually stumble across a previously unnoticed satiric element in the opera, probably the work's artistic raison d'etre.
In 1991, Deutsche Grammophon issued the first stereo recording of the work, with Prokofieff maven Neeme Järvi conducting. I read critic David J. Fanning's review of that CD set which appeared in the July issue of Gramophone. About the music itself he wrote of "… some obvious nods to Stravinsky (such as the motif for Renata's obsession with her Fiery Angel being a speeded up version of the opening of The Firebird)… " Frankly, I hadn't noticed that thematic similarity before, but Fanning is quite correct, and seems to suggest here that Prokofieff was showing musical deference to his elder by borrowing the motif from the popular ballet. But Prokofieff, I wondered, paying homage to Stravinsky? I'd been in the thrall of the music of Prokofieff for over thirty years by then, had read numerous biographies of the composer, knew his personality, knew his music well. Prokofieff would not, at that time in his career especially, have tipped his hat to Stravinsky in any musical work, since he regarded him as his greatest rival (and Stravinsky, it must be noted, harbored similar feelings about Prokofieff – the two were vying for supremacy in the Parisian avant garde at the time of the work's composition). True, there were times in the past, and perhaps even an instance or two in works to come, where vague stylistic similarities could be noticed, but never thematic ones – except here. Now I was beginning to see the satire everyone else had overlooked.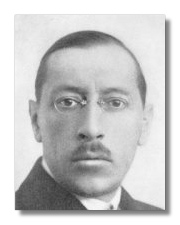 In his notes to that Järvi recording, musicologist Richard Taruskin describes the music depicting Prokofieff's obsessive Renata as "… a patently Stravinskyan ostinato…", apparently referring, as well, to the motif in the opening of The Firebird. He seems to suggest (since he elaborated no further on the point) that Prokofieff had lifted this music from Stravinsky and transplanted it into his opera, expecting that nobody would notice. Could Prokofieff, though, actually have been naïve enough to believe no one would recognize the purloined motif from The Firebird slightly altered in The Fiery Angel, which also, of course, just happened to be about a winged creature of fire? Hardly – Prokofieff was well aware the musical world would not be oblivious for long to even subtle thievery. In sum, he neither stole in covertness nor borrowed in tribute, but nevertheless clearly wanted the listener, as we shall see, to make the connection with The Firebird and Stravinsky. That's surely one of the reasons he retained the titled The Fiery Angel from the Valery Bryusov novel upon which his opera is based. For years musicologists have been struggling to analyze this work, always misinterpreting Prokofieff's use of the Stravinsky motif (when they noticed it at all!).
They have been more concerned with examining this work's apparent contradictions, trying to reconcile its bizarre humor (skeletons that sing out to gainsay their magician-master; Méphistophélès gobbling a servant boy and making him reappear in a dustbin) with its dead-serious music – there's barely an echo of The Love for Three Oranges in this score. Some say the opera is a defense of Christianity: the fanatical Inquisitor's absolute righteousness and poor Renata's hysteria and irrationality, they argue, are among the traits portrayed to excess as a cathartic means of expelling the bad elements within the church to preserve and defend the good. Others conjecture the work is merely a psychological examination of a twisted character: aren't Renata's Madiel (the fiery angel) and the other spirits who appear to her simply figments of her imagination? Some even take a feminist view of the story: Renata is an enlightened, if rather boldly eccentric, character whose relationship with the mysterious fiery angel goes awry only when she introduces sex into it. In the end she is accused of consorting with the devil by the Inquisitor – the ultimate representative of a male-dominated world – who sentences her to burn at the stake, thereby symbolizing the oppression of female sexuality. Others see it primarily as a satiric black comedy, a view I more or less hold, and one that is eminently tenable once we take a look at the Stravinsky connection.
The setting for this bizarre story is 16th-century Renaissance Germany. Renata, a kind of hysterical visionary, goes about, Firebird motif nearly always in tow, bringing havoc and mayhem to those around her, yet somehow garnering, through some mystical quality, the loyalty of so many of them, like her oft-rejected suitor, Ruprecht, and the nuns in the convent she joins in the last act. Ruprecht, in fact, is described by Taruskin as "the all-time Man Who Won't Take No for an Answer." Indeed, his pursuit of her does seem baffling considering Renata's constant rejection of him – only the blindest and most fanatical love could yield such unrelenting faithfulness. But then so many others, of course, seem beguiled by her, as well, like the nuns, who couldn't be in love with her in the manner of Ruprecht, but follow her rather with the conviction of true believers. Her dangerous influence is powerful and far-reaching, despite her openly crazed manner and hysterical persona. One might wryly observe that only in opera could a neurotic teenage girl seize such control over a presumably more reasoning world. Could it just be that Prokofieff here, tongue firmly imbedded in cheek, is erecting a parallel between Stravinsky and Renata – Renata, the opera's central and dominating character, dogged (or propelled along) by that demonic Firebird motif? Is Prokofieff declaring, via this seemingly outlandish but cleverly innovative scheme, that Stravinsky's influence is wreaking damage to the music world, his many disciples blindly, irrationally following him to utter artistic catastrophe? Knowing Prokofieff's sardonic, caustic personality, such a satire would hardly be implausible, but let me offer a bit more evidence to make the satiric shoe a rather perfect fit.
One can observe that the Firebird motif also serves as Renata's remote puppet of doom, the musical spirit behind the maiming or destruction of many of the opera's characters. Thus, whenever Prokofieff wants to portray Renata's negative influence on others, listen for that "Stravinskyan ostinato" to show up sooner or later – especially in crucial (read symbolic) moments. For instance, in the Act III duel between Ruprecht and Heinrich (supposedly the fiery angel's human incarnation), hear the motif goad Ruprecht, goad him to carry on with a duel he can't win, owing to the fickle Renata's sanction against harm to Heinrich. In the fight Ruprecht is seriously wounded. "Following Stravinsky, Gentlemen, will result in foreordained disaster for your art," Prokofieff seems to warn fellow composers here, a finger wagging faster than the furious music. In the last act the motif appears, slightly transformed, when the nuns sing a rhythmic chant-like version of it to drive away evil forces: "Get away, dark spirit, destroyer of bliss, get away criminal and sinful one… " Slowly they become possessed by this dark force, anyway. Need I identify the dark force?
Doesn't the music, you ask, seem at times to veer away from its satiric demeanor, though, appearing, at least ostensibly, as a kind of early 20th-century Exorcist? Indeed – that's why I qualified my view of this opera as a "satiric black comedy" with the escape-hatch clause "more or less." Admittedly, it is a work that is many things, as suggested earlier, some seemingly contradictory. Artistic ambiguity is hardly anything new, though, and might here be viewed as a kind of parallel to the cubism prevalent in art at that time. Still, the work is unified by its satire, remaining therefore primarily an allegorical lampooning of Stravinsky. Since Prokofieff failed to get the opera staged in his lifetime, however, the contemporary relevance of the satire had been lost. Stravinsky, after all, had turned to the influence of Schönberg in the early 1950's; and Cage and Boulez and many others were on the scene. So, I suppose one can easily see how the "Stravinsky" connection in the opera has been overlooked for all these years.
Some musicologists may still feel skeptical about my arguments here; so I merely ask of them to consider the "coincidental" titles of the Stravinsky ballet and the Prokofieff opera, and then to listen to the motif in question in both works, and, of course, to the works themselves. After some reflection they will have to cling to their skepticism only by the tenuous thread of any of three possibilities: that Prokofieff filched a musical fragment from a fellow composer whose thematic talent was, by overwhelming consensus, vastly inferior to his own, and disguised the pilfered material, he believed, beyond recognition, while overlooking the practically identical titles that might alert listeners to his theft; or that Prokofieff, a quite egotistical fellow, decided to pay homage to a rival he rather resented in a work he regarded then as his magnum opus, having spent more time and effort on it than on any other of his compositions (imagine Stravinsky repaying the debt by imitating Prokofieff in Oedipus Rex!); or that the nearly identical titles of the two works and their sharing of a winged creature of fire, were grandly coincidental in that Prokofieff's use of the motif was merely unconscious mimicry. (But couldn't I expand on this last far-fetched notion by asserting the perceived satire was unconscious, as well, still therefore an elaborate product of Prokofieff's audacious mind?)
Of the three recordings of The Fiery Angel, I would recommend the recent Gergiev/Philips marginally over the Järvi, with the Bruck, rereleased in 1989 on Ades, the interpretive equal of either, but also the sonic inferior of both. It took nearly thirty years for this masterpiece to be staged, and another forty or so for the enigma of its clever and gutsy satire to be solved. Anyone interested in 20th-century opera should explore this work – to me, the greatest opera this century has to offer.
One small caveat: beware of the notes to the Järvi recording: as mentioned earlier, they were written by Richard Taruskin, a well known musicologist – but also a well known Prokofieff detractor. (Why DG hired him for the job is baffling.) His historical and background information are well researched and enlightening, but his judgments about the music must be taken lightly, even though he generally manages to muzzle his usually disparaging tone when speaking about Prokofieff. A look at concert schedules and recording catalogues reveals he's accomplished nothing with his various denunciations of the composer – thankfully. Eminently preferable are the notes by Robert Layton for the Gergiev, or those accompanying the Ades recording by Hans Swarsensky, the musicologist who discovered the manuscript of The Fiery Angel in the basement of a French publishing house after Prokofieff's death.
Copyright © 1998 by Robert Cummings. All Rights Reserved.