DVD Review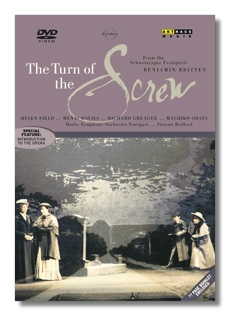 The Turn of the Screw
a Chamber Opera in Two Acts
Governess: Helen Field
Mrs Grose: Menai Davies
Quint/Prologue: Richard Greager
Miss Jessel: Phyllis Cannan
Flora: Machiko Obata
Miles: Samuel Linay
Cologne Opera at the Schwetzinger Festspiele 1990
Radio Symphony Orchestra Stuttgart/Steuart Bedford
Stage director: Michael Hampe
Libretto by Myfanwy Piper
Based on the novel by Henry James
Directed for Video and Television by Claus Viller
Arthaus DVD 100198 4:3 114 mins
Opera is meant to be seen as well as heard, of course, but that hasn't kept people from enjoying it in audio-only formats for more than a hundred years. Still, there are some operas that seem to work only when one can see them. For me, Britten's The Turn of the Screw, a work I once respected but didn't love, is such an opera. If you know this opera, but haven't quite been able to warm to it, I recommend this DVD highly as an example of how, just like the cliché, "seeing is believing."
This production was filmed in 1990 at the Schwetzinger Festival. The instrumental ensemble is German, but the conductor (a Britten specialist for decades now) and all of the singers but one were born in an English-speaking country, which obviously helps the intelligibility of Myfanwy Piper's libretto. (Even so, you might want to use the English subtitles, although they curiously don't always match what is being sung.)
Britten's opera, based on a novella by Henry James, is about an idealistic but emotionally unstable governess sent to care for two children, Flora and Miles, at an English estate. At first she is charmed by them, and comforted by the companionability of the housekeeper, Mrs. Grose. Soon, however, ominous things begin to happen, and the governess (who remains unnamed throughout) encounters what seem to be the ghosts of a Mrs. Jessel, the former governess, and a Peter Quint, the former master's valet. There is a hint that something unsavory happened between the children and these domestics, and that this unsavory something is continuing even after Quint's and Mrs. Jessel's death. The governess resolves to save the children. Mrs. Grose and Flora eventually escape, but what or who they escape is not quite clear. The governess and Miles stay behind. Just as Miles appears about to reveal the truth to the governess, Quint reappears one last time, and, after a struggle for Miles's soul, the boy falls dead in the arms of the governess. Much has been made of the story's subjectivity – were the ghosts ever really there? is the supernatural element entirely the governess' imagination? – but if one accepts a Freudian interpretation, then several questionable details remain unanswered. It is enough, perhaps, to construe The Turn of the Screw as an ambiguous ghost story wrapped around incidents of possible child abuse, and to leave it at that.
This handsome production is just about ideal. The sets are simple but atmospheric. The dominant note is sounded by a sepia-toned lake, a backlit backdrop from which Mrs. Jessel frighteningly emerges. The singers are physically convincing and vocally secure. As the governess, soprano Helen Field is pretty and vulnerable, and her voice soars in anguish as the screw turns ever more tightly. Menai Davies's sympathetic Mrs. Grose is the voice of normalcy in these strange goings-on. Peter Quint is played with cool charm by tenor Richard Greager, and with a wink and a nod to Peter Pears, who created the role. Phyllis Cannan is a terrifying Mrs. Jessel, both physically and vocally. (I guess one could argue that it's hard to imagine her as a prim governess in life.) Perhaps most impressive of all is little Samuel Linay as Miles. He has the voice and the face of an angel – albeit a very serious one! – and he treads the stage like a seasoned professional. The only false note is sounded by Machiko Obata's Flora. Actually, there's nothing wrong with her acting or with her singing, but it makes little sense to cast an adult singer as Flora. If one can find a Samuel Linay, can't one find his female equivalent? As Flora is supposed to be his younger sister, it strains credibility when she is almost as tall as the governess.
The picture format is 4:3, and in spite of the preponderance of dark scenes, this DVD looks good. The sound (PCM stereo) is good too, but it lacks brilliance. Twice during the opera, ghostly voices make a faint intrusion into the soundtrack. It sounds like interference from a nearby radio station, but it is more likely to be the effect of a "leaky" mike among the production crew. It's annoying. Fortunately, each intrusion is brief.
There are two special features, albeit of negligible value. One, a six-minute "Introduction to the Opera," is just a spoken plot synopsis over stills. The other is a trailer for other Arthaus titles.
Minor reservations aside, this is a fine production of The Turn of the Screw. I understand that Arthaus Musik has a Peter Grimes from the English National Opera on its way!
Copyright © 2003, Raymond Tuttle