DVD Review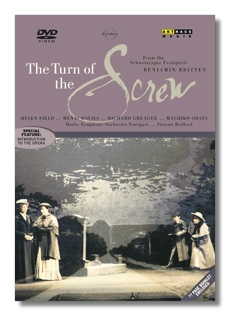 The Turn of the Screw
a Chamber Opera in Two Acts
Governess: Helen Field
Mrs Grose: Menai Davies
Quint/Prologue: Richard Greager
Miss Jessel: Phyllis Cannan
Flora: Machiko Obata
Miles: Samuel Linay
Cologne Opera at the Schwetzinger Festspiele 1990
Radio Symphony Orchestra Stuttgart/Steuart Bedford
Libretto by Myfanwy Piper
Based on the novel by Henry James
Stage director: Michael Hampe
Directed for Video and Television by Claus Viller
Arthaus DVD 100198 4:3 114 mins
Britten was surely one of the finest composers of opera from the 20th century, but actually relatively few of his operas are regularly performed outside of England. This one was staged in Stuttgart in 1990, a co-production of The Royal Opera House Covent Garden and the Cologne Opera. But it is not as internationally collaborative as it sounds – there isn't a German singer in the mostly British cast, though the orchestra is the scaled-down Radio Symphony of Stuttgart.
This opera deserves greater exposure, even though it may pose a challenge to those whose sensibilities favor Verdi and Puccini or Mozart and Wagner or other more traditional opera house fare. Not that The Turn of the Screw is fraught with much dissonance or is atonal – it's fairly approachable for the most part. However, Britten doesn't lavish any memorable themes on the work but, as was typical of him, focuses instead on atmosphere. And here he is brilliant: Henry James' grim novel incarnates as a creepy, dark creation, with evil always lurking around the corner, or seeming to, owing to some psychological trickery.
Helen Field is excellent as the governess, both dramatically and vocally. Samuel Linay as Miles is also very convincing, and if his voice makes the transition to the adult arena, he could have a major career on the opera stage. (He should be an adult by now, but I haven't heard anything of him.) Machiko Obata is vocally quite good as the other child in the story, Flora, but her physical appearance – she's an adult – gives her the difficult task of portraying a role she's clearly miscast in. The other members of the cast are quite good, Menai Davies in particular as Mrs. Grose. Actually, there isn't a weak performer in the production.
Speaking of the production – its more technical aspects – it is quite fine, from the spooky sets to the sound reproduction, which may not match that of the better opera recordings of today, but is nevertheless more than serviceable. A few lines are missed in the subtitles and, in a few instances, the words are at odds with the singing. The orchestra plays splendidly for Steuart Bedford, who may be the real star of the recording. He incisively captures the unsettling spirit of Britten's score here, allowing its subtle colors and Stravinskyan sound to emerge brilliantly. If you like Britten and want to go beyond Peter Grimes, Billy Budd, and a Midsummer Night's Dream, try this powerfully atmospheric opera.
Copyright © 2003, Robert Cummings