Related Links
Recommended Links

Site News
CD Review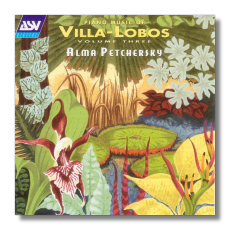 Piano Music - Volume 3
Poema Singelo
Prole Do Bebé Book II – Os Bichinhos (1921)
Suite Floral (1917-18)
Prolo Do Bebé Book 1 (1918)
Alma Petchersky, piano
Academy Sound & Vision CD DCA1149 75m DDD
Composers all have a tendency to childlike memories or other similar forays into the past with Villa-Lôbos being no exception. This latest release in AS&V's excellent account of the Brazilian composer's piano music focuses chiefly on those childlike pursuits.
The two books entitled, 'Prolo Do Bebé are delightful excursions into the realm of fantasy and are imbued with a Jungle Book like simplicity. Petchersky is a firmly committed advocate to this composer's keyboard works and she churns out interpretations that are at turns fastidiously enacted and skimpily played.
Sandwiched between both books we find a craftily construed 'Poemo Singelo' that is embalmed with all the exotic Spanishness, so characteristic of the South American territory. The 'Suite Floral' is also quite beautifully evocative, coming to life in several unexpected ways.
As already mooted, Alma Petchersky plays with customary aplomb as she has already done throughout the previous two discs and as such, this third volume is more than recommended.
Copyright © 2003, Gerald Fenech