CD Review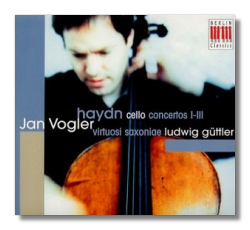 Cello Concertos
Cello Concerto #1 in C Major, H. VIIb:1
Cello Concerto in D Major, H. VIIb:4 (spurious)
Cello Concerto #2 in D Major, H. VIIb:2 (Op. 101)
Jan Vogler, cello
Virtuosi Saxoniae/Ludwig Güttler
Berlin Classics 0017172BC DDD 70:27
As many as eight cello concertos have been attributed to Joseph Haydn, but the authenticity of only two of them has been established, and that just in the past fifty years. These two (Hob. VIIb:1 and 2) are presented on this CD. The third concerto included here, Hob. VIIb:4, sometimes is attributed to Haydn's brother Michael, and sometimes to the Italian composer Giovanni Battista Constanzi. Because of its length, it has been called the "little" D-major Concerto, to distinguish it from Hob. VIIb:2, which is in the same key.
Numbers 1 and 2 were written while Haydn was in the service of Prince Esterházy. The Prince had an excellent court orchestra, and Haydn was expected to provide not just symphonies, but also concertante opportunities for the most accomplished instrumentalists in the orchestra. Haydn's cello concertos were the most prominent examples of this genre since Vivaldi. In fact, the two authentic concertos are the earliest ones to enter the more-or-less standard orchestral repertoire. They are predominantly positive works; minor key episodes, when they occur, offer more harmonic contrast than emotional contrast. They form a study bridge between the Baroque and Classical eras.
Jan Vogler, who plays a characterful 1712 Guarneri cello, seems to be quite a young man, although he made his United States debut as far back as 1988. Born in Berlin, he now is most active in Dresden (where this recording was made) and in New York City. Vogler's playing is stylistically enlightened, but he makes little attempt to sound like what Esterházy's cellists must have sounded like. His playing is genteel and sophisticated, but a warm smile seems never to be far from his lips. He overplays nothing and is content to let Haydn be Haydn, which is more than one can say for some of the famous cellists who have recorded one of more of these works.
Some listeners might recognize the name Ludwig Güttler. He has made many recordings as a trumpet and corno da caccia soloist; this is my first encounter with him as a conductor. He makes no false steps, and he leads the Dresden-based Virtuosi Saxoniae in performances that are quietly sophisticated and poised.
The CD and booklet are housed in a DigiPak. The booklet contains good notes and little photographs, including a laughably tiny one of the Virtuosi Saxoniae. In it, you can almost make out that the group's members are human beings, not dandelions.
Copyright © 2002, Raymond Tuttle