CD Review
Debut Recording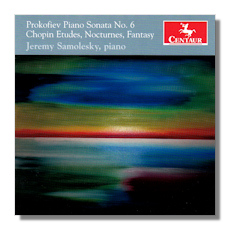 Serge Prokofieff: Piano Sonata #6 in A Major, Op. 82
Etude in A Flat Major, Op. 25, #1
Etude in C Sharp minor, Op. 25, #7
Etude in B minor, Op. 25, #10
Nocturne in E Flat Major, Op. 9, #2
Nocturne in C minor, Op. 48, #1
Fantasy in F minor, Op. 49
Jeremy Samolesky, piano
Centaur CRC3406 64:48
From pictures posted on the internet I would judge that Canadian-born pianist Jeremy Samolesky is in his early thirties. He has concertized throughout North America, Europe and Asia and has generally received positive critical response. He possesses two doctorate degrees from the Eastman School of Music, one in solo performance, the other in collaborative performance. From 2007, he has served as Associate Professor of Piano at Auburn University, though he still regularly concertizes. Thus, from his biography, you might well be inclined to view him more as an academic-oriented musician than primarily a concert pianist. I'm not sure how he views the balance between his dual professions, but from the evidence on this CD, I would say Samolesky could have a reasonably successful career in music apart from the academic world.
His Prokofiev Sixth Sonata opens with that fateful motto played clearly and at what seems the perfect tempo. But while the music here has impact and a necessary trenchant sense, it still comes across as a bit tepid, a tad restrained. From here on, however, things change: the development section works up plenty of tension, with the col pugno chords having a crushing effect, and those ominous running descending notes later on bringing off a chilling climax. The return of the main theme now has more impact and the closing pages are full of intensity and drama. The second movement is also well played, and for once the middle section sounds more consequential, more forceful. The third movement waltz is well phrased and beautifully played, but with the music having an edge, a sense of urgency, especially in the middle section. Samolesky may sound a little cautious in some of the thornier passages of the finale but overall he conveys the harrowing and ultimately defiant character of the music with a keen sense: right after the dark middle section Prokofiev introduces a brief development of the themes and Samolesky brilliantly captures the frenetic and desperate character of the music. His ending comes on with a crushing sense of triumph, those final spastic chords hammered out with wanton defiance, as the motto theme resounds in triumph.
Samolesky sees the Prokofiev Sixth as the composer's artistic reaction to Stalin's repression and atrocities in pre-World War II Russia. It's an increasingly common view of this work – and similar takes on the Seventh and Eighth have also been expressed. Samolesky apparently knows Prokofiev's music well, having taken part in a Canadian documentary on the composer's piano music. So, as this performance of the Sixth shows, he has something of consequence to say in this work. His rendition may not topple the best in the Sixth – Richter, Giltburg (Orchid ORC100023) and Cliburn, but his account of this masterpiece is certainly well above the run of the mill, probably on the level of the very different Osorio performance on Cedille, recently reviewed here by me.
Samolesky's Chopin is also quite distinguished. His A Flat major Etude flows nicely, as his dynamics are wide ranging and sensitively applied, and his tempos slightly elastic and always tasteful. The C Sharp minor Etude is also deftly imagined and played, though I think the ensuing B minor sounds a bit lumpy in the difficult octave passages of the opening and closing sections. The two nocturnes are also quite convincing, the C minor especially so in its dark and stormy character. Samolesky subtly catches the varying emotions and mood swings of the great Fantasy in F minor. This may be his best Chopin performance on the disc. In certain ways, Samolesky's style of interpreting Chopin reminds me of that of the late Nikita Magaloff: both seem to veer away from sentimental approaches and both employ slightly weightier dynamics. They also seem to have similar tempos.
Centaur's sound reproduction is vivid and Samolesky's album notes are enlightening. For those whose tastes include both Prokofiev and Chopin and who want to sample the talents of a young pianist with good ideas, this CD should not disappoint.
Copyright © 2015, Robert Cummings