Related Links
Recommended Links

Site News
CD Review
Original Masters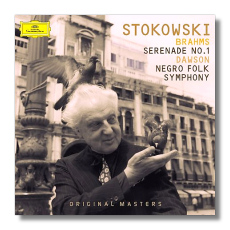 Johannes Brahms: Serenade #1 1
Quintet in G minor 2
Overture on Hebrew Themes 2
William Levi Dawson: Negro Folk Symphony 3
Howard Hanson: Night Music 2
1 Symphony of the Air/Leopold Stokowski (1960)
2 The New York Ensemble of the Philharmonic Scholarship Winners/Dimitri Mitropoulos (1950)
3 American Symphony Orchestra/Leopold Stokowski (1963)
Deutsche Grammophon "Original Masters" 4776502 2CDs
Like another Stokowski disc I just reviewed, these releases had a previous incarnation. They were issued on two CDs on an MCA label in 1989. At that time I opined that the sound was a bit dry but gave the set 3 and a half stars. Now DG has coupled it with the music led by Mitropoulos for filler and at a bargain price.
The difference is amazing. Now I can hear 'The Stokowski Sound'. This is particularly impressive in the Brahms. The recording has one of those 'toe-tapping' that engages my attention. I usually read and write while I listen. First I put on the MCA discs and read and doodled. Then I put on this release and found myself moving to the music, looking up and smiling.
Stokowski championed 'new' music throughout his life and this included music by Black Afro-Americans (or Negroes as he would have referred to them). This included programming the fourth movement of Still's "Afro-American" Symphony when he toured with the Philadelphia Orchestra in 1936 and made sure he performed it as they went through the South. Dawson's symphony is a lot like Dvořák's "New World".
The Prokofieff and Hanson music is interesting filler and a nice lagniappe but my readers will buy this for the Stokowski. Four stars… would be five if DG had included more Stokowski.
Copyright © 2007, Robert Stumpf II