Related Links
Recommended Links

Site News
CD Review
Karajan Gold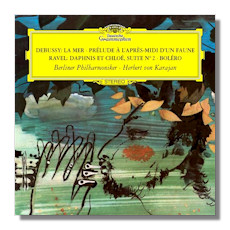 La Mer
Prélude à l'après-midi d'un faune *
Daphnis et Chloé (Suite #2)
Boléro
* Karlheinz Zoeller, flute
Berlin Philharmonic Orchestra/Herbert von Karajan
Deutsche Grammophon 4777161
Billed as one of the "100 Greatest Recordings of All Time", this disc is not quite that, but is certainly ethereally beautiful and a worthwhile addition to even the smallest collection of French Music. While not especially French in nature, these much-admired recordings come up sounding wonderful as the sixth disc in ten "Karajan Master Recordings". The series as a whole turned out to be rather uneven, but the Berlin Philharmonic is stunning here, and Karajan shows his legendary skill on the podium.
Although La Mer sounds rather German in approach, that is to say, soft and fuzzy in spots, it really is very fine. Karajan always did this work in an interesting way; here he highlights all sorts of details, and his ensemble is immaculate, but it still comes off as tame in places. The sonic picture – as always with this conductor – favors the strings and winds, and leaves everything else to (pardon the pun) drown. But then the brass suddenly leap out for a climax, and then submerge again for the strings to cover up. It kind of feels watery, as if you are being dunked underwater at random. The playing is of such a high quality that you may not be able to find it in you to care much. The same applies to this Faun, with a hedonistically pretty flute solo, and sheer beauty for the next nine minutes. I doubt you'll mind. In case collectors are wondering, this Faun roundly outclasses the conductor's EMI version, which lacks any kind of detail in the lower sections of the orchestra.
The Ravel is more of a mixed bag. First, the good news: this Suite from Daphnis et Chloé is mesmerizing. Karajan really could draw near unbelievable sounds from his orchestra, and here, at the peak of his reign in Berlin, he marshals everyone involved to give an incredible display of color and depth. The winds and strings have to be heard; this is your grandfather's Berlin Philharmonic. Now for the bad news; this Boléro – only here to add playing time to the original issue – is well liked in England for no reason at all. It's not well recorded, and it hardly does anything at all as far as building to a climax. None of the conductor's recorded versions of this work are especially good, but EMI and DG delight in issuing them anyways. The first 49 minutes of this disc are the kind of music we all dream of hearing, though, so get this before it goes out of print!
Copyright © 2014, Brian Wigman