CD Review
3 Classic Albums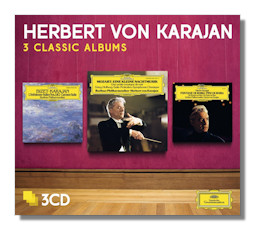 * Wolfgang Meyer, organ
Berlin Philharmonic Orchestra/Herbert von Karajan
Deutsche Grammophon 4793446 3CDs
Karajan gets two other entries in the "3 Classic Albums" series as of this writing, a set devoted to the Second Viennese School (simply some of his best work ever), and a Tchaikovsky set (meh). If you have been wanting to see what this extraordinarily prolific conductor was all about, start here. Of the major composers who Karajan dominated over the years there's nary a trace. Nor do we have any of the "modern" masters he championed. But what we do have is quite good, and those other, more famous recordings are practically ubiquitous. Generous helpings of Bizet, a disc of string music, and a curious hodgepodge of Italian classics give a solid, if unusual overview of Karajan's late career in Berlin.
Disc one begins with Mozart, a composer who Karajan never quite mastered. I disliked an early EMI effort of the Serenade #13 and find this one to be just as unpleasant. It isn't the legato phrasing, or even the old-fashioned approach. Indeed, Karajan is quicker than quite a few maestros of his generation. Where the reading fails is in conveying any sense of joy, of character, or of expression. The music is played almost painfully straight, as if the conductor was trying to avoid any self-indulgence. What we end up with is something devoid of anything noteworthy. Happily, the rest of the disc is much better. The Grieg Suite is a nice surprise. Karajan was not a good bet in Baroque music, yet this charming composition that harkens back to that era goes very well. It's not as quicksilver or elegant as some renditions (Marriner on Decca is very fine) but the Berlin strings are radiant. The Prokofieff is a classic, heavier than some, but still a noteworthy addition to the Karajan discography.
Disc two is a highly successful Bizet program. Karajan was generally reliable in French music, and his RCA recording of Carmen is admired. The three Suites here are excellent. Featuring the string playing one expects from Berlin, the maestro also pays – for him – an unusual amount of attention to the brass and lower voices of his orchestra. The results speak for themselves. Karajan always did ballet music well, but his digital-age Tchaikovsky is nowhere near this exciting or razor-sharp. Balances are also reasonably normal, and despite the short playing time of the album, you could probably listen all over again and not care. The first-chair woodwinds are simply to die for.
The third disc is a little weirder. Karajan's EMI Pines of Rome (in mono, with the Philharmonia) is a hidden treasure in the vast sea of the conductor's achievements. His 70's Respighi is arguably less successful, or at least it sounds that way. This recording suffers from Karajan's penchant for smothering his brass and percussion. Furthermore, everything feels too smooth. By this time, the conductor had created such a signature sound that every composer, regardless of style, was subjected to his wishes. Mind you, certain moments are staggeringly phrased, and the fact remains that the Philharmonic has all but lost this individual character. But there are also points where the strings turn to soup, and the effect is not appealing. The Pines of the Appian Way suffers from what appears to be sonic meddling from the engineering team (Karajan also personally involved himself in the process at this point in his career). Various instruments seem to leap out of the textures at random. The results are jarring and prove detrimental to an otherwise unique interpretation. On the other hand, Fountains is less prone to meddling of any kind, and is beautiful.
Finally, the set ends with three pieces for string orchestra. The Suite #3 from Ancient Airs and Dances crawls along, but if you were to hear it on the radio, you'd stop in awe of the playing. The last two pieces are beyond outdated, but somehow sound great in an age where so much "authentic" playing makes beautiful music sound like junk. Karajan at his worst could do that too, and the Mozart and Pines don't benefit from the artist's peculiar ideas and habits. But everything else does, and this is a well-balanced tribute to a great career.
Copyright © 2014, Brian Wigman