Related Links
Recommended Links

Site News
CD Review
Cantilena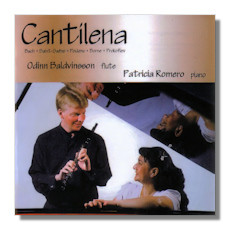 Music for Flute and Piano
Odinn Baldvinsson, flute
Patricia Romero, piano
Divine Art Diversions DDV24137 65m DDD
This enchanting disc incorporates music for flute and piano by four renowned composers who are only too well known and another one which is a complete rarity. J.S. Bach's Sonata #6 is one of the 6 that the composer wrote approximately between 1717 and 1741. It was probably dedicated to Michael G. Fredersdorf, the chamberlain of Frederick the Great, and its freer form and light texture reflect the prevalent tastes in Frederick's court at the time.
Saint-Saëns' "Romance" is one of several pieces written in the aftermath of the Franco-Prussian War, but only this lovely elegiac work has remained in the repertoire. Poulenc's Sonata dates from 1957, although the composer had contemplated its creation for almost five years. Officially premièred in June 1957, the piece was enthusiastically received, and with its generosity of spirit and chirpy delights it has become one of the best loved works in the entire flute repertoire.
François Borne is the obscure name in this elite group. He was probably born in Belgium and his dates of birth and death are still a matter of controversy. Some cite the period 1840-1920, while others insist on a life span lasting 67 years (1862-1929). What we do know is that he was held in high regard both as a professor of the flute but also as an exhaustive essayist on flute design. Judging by the virtuosity, elaborate ornamentation and sheer brilliance of his "Carmen Fantasie", he must have been a composer of no mean talent.
Prokofiev's p 94 is his only work in the genre. Composed between 1942 and 1944, the piece has an elegance and sweetness that makes it instantly attractive, and its classical style has endeared it to both performer and listener alike. Both soloists offer crisp and agile performances and their playing is continually arresting.
Copyright © 2009, Gerald Fenech