Blu-ray Review
Ingenious Opposites, Volume 2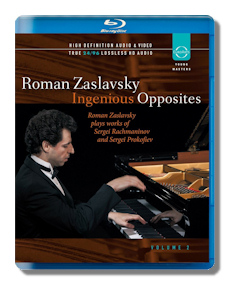 Prelude in G sharp minor, Op. 32 #12
Prelude in G minor, Op. 23 #5
Prelude in G Major, Op. 32 #5
Etude-tableaux in E Flat minor, Op. 39 #5
Etude-tableaux in G minor, Op. 33 #7
Etude-tableaux in D Major, Op. 39 #9
Moments musicaux in B minor, Op. 16 #3
Moments musicaux in E minor, Op. 16 #4
Sonata #3 in A minor, Op. 28
Sonata #7 in B Flat Major, Op. 83
Roman Zaslavsky, piano
EuroArts Blu-ray 2003032 63m DTS 4.0 LPCM Audio 4.0 CD Included
This is the second volume in EuroArts' "Ingenious Opposites" series featuring Russian-born Israeli pianist Roman Zaslavsky. The first disc paired works by Schumann and Liszt, arguably two composers of quite different styles and temperament. That said, Rachmaninov and Prokofiev were even further apart: the older Rachmaninov (1873-1943) looked back toward tradition and wallowed in a Romanticism that to many was dead; Prokofiev (1891-1953), on the other hand, was the Russian enfant terrible of his day and often composed in a percussive, brash style instantly recognizable as his own.
But they were hardly opposites in every way: both composers became well known for writing numerous popular and catchy tunes, and Prokofiev, for all his modern ways, generally wrote very approachable and on occasion even Romantic-sounding music. So, these two composers had more in common than they might have admitted. In addition, physically the two were built very much alike: both composers were very tall for their time – Rachmaninov about 6'2" and Prokofiev about 6' – and each was a notable virtuoso pianist with enormous hands. Not surprising, the two also wrote very difficult music, both in their solo outputs and in their concerto repertory.
Here Zaslavsky turns in generally quite fine performances in a selection of some of the composers' most popular works. His Rachmaninov may not be revelatory but it certainly is multi-faceted. Zaslavsky catches the lyrical, heart-on-sleeve side of the composer and also unearths the darker, restive side of Rachmaninov: the G Sharp minor Prelude, Op. 32 #12, brims with tension and remains unsettling right through the quiet closing pages; and Zaslavsky's Op. 39, #5 Etude Tableaux is arrestingly stormy and passionate in its nervous and seething vehemence. But Zaslavsky also delivers the more direct Rachmaninov works with a mastery: the #5 Prelude from Op. 32 is gentle and consoling in its sweet sadness and longing, while the grandeur and ecstasy of the Op. 39, #9 Etude Tableaux come through with plentiful energy and drive. Not everything here is a great success, though: the Op. 16 #4 Moment Musicaux lacks subtlety in both dynamics and pedaling in some of the louder passages. Overall, however, Zaslavsky's Rachmaninov is very convincing.
His Prokofiev is good too, but perhaps a bit less successful. Zaslavsky's account of the one-movement Third Sonata is very colorful and energetic in the outer sections and the lyrical music in the middle section comes through with just the right mixture of mystery and music-box charm. Yet, every so often Zaslavsky seems to inject a sort of stop-and-start aspect that slightly disrupts the flow. This trait is noticeable in both sonatas, but not a major distraction. The Seventh is also quite convincing, most notably in the first two movements, though the finale sounds a little cautious, especially as the music races toward the shattering ending. Still, his performance is solid and technically quite assured.
The sonics on the disc are vivid, though the Steinway piano Zaslavsky uses has a slightly cushioned sound. One thing I need to draw your attention to is that this disc is both an audio-only Blu-ray and a video Blu-ray. After you insert the disc into your player you will reach a menu where you can select either the twelve audio tracks or the "bonus video" track, which features the whole program in sharp detail and excellent sound. It has five extra tracks to accommodate credits for the works performed and for persons involved in the recording process. A worthwhile disc.
Copyright © 2013, Robert Cummings