Blu-ray Review
Jake Heggie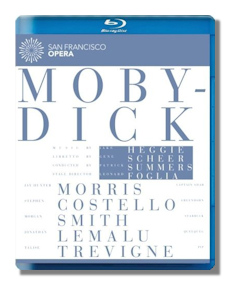 Moby-Dick
Jay Hunter Morris - Captain Ahab
Stephen Costello - Greenhorn
Morgan Smith - Starbuck
Jonathan Lemalu - Queequeg
Talise Trevigne - Pip
Robert Orth - Stubb
Matthew O'Neill - Flask
Joo Won Kang - Captain Gardiner
Carmichael Blankenship - Tashtego
Bradley Kynard - Dagoo
San Francisco Opera Dance Corps
San Francisco Opera Chorus & Orchestra/Patrick Summers
Libretto by Gene Scheer based on the novel Moby-Dick by Herman Melville
Leonard Foglia - Stage Director
Robert Brill - Set Designer
Jane Greenwood - Costume Designer
Donald Holder - Lighting Designer
Elaine J. McCarthy - Projection Designer
Keturah Stickann - Choreography
Recorded Live at the San Francisco Opera - October, 2012
EuroArts Blu-ray 2059654 142m (plus bonus tracks) LPCM Stereo DTS HD-Master Audio 5.1
Jake Heggie's Moby-Dick (2010) is a masterful work that should appeal to a broad range of opera mavens. It is quite approachable for a contemporary work, about as accessible, say, as the early operas of Benjamin Britten but totally different stylistically. Heggie (b. 1961) scored an earlier success on the operatic stage with Dead Man Walking (1998-2000) and followed with several other successful operas including The End of the Affair (2003; rev. 2004-05). Perhaps one could now rank Heggie as among the most important opera composers of the day, standing with John Adams, Philip Glass, Thomas Ades, and perhaps a few others. Heggie has also written many songs, as well as orchestral, piano and chamber works.
I suppose this is one new opera whose plot need not be explained, as its theme of revenge and man taking on indifferent nature in the form of the monstrous whale named Moby-Dick is well known. So I'll deal mainly with the music and production. Heggie has carved out his own, rather individual style, though in this opera you'll hear a few moments that may recall Leonard Bernstein, but only fleetingly. In the scoring you may notice some passages evoking (probably coincidentally) the film works of John Williams, and also, most notably in some of the darker music in Moby-Dick, you may hear vague similarities to the Eighth Symphony (Sinfonia Antartica) of Vaughan Williams. But I mention these composers as reference points more than as influences, as Heggie hardly shares anything substantial in common with any of them, especially John Williams or Ralph Vaughan Williams.
While in past works, especially his songs, Heggie employs elements of jazz, folk music and pop music, here he is more serious in his style, more intense in dealing with his subject matter. True, there is a folkish quality to the music from time to time and even a lightness and playful character in certain passages, but he must have come to grips with the reality that you can't portray Captain Ahab without grim moods and dark music. He seems to suggest this in his essay, Composing Moby-Dick, which is included in the album booklet. He explains that once he grasped the soul of Ahab's character, which came with the First Act monologue "I leave a white and turbid wake", the rest of the opera flowed comfortably from there. Heggie reveals a "four-chord harmonic theme" serves as "the meat of the entire opera".
The lightness and folkish character I referred to above are an essential part of Moby-Dick. Here Heggie conveys a deft sense for seafaring jubilance and celebration, often tinged with a New England robustness: just try the crew members' numbers Hand, boys, over hand (Scene 2, Act I) and Oh, jolly is the gale (near the beginning of Act II). Of course such light moments are rather rare but offer needed contrast. Another feature of the opera is Heggie's fairly transparent scoring: he favors string-dominated writing much of the time, with double basses often slashing away at persistent rhythmic figures. He uses brass rather sparingly and often favors bell-like sonorities and tambourine, the latter largely because of Pip's use of it in the Herman Melville novel. Heggie is one of the relatively few composers who can write extremely attractive and memorable melodies: in Scene 6, Act I a lovely, sort of consoling theme associated with Pip's missing status is introduced by chorus (Lost in the heart of the sea), and later on another arresting melody, having appeared earlier but less conspicuously in the opera, is sung by Starbuck in the First Act's last scene as he ponders shooting Ahab (Oh Lord, what shall I do?). Oddly, however, attractive as this melody is, I hear it as a variation on the big theme in Puccini's Nessun dorma. Still, it's quite a memorable creation in this opera. There are other striking themes as well, including one sung by the chorus just before Ahab and crew members board boats to chase after Moby-Dick.
The cast is excellent in this recording. Jay Hunter Morris, who scored great success as Siegfried at the Met in both Siegfried and Götterdämmerung in 2011 and 2012, sings Ahab with a powerful fanaticism. He is simply brilliant throughout the opera, convincingly becoming his character. Morgan Smith as Starbuck and Stephen Costello as Greenhorn (Ishmael) are also splendid. But on their level also is Talise Trevigne in the trouser role of Pip, the cabin boy. Patrick Summers draws excellent playing from the SFO Orchestra and, because the composer was involved in this and the original Moby-Dick production at the Dallas Opera in April 2010 also led by Summers, it is safe to conclude that Summers' interpretation met with Heggie's approval and is thus unlikely to be bettered by anyone else in the near future.
The opera's sets are quite brilliantly imagined here: there are representations of sails, masts and the like and while the deck of the Pequod, where most of the opera takes place, may not be lavishly equipped, it's quite atmospheric and fully convincing. The lighting effects are equally effective: when the men depart the Pequod for whale hunts, they mount a background wall and are surrounded by thick, seemingly glowing strips of light in the shape of boats that, from the vantage point of the audience and you the viewer, yield an appropriately surreal, sort of ghostly appearance of tiny men in boats floating on a vast sea. There are other lighting and special effects that depict the unruly waves of the sea, rain and thunder, fog and mist, and much else.
The sound reproduction is very vivid, the picture clarity sharp and the camera work spot-on. There is a bonus feature offering interviews with Heggie, the principals in the cast and the conductor. All in all, this is a splendid recording. Highest recommendations!
Copyright © 2013, Robert Cummings