CD Review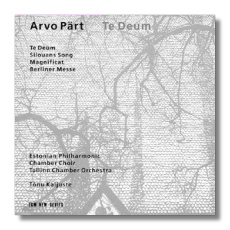 Te Deum
Silouans Song
Magnificat
Berliner Messe
Estonian Philharmonic Chamber Choir,
Tallinn Chamber Orchestra/Tönu Kaljuste
ECM New Series 1505 (439162)
Summary for the Busy Executive: A composer a-Pärt.
I suppose most of us consider Estonia and the Baltic in general as the back of the beyond. For years, for example, I thought Finland had mountains and fiords, like Norway. To a great extent, Estonia as part of the old Soviet empire was indeed isolated. Not only did much get out, but not much got in. Pärt, for example, wrote the first Estonian serial piece, Nekrolog, in 1960. The various fads and fancies of contemporary music, like the Angel of Death, pretty much passed over the Baltic. Pärt began writing "professional" music before he had officially left school. Yet, it took him a long time to find his own voice. One finds at least two periods of self-imposed silence in his career. The fact that the international contemporary-music scene had little presence in Estonia threw Pärt back on his own resources and on the resources of the past. He discovered for himself plainchant and the Renaissance choral masterpieces based on it. These inspired his current style, but significantly, I think, Pärt has abstracted elements in his own way.
Pärt's melodies strongly remind us of plainchant, mainly because they pivot around a central tone, usually moving stepwise fashion above the pivot or below it. The pivot is almost always the constituent note of a triad (remember do-mi-sol?). The harmonies are essentially triadic, with bass notes almost always part of a triad. You might try on a keyboard playing single notes of a g-minor triad in the left hand, while doing upward and downward stepwise runs of a fifth pivoting around the note G. You have something very much like Pärt's basic sound. Pärt calls the process "tintinnabulation," and the music does sound like the striking of tuned bells for a chord, with dissonances coming from the bells' overtones. In Pärt's music, however, the dissonances come from so-called "passing tones," or notes between the notes of a triad. This is obviously music ruthlessly pared down (the composer has spoken of the beauty inherent in a single note played well), and Pärt must meet the challenge of keeping listener interest when essentially harmony or even base tonality doesn't change for a very long time. All the works on the program here never deviate from a base tonality established at the outset. The Te Deum consists of almost half an hour of D modality. Much of the interest of Pärt's music lies in wondering what else and how he will vary. He is a master of texture, although he usually invents very spare textures, often consisting only of two lines. From within an ascetic orchestra (strings, choir, and prepared piano comprise the Te Deum forces), he conjures an amazing panoply of sounds. He has mastered the simple bold stroke: merely repeating the same music in a higher octave can open up worlds. This is not the simplicity of a composer who can do nothing more. Some of Pärt's music, like the Miserere, contains passages of, to use Frank Zappa's phrase, great "statistical density." The near-skeletal lines result from a daring musical mind's Occam's razor.
Pärt runs a risk with each piece: that the composition will fall apart or just lie there like a lox. The big trick is knowing when to change, when the music has to move - a trick, by the way, that some American minimalists have yet to figure out. Even Pärt doesn't always succeed. Silouans Song, for strings, I've never warmed to, although at a mere five-and-a-half minutes, it shouldn't tax my attention span as severely as it does. Pärt must rely, more than most composers, on the intrinsic quality of his basic ideas, and I don't find the one in this piece all that high - essentially, the resolution of a harmonic suspension. Now this idea comes from the same family as the one in Barber's Adagio for Strings, an out-and-out masterpiece. The difference, of course, lies in the two composers' treatments. I don't find that Pärt's treatment does all that much for the idea. Furthermore, most of Pärt's work of the past ten years shares a similarity of mood and tempo - contemplative and slow - as well as of method. An entire program of such works risks putting you to sleep faster than Demerol. Amazingly, except for Silouans Song, that doesn't happen with this disc - perhaps a clue to Pärt's stature as a composer.
The performances are stunning. Something like the a cappella Magnificat - changes on an f-minor chord for slightly more than six minutes - severely tests a choir's ability to keep pitch. The Estonian Philharmonic Chamber Choir begins and ends right on the f-minor money. This is one of the greatest tests of pitch I know. It soars beyond Robert Shaw's sorry account on Telarc, almost to the heights of Dale Warland's on the December Stillness album. Warland makes more of the textural variety of the piece and his singers enunciate perfectly. Nevertheless, the Estonians do well, going beyond the technique demanded by the work to the inside of the music. And they do this with all three choral works.
For those of you who enjoy Górecki's Third, you will likely find something here for you. For those of you who think contemporary music ugly, incomprehensible noise, try this disc. I think it a winner.
If you want more information on Pärt, I recommend Doug Maskew's excellent introduction for Classical Net.
Copyright © 1997, Steve Schwartz