CD Review
Water Works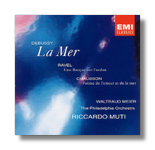 Waltraud Meier, mezzo-soprano
Philadelphia Orchestra/Riccardo Muti
EMI 55120 (new #69801) - 63min
The magnificent playing of the Philadelphians and EMI's vivid recording are quite seductive, but they cannot completely overshadow Muti's tepid interpretations. La Mer in particular sounds lethargic and dull in his hands. In truth, Bernstein on DG takes very nearly as long to work his way through I, but, in stark contrast to Muti, he invests every bar with drama and unparalleled rhythmic excitement. Only in the closing moments of III does Muti finally come alive and give us a glimpse of just how thrilling this score can - and should - be. Muti's Ravel is episodic and bland, especially when compared to a highly charged, sensitive, and richly-colored interpretation like Martinon's (also EMI).
The Chausson fares considerably better, but I still can't bring myself to recommend it it the face of intense competition from Swarthout (RCA Monteux Edition) and De Los Angeles (EMI). Don Vroon, editor of the American Record Guide, had considerable praise for the latter's ideal combination of "innocence, disillusion, (and) wistful nostalgia" in the May/June 1993 issue. Despite Chausson's own passion for Wagner, Meier is far too Wagnerian for my taste. Her French diction is sloppy, and she's insensitive to the intense emotions of the text. Simply compare her indifferent "Bientot" ("Soon") in III to Swarthout's ardent, hopeful, and utterly heartbreaking statement. Then, just moments later, there's real pain and regret in Swarthout's "L'oubli" ("forgetfulness"), which Ms Meier cannot even approach. Nonetheless, the beauty of the Philadelphia strings and the warmth of its brass are especially compelling in the extended orchestral interlude following the end of the poem's first stanza, beginning at 3:44 in I. Once again Muti is in no rush, but that is not as great a liability here as in the other two works on this program. Still, where Muti is relaxed, Monteux relentlessly propels the music forward and makes each note tell.
If state-of-the-art sound and spectacular orchestral execution are all that matter to you, then this disc will serve you well. However, if you also expect depth, drama, and personality, look elsewhere. Better versions of all three scores are readily available. Texts and translations.
Copyright © 1996, Thomas Godell