CD Review
Recitals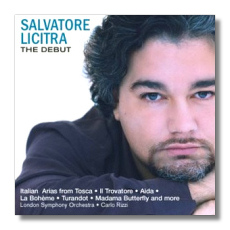 Salvatore Licitra
The Debut
Arias from Tosca, Turandot, La fanciulla del west, Manon Lescaut, Madama Butterfly, Aïda, La forza del destino, Simon Boccanegra, Un ballo in maschera, Macbeth, Il trovatore
Salvatore Licitra, tenor
London Symphony Orchestra/Carlo Rizzi
Sony Classical SK89923 DDD 51:45

Roberto Alagna
Bel Canto
Arias from Poliuto, La sonnambula, La Favorite, Don Pasquale, Norma, Roberto Devereux, Dom Sébastien, I puritani, L'elisir d'amore, Il pirata, La fille du régiment
Roberto Alagna, tenor
London Philharmonic Orchestra/Evelino Pidò
EMI Classics 557302-2 DDD 67:13
Licitra, a young Italian, caused a sensation in May 2002 when he covered a last-minute cancellation by Luciano Pavarotti, who was to have sung his final Metropolitan Opera performance. Pavarotti's no-show as Cavaradossi in Tosca disappointed the waiting audience, but disappointment turned into enthusiasm by the time Tosca had hurled herself from the parapet. Licitra had not sung at the Met before; in fact, his first U.S. performance took place just six months earlier. Now he's booked up internationally for the next several years, although his professional career is just a few years old. Licitra had no life-long ambition to sing opera, but when, at the age of 18, his raw talent was discovered, he began to develop it. In time, his studies took him to Carlo Bergonzi, one of the great tenors from the 1960s and 70s. And the rest, as they say, is history.
It's best to remember that history is seldom what we would like it to be. There is much to admire in this debut recital, and a few things to be fearful of, too. At its best, Licitra's voice is dark Italian gold – a little Del Monaco, a little Corelli, and (no surprise) a little Bergonzi. He has good high notes, and his trumpeting tone is a thrilling thing; Licitra is "all guy," and there's a gap that needs to be filled. His interpretations aren't unique, but thank goodness he's not a thundering "I'll just open my mouth and sing" lunkhead, either. Like many tenors, he likes to sing loudly, and – for the sake of both his voice and his credibility as a vocal actor – he needs to back off. His strength currently seems to be heroes, not melting poets or hapless noblemen. And he can create a hero in just a few bars; his introduction to "Celeste Aïda" is as good as I've heard, and, as he sings about his unlucky patrimony in the introduction to "Oh tu che in seno agli angeli," he is an unusually sympathetic Don Alvaro.
Licitra's Achilles' heel is revealed when he sings softly, as he does at the beginning of this CD, in Cavaradossi's jailhouse aria. It sounds like he has one of those voices that can be controlled at full force, but that becomes unpredictable and unmanageable at mezzo forte or softer. For singers like this, the solution often is to sing loudly all the time, which is potentially damaging. Licitra's voice doesn't exactly fall apart in the quieter passages, but it takes on an unsettled, even tremulous, quality just when he's trying to be meltingly romantic or sensitive. This will need to be watched, and – one hopes – controlled. In the meantime, I'm happy to enjoy this debut CD, which is about 75% fabulous. Rizzi conducts knowledgeably. Sony provides texts and translations, plus the expected "Ain't Licitra wonderful?" essay. The engineering is a little studio hyped.
Roberto Alagna's solo discs have been intelligent and instructive, and the present one – a little history of bel canto singing – is no exception. The tenor gives us a nice mix of the familiar and the unusual. Roberto Alagna may go down in history as the tenor who tried hardest to avoid singing "Una furtiva lagrima" in the version most listeners recognize. On his complete Decca recording of L'elisir d'amore, he sang it in a lower key. Here, he sings it in the customary key, but the second verse is embellished almost beyond recognition. (Donizetti is responsible for these variants, but there is no reason to believe that the composer preferred any of them to what is most frequently sung.)
Alagna is Licitra's mirror-image; he impresses us most when he doesn't try too hard. His annotations to this CD proudly point out the Cs, C sharps, and Ds that he must sing. Alagna's artistry, however, is not about high notes, and it never really was. The selections on this CD display a distressing tendency for the tenor to shout, scream, or otherwise bully his way into the uppermost reaches of his voice. The sound, I am sorry to say, is not attractive. For example, he doesn't even approach Pavarotti in the famous La fille du régiment scene with the nine high Cs – and I say that as someone who seldom worships at the Altar of Luciano. When he elects to use head tone – as he does in one of the arias from La Favorite – the effect is croony and even a little grotesque. Much of this CD is enjoyable, but as time went on, I started bracing myself for the high notes.
I can appreciate Alagna's dilemma: artistically, this repertoire is very appropriate for him, but he doesn't have the high notes for it. I can think of another singer who had to deal with this problem: her name was Maria Callas. Now, I'm not really comparing Alagna to Callas. But as Callas did (successfully), he needs to take stock. Alagna needs to recognize his strengths (intelligence, sensitivity, and a fundamentally attractive voice) and to balance them against the challenges of questionable high notes and a reach that often exceeds his grasp. Leave Pollione and Poliuto to Licitra; we need Alagna around to sing Rodolfo and Faust and (yes) Nemorino.
In spite of my concerns, I have to admit that this recital was assembled with care and taste. Alagna appreciates bel canto style – both French and Italian – and he and Pidò apply lively scholarship to the repertoire. The "missus" (Angela Gheorghiu) even turns up – fetchingly! – for the Sonnambula duet. Texts, translations, and commentary galore are included.
Raymond Tuttle
Copyright © 2002, Raymond Tuttle