Concert Review
LA Opera presents Bizet's masterpiece 'Carmen' at the Dorothy Chandler Pavilion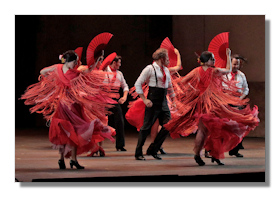 Carmen
Ana Maria Martinez - Carmen
Brandon Jovanovich - Don Jose
Amanda Woodbury - Micaela
Alexander Vinogradov - Escamillo
Presented by LA Opera/James Conlon - September 20, 2017
Los Angeles, CA, Dorothy Chandler Pavilion - 20 September 2017
Also available on SACD:

The LA Opera opened its 2017-2018 season with "Carmen", Bizet's masterpiece that continues to thrill audiences worldwide. Directed by Ron Daniels from the Teatro Real, Madrid production, the impressive 3-Act presentation starred Ana Maria Martinez as Carmen, Brandon Jovanovich as Don Jose, Alexander Vinogradov as Escamillo and Amanda Woodbury as Micaela. James Conlon conducted the LA Opera Orchestra and Grant Gershon served as Chorus Director.
Carmen was conceived as the protagonist of a short story by Prosper Merimee and immortalized forever when Bizet set her to music. The music mixes Bizet's observations of gypsy life in Spain with those Merimee experienced during his time in Spain. Set in Seville, Spain, "Carmen's" libretto was written by Henri Meilhac and Ludovic Halevy. The LA Opera production had a running time of 3 hours and 30 minutes including two intermissions.
Ana Maria Martinez is among the LA Opera company's most cherished sopranos. She has starred in numerous presentations by the company as Mimi in La Boheme; Violetta in La Traviata; Amelia in Simon Boccanegra; Nedda in Pagliacci; Cio-Cio-San in Madam Butterfly and now as Carmen in Carmen. Martinez's LA Opera interpretation of Carmen was not conceived or acted as a sultry, sexy, seductress "femme fatale" who is so powerful as to break the bonds of the operatic stage. Tonight's performance revealed her as a subtle manipulator who men love, and who women hate with trouble constantly on her trail. With believable, sincere acting helped along by her astounding voice, the perfectly realized arias (and duets) sung by her character and the supporting cast members, continue to earn her a wealth of accolades as witnessed by the standing ovation she received at the finale.
Among the most tantalizing and memorable scenes of this production were the famous arias including "L'amour est un oiseau rebelle" ("Love is a rebellious bird") sung by Carmen, and the brilliant artistic excellence and passionate performance of "Les Toreadors" (Votre toast, je peux vous le rendre), the aria sung by the popular matador Escamillo (Alexander Vinogrdov) in his LA Opera debut. The legend of "Carmen" was further heightened by the marriage of flamenco dancing and opera music. In the show stopping flamenco dancing and singing scene at the beginning of Act II at the inn with her friends Frasquita (Liv Redpath) and Mercedes (Kelly O'Connor in her LA Opera debut), Carmen was reincarnated once again thanks to the genius of choreographer Nuria Castejon and her creative team.
Overall, "Carmen" remains one of the most credible operas of our time and has provided the inspiration for countless stage and movie versions, a MTV hip hopera starring Beyonce, and numerous concert versions featuring some of opera's most famous singers. The LA Opera presentation continues through October 1, 2017 at the Dorothy Chandler Pavilion. For more information about the 2017-2018 season, please visit the LA Opera website at www.laopera.org
Copyright © 2017, Paula Edelstein