Related Links
Recommended Links

Site News
Concert Review
Festival of Carols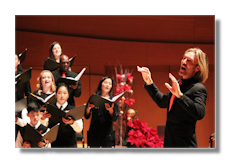 Christmas carols we love
John West, organ
Lisa Edwards, piano
Shawn Kirchner, piano
The National Children's Choir
Los Angeles Master Chorale/Eric Whitacre & Jenny Song
Walt Disney Concert Hall, Los Angeles, CA 9 December 2017
The Los Angeles Master Chorale presented their Festival of Carols at the Walt Disney Concert Hall recently to a capacity audience who repeatedly showed their appreciation for the original and traditional Christmas carols. Sung to perfection, the outstanding arrangements of such traditional carols as "O Christmas Tree," "Silent Night," "The Most Wonderful Time of the Year," "Christmas Time Is Here," and "Joy To The World" were exhilarating and impactful due to the superb tones of the 100 plus members of the LAMC, the National Children's Chorus, organist John West and pianists Lisa Edwards and Shawn Kirchner.
Conducted by Eric Whitacre and Jenny Wong (on one song), the concerts were like light refracted through the facets of a precious gemstone, the vibrant and pure colors of the chorale's voices were beautiful to behold. The brilliant tones and hues seemed to be specially formulated for this season's carols since they provided both celebratory and prayerful homages.
Among the great highlights and there were many – were Eric Whitacre's award-winning "Lux Aurumque" which he adapted to a poem by Edward Esch. This piece increased the range of Eric Whitacre's international reach with the launch of his ground-breaking Virtual Choir, Lux Aurumque. The online project, inspired by a young singer's video upload, was created by 185 singers from a dozen different countries. Whitacre's quiet, serene piece represented an exceptional approach to the genre by allowing the centrality of the chorus. Later in the program, soprano Caroline McKenzie received a standing ovation for her interpretation of "Wonderful Counselor" a tradition gospel/ folk song arranged by Jester Hairston. Ms. McKenzie's voice is as close to angelic as you will ever hear and the audience certainly let her know that.
The Los Angeles Master Chorale's Festival of Carols is among the crown jewels of holiday musical celebrations and this year's concerts led by conductor Eric Whitacre and Jenny Wong were superior in presentation and content.
Copyright © 2017, Paula Edelstein