Concert Review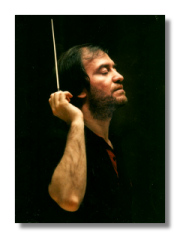 9 November 2002
Isle of the Dead
Symphony #2
Piano Concerto #4
Alexander Slobodyanik, Jr., piano
Kirov Orchestra/Valery Gergiev
Last night (Saturday, 9 November 2002) was one of those concerts one dreams of: wonderful music played by musicians who have it in their bones. It's possible that Valery Gergiev may not be the world's greatest conductor nor the orchestra of the Mariinsky Theatre, better known in the West as the Kirov Orchestra, the world's greatest, but put them together to play Rachmaninoff and you come as close to perfection as anyone has a right as ask. In a wonderful concert which began with Isle of the Dead, too infrequently performed on world stages, they showed the glories in store with a performance which perfectly captured the depths of despair as Charon inexorably rows his passenger across the waters to the Isle of the Dead. Everything which Rachmaninoff portrayed from the famous Bocklin painting was there, including wonderful sound and excellent, involved playing.
Alexander Slobodyanik Junior, to give his full name, joined the orchestra in the too-seldom-heard 4th Piano Concerto. Lacking the dazzle of its two predecessors, this concerto is nevertheless a trove of wonderful melodies. Accurately described by composer/critic Kaikosru Sorabji as more of a 'sinfonia concertante than a concerto in its proper sense,' this is how it was performed by both orchestra and pianist. The young man obviously has the technique necessary to perform Rachmaninoff, and has equally obviously worked previously with Gergiev and the orchestra. While one audience member was heard to say that he felt the orchestra overshadowed the piano, it seemed that they were perfectly intertwined. True, the piano did lack the foremost clarity which one hears in a CD, but one also realized that this was an integrated performance, lacking the microphone placed at the piano strings to capture every sound. This is also as good a place as any to mention the playing of the Kirov Orchestra: wonderful winds and brasses were only a part of the glories they had to offer, with excellent string playing – in short, everything one could want.
After the interval the orchestra performed the 2nd Symphony, again characterized by wonderful solo and ensemble playing. If Gergiev is not the greatest conductor on the podium (which, incidentally, he eschewed standing instead onstage in front of the orchestra), he's surely one of the most charismatic. He knows his orchestra well and that is how they respond to him. Those ladies and gentlemen played their Russian souls out for the completely sold-out Barbican Hall audience, which responded with delight by calling the conductor back repeatedly until they played an encore of the Prélude to Die Meistersinger, a choice which might seem strange, but which perfectly displayed again those wonderful brasses.
This was truly one of those 'died and gone to Heaven' concerts which one hears too seldom but which will be talked of for years to come.
Copyright © 2002, Jane Erb