Related Links
Recommended Links

Site News
DVD Review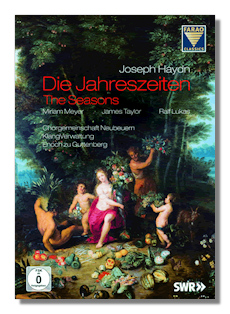 Die Jahreszeiten
Oratorio "The Seasons", HWV 21 #3
Miriam Meyer, soprano
James Taylor, tenor
Ralf Lukas, bass
Neubeuern Community Chorus
Orchestra of the KlangVerwaltung/Enoch zu Guttenberg
Farao DVD D108055 167m LPCM-Stereo DTS Widescreen Anamorphic
It was certainly no surprise for Haydn to be asked to write another oratorio after the overwhelming success of "The Creation" (HWV 21 #3). Pressured by Baron von Swieten, the composer immediately started to work on a translation of the poem "The Seasons" written by Scottish writer James Thomson.
One might assume that Handel found composition easy to come by, but van Swieten's attempts to influence the work's style added to the fact that Haydn was nearly 70, led the composer to utter the famous remark "The Seasons has finished me off, I should not have composed it". But thankfully he did and although the piece does not enjoy the popularity of its predecessor, performances are not infrequent.
The oratorio is in four parts corresponding to the four Seasons, and in a series of inspired arias, recitatives and choruses Haydn describes the course of nature during the year from the view of country people, their joys and fears of the weather, their farming activities along with their lives in a village community.
Enoch zu Guttenberg is the ideal conductor, coaxing his soloists and German forces to high octane performances full of sensitive and deeply committed singing. He is a fearsome advocate of an ecologically-oriented policy, and his intention in presenting "The Seasons" is to pass on his message through music, something in which he is totally successful. The DVD also includes a talk by the composer himself about Haydn's perception of man and nature in modern times and how his interpretation of the work relates to this connection. Superb sound and vision complete an issue of true quality dedicated to one of Haydn's most sublime works.
Copyright © 2009, Gerald Fenech