Concert Review
Cellist Sol Gabetta Delights Audience with Refreshing Approach to Baroque Music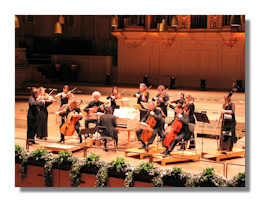 Antonio Vivaldi:
Cello Concerto in B Major RV 423
Cello Concerto in G minor RV 416
Concerto in F minor "L'inverno", Op. 8 #4 (RV 297)
Francesco Durante:
Concerto #2 in G minor
Concerto #8 "La pazzia" in A Major
Johann Pachelbel: Kanon and Gigue
Leonardo Leo: Cello Concerto #1 in D Major
Sol Gabetta, cello
Cappella Gabetta
Tonhalle Zürich Concert Hall - Sunday, January 2, 2011
What better way to greet the New Year than with a concert by one of the world's leading cellists?
The audience gathered in the Tonhalle Zürich Concert Hall on Sunday, skipping lunch to attend the sold-out concert, was eagerly awaiting the Argentinian cellist Sol Gabetta. The 29-year-old has gained an international reputation as one of the finest and most versatile cellists on the classical scene.
The programme featured works by baroque composers. Gabetta was accompanied by the Cappella Gabetta, a 14-person baroque chamber orchestra playing historic musical instruments, which she and her brother Andrés established.
As Gabetta entered the stage, her smiling face radiated warmth, joy and happiness, which was reflected in her cello playing and is also expressed in her name Sol, meaning sun in Spanish. Wearing a royal blue gown, the slender soloist looked very elegant.
As soon as she sat down, she appeared to enter the realm of music and become completely absorbed in it. As she started playing, she enchanted the audience with her vigorous, yet graceful cello playing. She made her cello sing like a human voice and engaged it in dialogue. The tone she got out of the valuable Guadagnini instrument (1759) – the Stradivari of cellos – was warm, pure and almost vocal. Her playful and sensuous approach to baroque music was quite unusual.
Gabetta and the ensemble had chosen a cello concerto by Leonardo Leo, a lesser-known baroque composer, and three concertos by Antonio Vivaldi.
The Concerto in D Major by Leo with its double stops and arpeggios is technically demanding, but gives soloists the opportunity to display their technical brilliance. Needless to say, Gabetta mastered those challenges with bravura. In the second movement she let her cello sing with a soft, rich voice and a warm tone, whereas the third movement was played energetically and passionately but never too loud. The cello never dominated the ensemble but was always part of it. Listening and watching her play was fascinating, as her facial expression reflected the changes in tempo and mood that she expressed musically.
Next was Antonio Vivaldi's Cello Concerto in G minor, RV 416, which makes great demands on the cellist's technical dexterity. Gabetta captivated the audience with her brilliant tonal quality and the breathtakingly fast runs executed with utmost precision. The look of intense concentration on her face while playing fast runs of notes gave soon way to a refreshing playfulness and joie de vivre. You could hear and see that she had fun playing. In the second movement, she impressed with her virtuosity and versatility.
The baroque journey culminated in a rendering of Vivaldi's Concerto in F minor, Op. 8 #4, RV 297, adapted for cello, better known as "The Four Seasons: Winter". The staccato notes and fast runs played with great precision beautifully evoked the image of snow, icicles and icy winds. The musicians revealed once more their high technical and musical standards and their ability to bond in perfect harmony.
Copyright © 2012, Katalin Fekete