Related Links
Recommended Links

Site News
CD Review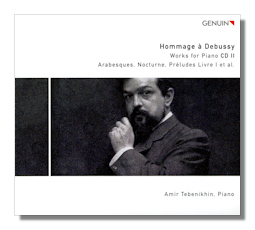 Hommage à Debussy, Volume II
Arabesques #1 & 2
Danse bohémienne
Ballade (slave)
Danse (Tarentelle styrienne)
Nocturne
Preludes: Book One
Amir Tebenikhin, piano
Genuin GEN12227 76:28

Hommage à Debussy, Volume III
L'Isle joyeuse
Estampes
D'un cahier d'esquisses
Piece pour piano-Morceau de concours
Masques
Preludes: Book Two
Chenyin Li, piano
Genuin GEN12228 72:05
When you are listening to a piece of music at home on your player you are listening to that music as a matrix. On one level you are listening to the notes as they are being played. Another is the sound on the recording of that music: warmth and resonance around the notes, a firm bass line; transparency. Yet another is the interpretation of the music, how the player uses rubato, phrasing, leans into or comes from below to a note. In addition, the instrument itself is important. A Martin will always sound better than a Wal-Mart special. This is, in turn, affected by your listening equipment and listening room. So that your response to what you are listening to is a gestalt.
These thoughts crossed my mind as I spent another evening enjoying the disc itemized above but more-or-less the same comments can be made about all four discs which I have since added to my library. It is the instrument in this case that is of particular interest. While there may be an explanation of the instrument in Volume One, which I didn't have at the time I first wrote this. As it turned out there was nada in it either. So I will quote from the review by James Harrington in American Record Guide (September/October 2012).
Tebeikhin on Genuin continues a very special series that uses four different pianists playing a Bluthner…Debussy purchased a Bluthner in 1905 that was fitted with the Aliquot system of strings. Bluthners still are, and they have a fourth string for every note in the treble, which is not struck by the hammer. It simply vibrates sympathetically with the other three and adds to the resonance and sonic richness. Debussy loved his piano and one can safely assume that all of his piano pieces from 1905 on were composed with this sound in mind. The technicians at Bluthner went to great lengths to prepare the piano used for these recordings, so that it would sound as close to Debussy's as possible. The instrument is in the Musee in Brive-la-Gaillarde.
Of the four this disc is my favorite. This is not to say there is anything wrong with the other pianists. In fact at one point I wrote, "maybe the day has come when there are so many good pianists that it doesn't matter because they are all damn good…or maybe the piano works its magic on their fingers no matter who they are…kind of a Twilight Zone thing." Perhaps it is the music on this disc contains much my favorite Debussy. At the very first new notes I immediately looked up and smiled. Damn this sounds good and it ain't just the engineering. This piano is utterly amazing. The "resonance and sonic richness" Harrington mentioned is all there. Wow.
As for the playing, well Tebeikhin may be just a touch more sensual than the others but that would be a matter of degree and not kind. For those who skip to this line: I now have all of Debussy's piano music on the same piano but by different pianists and this has given me hours of pleasure as I read Zen and the Art of Motorcycle Maintenance.
Post Script: Okay, since finishing the above I spent some time comparing the playing/interpretation of this disc with the one played by Li…her recording repeatedly brought to mind Ravel and specifically Scarbo…at one point I pulled out a recording of it and listened and was tempted to write an essay about different recordings of Scarbo but realized I needed to get back on track. Li is consistently darker and at one point I wondered if that happened to be the essence of the pieces he recorded and then realized it was more a matter of rubato…nuance that is like noir in a movie. The more I listen to this second disc the more I'm inclined to think that the instrument controlled their playing…the atheist in me chuckles….
Copyright © 2012, Robert Stumpf II