Related Links
Recommended Links

Site News
CD Review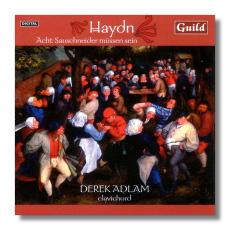 Acht Sauschneider Mussen Sein
Capriccio in E Major on the Austrian Folksong, 'Acht Sauschneider müssen sein', Hob. XVII:I
Sonata in B minor Hob. XVI:32
Variations in D Major Hob. XVII:7
Sonata in D Major Hob. XVI:24
Sonata in F Major Hob. XVI:29
Variations in F minor Hob. XVII:6
Derek Adlam, clavichord
Guild GMCD7260 69m DDD
Derek Adlam has already featured on a couple of Guild discs devoted to late baroque keyboard music and this Haydn release shows him on the same fine form.
This is a very interesting collection of pieces that shows the Austrian master's varied prowess as a versatile artist in any sort of repertoire. The opening Capriccio is a great party piece and Adlam treats it as such handling the variations with considerable skill.
The two sonatas are also played with consummate vigour by this prolific artist and the music comes across quite differently when compared to the sound of a piano. Occasionally, Beecham's bitter diatribe about 'skeletons in the closet' does come to mind when listening to a long period of harpsichord!
Two sets of variations complete this recording which will definitely appeal to lovers of the instrument. As usual, Guild provide detailed notes and their presentation with parts from Breughel paintings are a perfect artistic match. If only more record companies could avoid those horrible artist photos on front covers!
Copyright © 2003, Gerald Fenech