CD Review
Wolfgang Rihm
Rihm-Edition, Volume 1
Musik für Oboe und Orchester (1995/2002) 1
Styx und Lethe (1997/98) 2
Dritte Musik (1993) 3
Erster Doppelgesang (1980) 4
1 Alexander Ott, oboe
2 Lucas Fels, cello
3 Gottfried Schneider, violin
4 Hirofumi Fukai, viola
4 Walter Grimmer, cello
1,2 Southwest German Radio Symphony Orchestra Baden-Baden & Freiburg/Hans Zender
3 Southwest German Radio Symphony Orchestra Baden-Baden & Freiburg/Michael Gielen
4 Southwest German Radio Symphony Orchestra Baden-Baden & Freiburg/Jan Latham-Koenig
Hänssler 93.185

Rihm-Edition, Volume 2
Sub-Kontur (1974-1975) 1
Dis-Kontur (1974) 2
Lichtzwang 3
3 János Négyesy, violin
1,3 South German Radio Symphony Orchestra/Ernest Bour
2 South German Radio Symphony Orchestra/Sylvain Cambreling
Hänssler 93.202

Rihm-Edition, Volume 3
Symphony #1, Op. 3 (1969) 1
Symphony #2 (1975) 1
Nachtwach (1987-1988) 2
Vers une symphonie fleuve #3 (1992-1995) 3
Raumauge - Schlussmonolog des Prometheus (1986; rev. 1993-1994) 4
2 Stuttgart Southwest German Radio Vocal Ensemble
1 Stuttgart Radio Symphony Orchestra/Jonathan Stockhammer
2 Stuttgart Radio Symphony Orchestra/Markus Creed
3 Stuttgart Radio Symphony Orchestra/Gianluigi Gelmetti
4 Stuttgart Radio Symphony Orchestra/Rupert Huber
Hänssler 93.227

Rihm-Edition, Volume 4
Quid est Deus 1
Ungemaltes Bild 2
Frau/Stimme 3
3 Isolde Siebert, soprano
3 Carmen Fugiss, soprano
1 SWR Vokalensemble
1 South German Radio Symphony Orchestra/Sylvain Cambreling
2 South German Radio Symphony Orchestra/Friedrich Goldman
3 South German Radio Symphony Orchestra/Michael Gielen
Hänssler 93.236

Rihm Edition, Volume 5
Verwandlung (2002) 1
Verwandlung 2 (2005) 1
Verwandlung 3 (2008) 2
Verwandlung 4 (2008) 2
1 Southwest German Radio Symphony Orchestra, Stuttgart/Christian Arming
2 Southwest German Radio Symphony Orchestra, Stuttgart/Matthias Pintscher Hänssler 93.263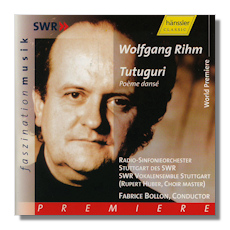 Rihm Edition, Volume 13
Tutuguri, Poème dansé (1980-1982)
Rupert Huber, speaker/choirmaster
Stuttgart Southwest German Radio Vocal Ensemble
Stuttgart Radio Symphony Orchestra/Fabrice Bollon
Hänssler 93.069 2CDs

Compositions Commissioned by the SWR
Morphonie (1972-1973) 1
Klangbeschreibung I (1987) 2
Klangbeschreibung II (1987) 3
1 Wolfgang Hock & Karl Steeb, violins
1 Enrique Santiago, viola
1 Anton Käsmeier, cello
3 Ingrid Ade-Jesemann, Christa Muckenheim & Christine Whittlesey, sopranos
3 Monika Bair-Ivenz, mezzo soprano
1 Southwest German Radio Symphony Orchestra/Ernest Bour
2,3 Southwest German Radio Symphony Orchestra/Michael Gielen
Hänssler 93.010 2CDs

Deus Passus (2000)
Juliane Banse, soprano
Iris Vermillion, mezzo soprano
Cornelia Kallisch, alto
Christoph Prégardien, tenor
Andreas Schmidt, baritone
Gächinger Kantorei Stuttgart
Stuttgart Bach Collegium/Helmuth Rilling
Hänssler 98.397 2CDs
Wolfgang Rihm was born in 1952 in Germany – in Karlsruhe (where he is currently head of Institute of Modern Music at the city's Conservatory) near Germany's borders with France and Switzerland. He occupies an unusual position in contemporary European music, which several new releases and the continuing following which he inspires for other recent ones, bears close examination – particularly since there are next to no other reviews of Rihm's works to speak of on Classical Net. Although Rihm's music is not published exclusively by Hänssler Classic, it's a handful of CDs containing some of the composer's most recent and largely representative works from Hänssler that is examined here.
Two of Rihm's most startling characteristics are his prolificness, and breadth of musical vision. This survey looks for the most part at Rihm's larger-scale and orchestral compositions; it concentrates, too, on recordings by the southern German orchestras, particularly those associated with the SWR>>music, the Southwest German Broadcasting Company, in co-operation with whom Hänssler CLASSIC works, and which is celebrating its tenth anniversary in October 2010; it constitutes a Rihm Edition. Although the current catalog lists fewer than 75 recordings of works by Rihm, his listed output actually stretches to many times that number… to several hundred compositions in fact!
That labels like Hänssler are committed to addressing this issue is all to the good. The styles and forms of Rihm's work also impress… song to song cycle to Opera, chamber to Symphony, concerto to oratorio. To complicate things, like Boulez, Rihm does not always regard works as finished: they are often repurposed in whole or part. Ins Offene, for example, is an orchestral work from 1990. Two years later it was rewritten in its entirety. Two years after that its material formed the basis of the piano concerto, Sphere; in the same year (1994) that same piano part became the solo piano work Nachstudie (also 1994).
At the same time, Rihm's styles occupy a wide spectrum. The music on Volume 4 will remind you of Stravinsky, though it's not so austere. Indeed, Rihm's earliest music seemed to aim for a conscious contrast with the avant-garde of Boulez and Stockhausen (with whom Rihm studied in the early 1970s). Particularly as it was anchored in an emotional richness redolent, too, almost of Mahler and certainly of Schoenberg – at least the latter's expressionist period. In the later 1970s and 1980s, Rihm worked in the style of the New Simplicity movement. Other influences on Rihm include Nono and Feldman.
One of Rihm's greatest strengths, though, is surely that he rarely abandons the best and most useful of any influence. Not that Rihm's music is ever derivative. Nor that it consciously tries to emulate styles as does some of Schnittke's music. Rather, that Rihm reflects completely internalized approaches to composition rendering them all the more impactful for that. Rihm once commented that his "…music is always different from what you think it is." In other words, perhaps, its substance and presence to the listener (and performer) matter more than any preconceptions of its form or genre. He also makes no bones about emphasizing the strong emotional content of his music. Feeling and the invitation to respond in a way that goes beyond the intellectual are both very evident in a whole host of forms in these CDs.
One can hear Scelsi in the blocks of sound that make up the Symphonies on Volume 3 (93.227), too. The second symphony from 1975 is scored for "large orchestra". It displays Rihm's gifts for lyricism and expansiveness. In the same way that – in a most unlikely fashion – Rachmaninov was musically very generous, so are this impressive work's two broad movements. Yet always a touch wistful, without being tentative. As the longer first movement, in particular, slowly unfolds, the special match between the Stuttgart Radio Symphony Orchestra and Rihm's idiom becomes ever more striking: both are working in the grand Germanic symphonic tradition. Yet the orchestra is flexible enough to adapt to the more abrupt – indeed mercurial – use of sound blocks that characterizes much of Rihm's work. This is evident, too, in the remarkable Vers une symphonie fleuve: no 3 (written between 1992 and 1995), also on the Rihm Edition, Volume 3 (93.227). Here contrast is crucial. But to be effective each element of the contrast needs to be fully articulated… winds and brass, strings and percussion. The Stuttgart Radio Symphony Orchestra maps out Rihm's soundscape is exemplary fashion at every turning – indeed as they do throughout this series of CDs.
It would be wrong to characterize Rihm as anything of a magpie. His music is all very much his own. The composer is just as much at home in choral music too. The way in which the SWR Vokalensemble articulates the abstract yet somewhat declamatory and intentionally repetitive "definitions" of god in Quid est Deus under Sylvain Cambreling (on 93.236) is highly accomplished. The same CD (Volume 4) contains Frau/Stimme for soprano and orchestra; it too is penetratingly sung and its dramatic import finely articulated. As with other works by the composer, space plays an important part here. Indeed, the description, "For soprano and orchestra with soprano", indicates the importance of Rihm's intended grouping of musicians-with-singer and singer. Like the other soloists on all these CDs, both Isolde Siebert and Carmen Fugiss are more than at home in Rihm's declaratory idiom and enhance our appreciation of his writing significantly. Finally in this Volume Ungemaltes Bild exemplifies Rihm's interest in the visual (he is a synaesthete), in the paradoxical (the title means "unpainted picture") and in the relationship between more than one art form (painting and music) to non-artistic significance: the piece builds on the work of Emil Nolde, who secretly began over 1,000 small paintings while in a Nazi concentration camp with the intention of expanding them into fuller, oil-based paintings if ever released.
One very forceful attribute that all the music surveyed here has is energy. Rihm is capable of infusing every bar with fundamental life-force. Superficially, it's as though you're being led on a rapid journey where Rihm can't wait to show you what happens next. More realistically, he's simply exposing the internal logic of his music, implying that its structure and imaginative power themselves keep it taut and tensile. Time (which for Rihm does not necessarily mean rhythm) is an essential element. The opening of Rihm's Opus 3 (he rarely uses opus numbers now… certainly not consistently) the First Symphony, which dates from 1969, is startling in its impact – and in the way it grows and brings everything (previous themes, new material, listeners, players) unstoppably with it. Equally compelling for the way Rihm translates color into vivacity and directed power are the other works on 3.227: Vers une symphonie fleuve: no 3 (written between 1992 and 1995) exudes power and life. Though neither bombast nor bluster. Nor is this achieved (superbly, again, by the Stuttgart Radio Symphony Orchestra under Gelmetti) superficially. They are so closely in tune with Rihm's tightness of conception and close binding between structure and orchestration that they make the momentum seem inevitable.
The same thing – violence, almost – is uppermost in the way the musical ideas are expressed in Sub-Kontur, written between 1974 and 1975 (on Volume 2, 93.202). The timpani passages which open the work exhibit yet another characteristic of Rihm's style: surprise. As the beats sound irregularly and with differing frequencies and force, you really have little or no idea of where the composer is taking us. This is invigorating; but not self-consciously so, as it might be in the hands, say, of programmatic writing – and even Shostakovich. The orchestral playing, including that of the orchestral soloists, serves Rihm well here. Lichtzwang is indeed for violin solo. And the playing of János Négyesy puts in ample relief the abstraction Rihm intends between the singing violin in this particular piece and our inevitable memories of other "singing" stringed instruments. Also on this CD is Dis-Kontur, also from 1974, which is an essay in musical essences, in clarification and paring music back to its sonic basics. Again, not an easy thing to achieve when playing music which seems to fight this by its layers of sound. But achieved well by the South German Radio Symphony Orchestra.
So too are virtuosity and melody. Musik für Oboe und Orchester is really an oboe concerto in all but name; written in 1995 and revised in 2002 it is both lyrical and virtuosic – not least in the robustness of the interaction between soloist (Alexander Ott) and players. The same strengths of penetrating playing, excellent interaction with the orchestra and just the right touch of personal insight and interpretation go for Gottfried Schneider (violin), Hirofumi Fukai (viola) and Lucas Fels and Walter Grimmer (cellos) in the other three works, variously Styx und Lethe (1997/98) (which shares the same emphasis on virtuosity with the oboe piece), Dritte Musik (1993) (which explores instrumental color) and Erster Doppelgesang (1980) (which is seated in the world of lyrical prose) on the Volume 1 CD, 93.185.
In contrast Morphonie (1972-1973) and Klangbeschreibung I and II (both 1987) on 93.010 show Rihm at the height of his powers in terms of musical structure. He architected the parts in each of the two Klangbeschreibungen (Sound Descriptions) to concentrate on how large scale movements work horizontally; how their developments exist in parallel, refer backwards and forwards and accomplish effect by the gradual development, exit and transformation of melodic and tonal ideas. At the same time, using a fragment from Nietzsche, he almost obliges us to accept that certain segments of sound are more essential to appreciating its essence than others. As if to underline the point, he sets only half of the words from Nietzsche's verse and omits others. The Klangbeschreibungen also reflect Rihm's concentration on (obsession with, almost) sound qua sound… "Every sound a sculpture of itself" was his observation on the piece.
Like several other of his works, Morphonie was first presented to the Donaueschigen Festival, with which Rihm has long been closely associated. Again, to quote Rihm (who is famously precise – at times minimal, and even withholding – in the glosses he provides on his works) "Music must be full of emotion, and the emotion full of complexity." Again, soloists and the Southwest German Radio Symphony Orchestra completely have the measure of the work. They play it, it has to be said, with a confidence that has to come from a broader familiarity with Rihm's world. There is a forward movement and sense of urgency – especially noticeable, perhaps oddly, in the slower portions – which carry us forward with them right into the heart of the composer's musical intentions. This has the advantage with the earlier pieces of taking Rihm's at times almost unsustainable verve and energy at face value in the way a particularly vivacious account of, say, a Beethoven chamber work can do. Yet only when we either know Rihm's work thoroughly and/or in a couple of generations' time (!) might we be able to contextualize it more fully. As it is, we rely on the perspectives of conductors Gielen (in Morphonie) and Bour (in Klangbeschreibung I and II) to set the music in relief for us.
Then the four parts of Verwandlung, "Metamorphosis" (Volume 5, 93.263) are extremely beautiful. Transformation is not an easy orchestral technique to achieve. Rihm probably does so so well by allowing the metaphor of abundance in creating music, the very flow which results from a successful idea successfully executed provide the energy of the pieces on this CD. There is another side to the self-referencing here (to the act of creating): Rihm is a composer who's gone (and is still going) through a number of musical "periods" or styles. Verwandlung celebrates this. It highlights a variety of orchestral genres… pastoral, brittle, chaotic, ordered and inclusive of encapsulated styles of other composers – notably Bruckner, Mahler, Beethoven and even Elgar! Again, the Stuttgart orchestra under Arming (1 and 2) and Pintscher (3 and 4) are fully in accord with the shifting idioms. Significantly, though, they are intent on not somehow "sliding" into the world alluded to when other styles are employed. The Mahlerian string writing is Rihm's, not a pastiche. These players are fully aware of that.
The one work in this selection that embraces many of the strengths of Rihm as a composer, though, is Tutuguri on 93.069. From the early 1980's it's described as a Poème dansé and is based on the French dramatist, Antonin Artaud's, "Pour en finir avec le jugement de dieu?" Not only do the two CDs offer almost two hours of highly lyrical, stimulating, rapturous and expertly orchestrated music. They also act as a showcase for the strengths of the Stuttgart Southwest German Radio Vocal Ensemble, Stuttgart Radio Symphony Orchestra with Rupert Huber, their choirmaster as speaker – all conducted (presumably almost to exhaustion) by Fabrice Bollon. It is indeed the orchestration that's so significant. Rihm understands so well the way instruments work and combine. There is subtlety in the percussion, restraint in the brass, support in the strings and confidence in the woodwind on top of the more colorful roles often assumed by these sections. Above all, the players and singers articulate the ritual, layered and spectacularly dramatic way that Rihm chose to interpret the anguish and energy of Artaud's conception. Above all they succeed (through consistency of tempo and dynamic) in pinpointing the precise relationship which Rihm wanted to convey between the abstractions of the textual underpinnings and the sound and fury which are all the musicians can actually deal in. A wonderful place in which to start any exploration of Rihm if you're new to him.
Deus Passus (98.397) is Rihm's St. Luke Passion and dates from about 20 years later. Here an impressive group of soloists, Juliane Banse (soprano), Iris Vermillion (mezzo), Cornelia Kallisch (alto), Christoph Prégardien (tenor) and Andreas Schmidt (baritone) join the Stuttgart Bach Collegium and Gächinger Kantorei Stuttgart under Helmuth Rilling to perform this truly stunning work. These musicians are every bit as convincing and finely attuned to Rihm's remarkable work as those on the other CDs in this survey. The Passion formed part of the "Passion 2000" project for the Bach celebrations ten years ago. This recording is based upon the live recordings of the premières given in Stuttgart in that year.
Rihm's work, using a text by Paul Celan, parallels humanity's suffering with that of God (hence the title, "suffering God"). Each of the four composers who took part in the project (Gubaidulina, Tan Dun and Golijov as well as Rihm) seems to have proved that there is a place for such a work 250 (or, rather 273) years after Bach's. What Rilling and his forces have succeeded in doing in this performance is pull out the relationship between individuals, events and circumstances. Hence the performance accentuates those aspects of Rihm's writing that concentrate on the nature of suffering. But their playing and singing are as far from sentimental as you would hope. They, too, have interpreted the essence of what Rihm intended. Inevitably, it's sombre, dark indeed. The instrumentation with an emphasis on woodwind and percussion afford it a great richness which Rilling consistently stewards. It's a quiet, understated, composition; slow with much of the singing spanning large, open intervals – somewhat in the style of the other composers contributing to the project and showing a gentler, subdued side of Rihm with much more "room" between the musical ideas (so to put it) than in the other pieces examined here. Rilling and his performers, though, have truly absorbed the essence of Rihm's spiritually very rich and somewhat "exhausted" attitude towards suffering. Another good place to start in appreciating Rihm: it's a splendid blend of emotion, musicality, extra-musical reference and extreme technical accomplishment. But fused into one without a hint at self-consciousness. Two CDs in the set, again; text in German, English, French and Spanish; a clear and boisterous acoustic as befits the muscularity of the work.
So, credit must go to Hänssler for the scope and quality of their Rihm Edition project. For all the quantity of his output, and dedicated following, especially in Europe, Rihm is not a household name. His appeal – until you actually take the time to listen and re-listen – may seem limited or restricted. But in the act of listening, those new to the composer are more than likely to have an entirely new and fascinating world opened to them. The presentation of these CDs is excellent, although navigating the booklets (especially when in more than one language and in small fonts) can require care. The acoustic of the recordings is uniformly superb and – as has been celebrated throughout this survey. The overall impression one may well take away from an immersion in Rihm's music is twofold: an immense energy supported by great purpose on the composer's part. And utter enjoyment on ours.
Copyright © 2010 by Mark Sealey.