Related Links
Recommended Links

Site News
CD Review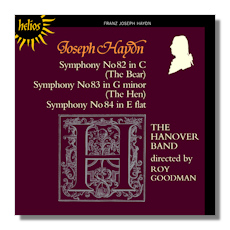 "Paris" Symphonies
Symphony #82 in C Major "L'ours"
Symphony #83 in G minor
Symphony #84 in E Flat Major
The Hanover Band/Roy Goodman
Hyperion Helios CDH55123 79m DDD

Symphony #85 in B Flat Major "La reine"
Symphony #86 in D Major "La poule"
Symphony #87 in A Major
The Hanover Band/Roy Goodman
Hyperion Helios CDH55124 79m DDD
Roy Goodman's excellent Haydn series was one of the sore points in the otherwise marvellous Hyperion catalogue. It was indeed a pity that the cycle could not be completed but the individual items are being reissued on the Helios label in batches of three so collectors can snap them up at this most attractive price.
These two discs present the six 'Paris' symphonies and Goodman's fast tempi, strict rhythmic observations and healthy pacing contribute to some stimulating performances all round.
The most successful symphony is definitely #85 or 'The Queen', a noble interpretation that ranks with the very best, including Ansermet's equally splendid relay from the mid-60's (Double Decca).
However there are other excellent recordings with #84 and #87 equally fresh and invigorating. Those who already have these works in sets such as Doráti or the aforementioned Ansermet should not feel short changed but newcomers will do well to invest in these cheap discs that offer excellent options for these much loved works.
Copyright © 2003, Gerald Fenech