Related Links
Recommended Links

Site News
CD Review
Henri Herz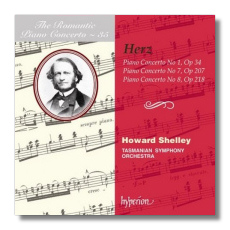 The Romantic Piano Concerto - Volume 35
Piano Concerto #1 in A Major, Op. 34
Piano Concerto #7 in B minor, Op. 207
Piano Concerto #8 in A Flat Major, Op. 218
Howard Shelley, piano
Tasmanian Symphony Orchestra/Howard Shelley
Hyperion CDA67465 58m
I was completely unaware of the composer Henri Herz before putting this CD into my player, but after a thorough listen I came away refreshed and enthused without being over the moon. Hyperion present three piano concertos from the large quantity that Herz composed, and at under 60 minutes this is a desirable package for concerto lovers.
The A Major work is the longest one on disc at 25 minutes. A lengthy Allegro moderato develops the themes rather well although one cannot claim that we are re-discovering a masterpiece. I also enjoyed Howard Shelley's playing in the concluding Allegro moderato which is also very melodious. The B Minor work is 18 minutes long and the key feature here is a lovely Romance which is intriguingly marked Larghetto senza tempo-Andantino cantabile, a cute little novelty in every sense.
Herz's concertos seem to get shorter as they mature and the A Major is just over 14 minutes in length. Again, the three movement structure prevails with rousing Polonaise concluding proceedings in vigorous fashion. As usual, Hyperion's recording glows with clarity and the Tasmanian players respond to Shelley's invigorating playing with fine alacrity and a sense of momentum. Yet another winning release in this outstanding Romantic Piano Concerto series.
Copyright © 2004, Gerald Fenech