CD Review
Henri Herz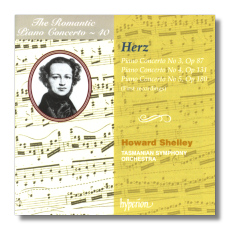 The Romantic Piano Concerto - Volume 40
Concerto for Piano #3 in D minor, Op. 87
Concerto for Piano #4 in E Major, Op. 131
Concerto for Piano #5 in F minor, Op. 180
Howard Shelley, piano
Tasmanian Symphony Orchestra
Hyperion CDA67537 70m DDD
This 40th instalment of Hyperion's much acclaimed 'Romantic Piano Concerto' series is dedicated to Henri Herz, a composer of the Romantic Era born in Vienna in 1803. Young Heinrich was given his first music lessons by his father and later, as he entered the Paris Conservatoire, he also won the first prize for piano playing. From then on, the French capital became the base on which he built and exceptional career as a composer, pianist, teacher, inventor and piano manufacturer.
He changed his name to Henri and enjoyed a reputation that rivaled that of Liszt, Chopin and other great performers of his day. He became one of the most fashionable and sensational pianists of his time, and his music fetched three or four times the price of his many rivals. The secret of his phenomenal success was that he knew what the public wanted and he gave it to them.
Mendelssohn disliked his penchant to write a large number of variations (more than 200) and Schumann bitterly resented his popularity. A high point in his life was his American tour of 1845-51, which helped him recoup the debts he had incurred by way of piano manufacturing. In fact, he returned home a wealthy man and expanded his piano factory.
By the time of his death in 1888, trends were changing radically and his demise hardly raised an eyebrow. The concertos on this disc, although considerably distanced from those of Beethoven and the rest of the German school, abound in joyful spirits and exuberant moods. The piano writing is very often brilliant, and the melodies elegant and rich while the orchestration is also colourful and imaginative.
Concerto #3 Op. 87 appears to be the pick of the lot on this CD with its sensational pyrotechnics and melodic content that puts a smile to one's lips. Praise goes to Howard Shelley for unearthing these unjustly neglected pieces, wonderfully performed and superbly recorded.
Copyright © 2006, Gerald Fenech