Concert Review
Royal Liverpool Philharmonic in Paris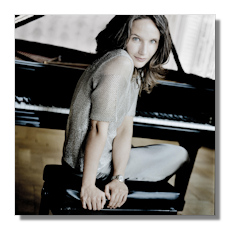 By Marc Haegeman
Hélène Grimaud, piano
Royal Liverpool Philharmonic Orchestra/Vasily Petrenko
Théâtre des Champs-Elysées, Paris (26 March 2011)
The Royal Liverpool Philharmonic Orchestra under their chief conductor Vasily Petrenko appeared in Paris for a single concert that, according to the program notes, aimed to contrast classical harmony with the often unbridled expressivity of romantic music. Although the works chosen (Mozart's Concerto for piano #23 and Tchaikovsky's Manfred Symphony) are indeed foremost representatives of each genre, in practice the differences turned out to be less pronounced as was intended.
The concert didn't start with the scheduled Mozart but with Ralph Vaughan Williams' Overture to The Wasps, which was briefly announced when the orchestra was already on the stage. In many ways this sprightly and brilliantly scored piece made a perfect entrée for the orchestra and, shaped with a lot of flair by Petrenko, immediately emphasized the superb strings of the Royal Liverpool Philharmonic.
French pianist Hélène Grimaud was the soloist in the Mozart K. 488 concerto. An artist who leaves nobody indifferent, Grimaud's interpretation was bound to divide opinions again. Purely as music-making she proposed a surprisingly varied journey, at times fascinating, at times irritating – but in any case it was not an illustration of classicism. And was she playing Mozart? If so, it was a Mozart who seemed to have strayed into the next century. Not a visionary genius who knew where he was going, but rather an experimenting enfant terrible trying sometimes a bit too hard to impress. The allegro was crisp and edgy, and I'm still not certain whether this was wholly intended, or nerves came into play. Punctuated by a pounding left hand Grimaud's Mozart was restless and volatile. She made a very big deal of the adagio, injecting the phrases with theatricality (visibly as well as audibly so with her deep breaths) and pushing the inherent drama of this movement far too obviously into the open. The final movement was attacked with zest, offering some exciting, dynamically shaped passages, but also too prominent chords in the left hand again. Petrenko provided attentive support, although the orchestral balance tended to favour the strings.
As plat de résistance Petrenko and his Liverpool forces gave a scorchingly intense reading of Tchaikovsky's Manfred Symphony. By its scale and intent the work presents a serious challenge to any ensemble, but neither conductor nor orchestra left any doubt they had the full measure of it. Although I have a few quibbles with some of this tempi (mainly a too slowly-paced Andante con moto, which needlessly exposed the woodwinds), Petrenko nonetheless secured a visceral, utterly compelling recreation of Byron's tormented wandering hero from start to end. We might call it in cliché terms a reflection of the Russian soul, but Petrenko takes Tchaikovsky's Manfred Symphony pure and simple for what it is: a full-blooded romantic work boasting extreme emotions that he obtained from his orchestra without the slightest fear for excess. As such, Petrenko's rendition takes no prisoners as less as he makes apologies, but one would be hard-pressed to find a more sincere as well as powerful Tchaikovsky today. Whether by the ominous pianissimi, the stunningly scored evocative passages, or the frenzied outbursts which grab you by the throat, the kaleidoscope of colours which Petrenko teases out of the score, engulfs the listener in a maelstrom of emotions. It needs to be said that he always kept a superb balance, with precisely placed orchestral sections, even during the climaxes in the outer movements which blew off the roof. The blocks of hard-working strings were especially appreciated. The woodwinds ideally could have more character and there were some moments of bad intonation, but brass and percussion all sounded superb. That the buildup of the Manfred theme concluding the first movement and returning in full grandeur in the last was a tad too theatrically handled, with its very leisurely introduction (more so than in Petrenko's CD version), can in this respect be forgiven.
There were moments of ravishing beauty, as with the tender appearance of Astarte in the first movement or even more so in the finale with the return of her theme in a mesmerizing combination of ethereal strings and harps. Again, kudos to the magnificent Liverpool strings, more than any the stars of the evening. Petrenko also handled the many transitions in this symphony with ease as well as imagination. It was a shame the organ of the Théâtre des Champs-Elysées was totally inaudible during the symphony's final moments and while it shouldn't sound like Saint-Saëns, at least we should be aware there is an organ.
In any case, even if the intended contrast between classicism and romanticism was less outspoken, this concert marked Vasily Petrenko as a conductor to watch (and hear) and the Royal Liverpool Philharmonic as a first-rate formation. And what joy to see an orchestra demonstrating so much delight in making music.
Copyright © 2011, Marc Haegeman