Concert Review
Alice Sara Ott at the Dvořák Prague Festival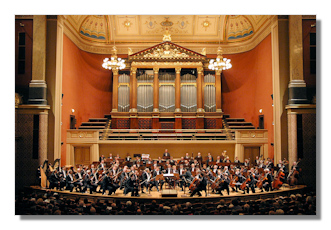 By Marc Haegeman
Alice Sara Ott, piano
Czech Philharmonic Orchestra/James Gaffigan
Prague, Rudolfinum (9 September 2011)
The Dvořák Prague Festival is an annual event in the Czech Republic primarily dedicated to the music of that country's most popular composer. In late summer the Festival hosts a splendid lineup of international guests at the Rudolfinum, the posh late-19th century neo-renaissance building which boasts with its Dvořák Hall one of Europe's finest concert venues and has been home to the reputed Czech Philharmonic Orchestra since 1946. Legendary Czech maestro's like Václav Talich, Karel Ančerl, Rafael Kubelik and Václav Neumann all took the podium here and it was Antonín Dvořák himself who conducted in the Rudolfinum the Czech Philharmonic in its maiden concert in 1896 – performing among others his 9th Symphony.
"Don't be afraid of classics", ran the slogan of the 11th edition of the Festival. The opening concert couldn't have been a more suitable introduction to classical music, with two immediately appealing perennials like Tchaikovsky's 1st Piano concerto and Dvořák's "From the New World" symphony, moreover offered in refreshingly vivid performances by an orchestra in fabulous form and two guests who demand to be heard.
For the occasion the Czech Philharmonic was conducted by up-and-coming James Gaffigan. Hailed as one of the most promising young American maestro's of the moment, New York-born Gaffigan is a laureate of the Solti competition in 2004 and acted among others as assistant to Michael Tilson Thomas in San Francisco for three years. Just over 30, he was recently appointed Chief Conductor of the Lucerne Symphony Orchestra and Principal Guest Conductor of the Netherlands Radio Philharmonic Orchestra, both positions beginning in the 2011/12 season. Judging by this concert in Prague he is indeed a conductor to look out for.
Alice Sara Ott was the soloist in the Tchaikovsky 1st piano concerto. Her approach was imaginative, volatile, quite overtly romantic in fact, brilliant in color and generous in excitement. She molded the emotional range of the concerto to even greater effect than in her CD recording, yet without falling into eccentricities or resorting to cheap tricks. A performance like this proves not only extra stimulating, all possible complaints of banality become totally redundant as well. The pensive, beautifully phrased cantilena passages were balanced by spontaneously erupting shifts of gear, wholly supported by a like-minded Gaffigan, which had you on the edge of your seat. The clarity and evenness of Ott's piano touch, even during the more stormy climaxes, was impeccable and while at full throttle during the fortissimi passagework, her piano never became clangorous. It's all about technique, Ms. Ott declared when asked in an interview how with her slender physique she manages to generate so much power? No doubt, but it's no less an impressive achievement.
Having heard Alice Sara Ott with different orchestras in the course of this year, it is obvious she cares and knows how to create a convincing rapport with an ensemble. As an enthusiastic chamber music player, the sense of "making music together" seems always present, even with larger formations as here in the Tchaikovsky. Eye contact with other members of the orchestra as well as the conductor occur frequently during her performances, resulting not only in a shared sense of purpose, but also a remarkable blending of instrumental timbre. Nowhere more so than in the Andantino simplice, one of Tchaikovsky's most ravishing pages, which acquired here more significance than the usual quiet intermezzo between the more directly spectacular outer movements. The characteristically ripe Czech Philharmonic woodwinds, especially flute and oboe, combined with Ott's crystalline piano added sheer magic to nostalgia. The final Allegro con fuoco was performed with an irresistible sense of exhilaration. Soloist and conductor were sparking each other off and this infectious pleasure at music-making may well be the final proof that one doesn't need to be afraid of classics.
She came back for one encore: Frédéric Chopin's posthumously published (and rarely heard) Waltz in A minor, as evanescent as the fragrance reminding of a lost love.
There was nothing routine-like about Dvořák's Symphony #9 "From the New World" either. Emotions run hot here too and if the Czech Philharmonic must have played this work a zillion times, maestro Gaffigan ensured we weren't aware of this. He secured a full-blooded and electrifying reading of Dvořák's most famous work, capitalizing on the orchestra's idiomatic colors. The distinct sound of the various orchestral sections almost naturally emphasized the melodious and polyphonic qualities of the score. After a portentous introduction, with long pauses as if to stress the degree of focus, the allegro molto was attacked with sharp, incisive gestures, leaving no further doubt this was going to be a gripping ride. The movement unfolded in a natural pace, but Gaffigan instinctively whipped up his orchestra towards hard-hitting tutti. Textures were nonetheless kept beautifully transparent, revealing often muffled orchestral details. String playing was especially ravishing, while the pungent but never aggressive brass added drama and visceral excitement.
The brass chorale introducing the famous Largo was so thrillingly performed this short passage in itself would be worth the price of admission, but it turned out to be just one of the many take-home moments of this concert. The cor anglais solo was played unaffectedly, sounding all the more beguiling by it, although it were the glowing strings, either accompanying the woodwinds or developing the melody, that most contributed to the poignantly nostalgic atmosphere of this movement. The Scherzo generated plenty of adrenaline, but Gaffigan balanced it with a disarmingly melodious middle section full of charm. The final Allegro con fuoco, which Gaffigan kicked off virtually all attacca, was often hard-driven, yet without loss of clarity and precision, leading to a towering triumph with the brass in full glory.
Gaffigan and the orchestra were given a massive standing ovation and obviously it was more than just the locals dutifully cheering their home team. This had been a memorable opener to the Dvořák Prague Festival, hopefully setting the tone for the rest of the week.
Copyright © 2011, Marc Haegeman