Concert Review
Rafał Blechacz Plays Liszt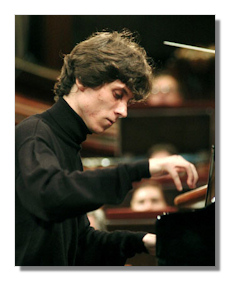 By Marc Haegeman
Rafał Blechacz, piano
National Orchestra of Belgium/Antoni Wit
Brussels, Centre for Fine Arts (15 September 2011)
Belgium may be finding it increasingly more difficult to preserve its national unity, yet some institutions in the country continue to remind us that a fruitful cooperation across language and other barriers is viable. The Belgian National Orchestra, for example, celebrates its 75th anniversary this year and remains alive and kicking. Founded in 1936, the orchestra has acquired an excellent reputation over the years, guided by inspired conductors like André Cluytens (1958-67), Michael Gielen (1968-75), Mikko Franck (2002-07), and, since 2007, Walter Weller, interpreting the standard symphonic repertoire as well as championing new work.
Several artistically significant concerts with prominent guests are scheduled for the jubilee season. This program was both an homage to Franz Liszt, 200 years young, as to Polish 20th century music, with not often heard compositions by Górecki and Lutosławski. Poland's pride and joy, the acclaimed Rafał Blechacz, featured as soloist in Liszt's 2nd Piano concerto, while the Belgian National Orchestra was led by his compatriot, veteran conductor Antoni Wit.
Henryk Górecki's highly personal and enigmatic Kleines Requiem für eine Polka (1993), scored for piano and 13 instruments, opened the concert. Antoni Wit guaranteed it leapt out of the category of interesting exercises in orchestration. The current artistic director of the Warsaw Philharmonic Orchestra is considered an expert in Eastern-European 20th century music. This evening would show us he is indeed. His command of tempi and rhythmic accuracy revealed a piece of astonishing depth and intensity, whether in its frantic passage of empty merriment, or its foreboding tranquil moods. The orchestral soloists performed with verve.
Rafał Blechacz became the uncontested winner of the 15th International Frédéric Chopin Competition in Warsaw in 2005. Now at 26, he still somewhat surprises by his boyishly timid stage manner and frail physique. The choice of Liszt's ultra-romantic 2nd Piano concerto, however, with its emphasis on melody, but also its many intimate, meditative passages and its multileveled virtuosic demands requiring a high degree of emotional involvement from the pianist, was in many ways ideal. Blechacz may look introvert, his playing is anything but. His silken entrance of the Adagio sostenuto assai (it is tagged "dolce armonioso" for something) was absolutely breathtaking and he tinged Liszt's evolving moods with supreme elegance, sincerity, and a not often heard sense of nobility. His piano sound has still improved since his previous visit to Brussels, some year and a half ago. His command of color and shade made Liszt's journey a compellingly poetic experience. The more tempestuous passages were performed without any loss of clarity or expressivity, yet eschewing all empty display. The only real drawback was the less than ideal emotional balance with the orchestra. Interestingly, Wit was the conductor with whom Blechacz went for the top prize in the Warsaw competition, but here the results left somewhat to be desired. The warmth and polish of Blechacz" pianism clashed at times with intrusive or fierce woodwinds and while the piano and cello duet in the Allegro moderato was a moment of genuine serenity, overall, a true connection between soloist and orchestra remained out of reach this evening.
Blechacz performed Frédéric Chopin's Waltz in A minor (Op. 34/2) as a delicious encore. Heartfelt and burning with an inner fire, this short teaser left the audience begging for more.
Witold Lutosławski's Concerto for Orchestra, completed in 1954, arguably couldn't get a more convincing advocate than maestro Wit, who recorded the work at least twice for CD release. As with the Górecki his familiarity with every bar of this complex score was evident and as a true magician he unraveled Lutosławski's temperamental inspiration to the core, pushing the orchestra to follow suit. As a result the concerto's many mood swings were as eloquently exposed as its intricate orchestral fabric. Wit gave the soloists plenty of opportunity to shine (and most of the time they did), but even more remarkable was his instinctive choice of tempi which truly pinpointed the atmosphere and irreversibly heated up the tension to boiling point both in the Intrada: Allegro maestoso and in the scherzo-like Capriccio notturno. While Lutosławski's overwrought tutti nearly blew off the roof, in only a few instances it felt as if the volume level was really getting out of hand at the expense of clarity, and hysteria was taking over excitement. The lighter scored passages, though, like the end of the 1st movement when the main theme returns in a more delicate guise with celesta, harps, flutes and high strings, were impressively done and highlighted the qualities of the orchestra much better.
Copyright © 2011, Marc Haegeman