Concert Review
Volodos in Brussels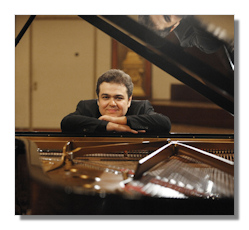 By Marc Haegeman
Arcadi Volodos, piano
Brussels, Centre for Fine Arts (11 October 2011)
With the previous week's media attention and box-office success of Lang Lang fresh in mind, the concert hall in the Brussels' Bozar/Centre for Fine Arts looked sadly empty with only two-thirds of the seats taken for the Arcadi Volodos recital. While 39-year old Volodos is at least as much the jaw-dropping technician, we know he doesn't come to town with the extra-musical gigs that the Chinese superstar package contains. And even if his pianism doesn't eschew the occasional bit of ostentation either, it hasn't become oddball. Volodos' stage manner is unassuming and ritualistically simple. After each piece he can be seen standing behind the piano, arms crossed in front, sharing a timid but content smile and a stiff bow. All through the concert stage and piano remain in pure Sviatoslav Richter-style sparsely lit while the hall is bathing in darkness. But it is Volodos who sheds the light for the evening with his playing, or rather the light in all its shades ranging from solar brightness to abysmal darkness.
While mainly known as a powerhouse virtuoso in the old-Russian school tradition, just like with the best of these old-school Russian virtuoso's (think of Emil Gilels and Sviatoslav Richter) his power is hardly ever used for its own sake but as this well-considered recital amply demonstrated, it remains balanced by delicacy and vulnerability, and eventually always serves the music in a distinctive and often compelling manner.
The Schubert A minor Sonata, D. 784 was as good an opener as one could wish. A minor definitely had a special meaning for Schubert, who composed three piano sonatas in this key. The posthumously published D. 784, dating from a difficult time in his life (1823, following his illness), combines raw emotion with a sense of mystery. Volodos captured all that in spades. With dark basses he immediately installed a climate of unease and questioning, but it was through an outspoken dynamic range that he laid bare with emphatic eloquence the conflicting themes that dominate the outer movements. By opposing intense pianissimi with robust but perfectly controlled and crystal-clear outbursts, the juvenile anger and despair was voiced in quite an uncompromising way. The andante provided very little relief of tension with Volodos, who continued to stress the dynamic contrasts but also clogged the melodic line by adding a fair share of rubato. Brilliantly articulated fast runs were pierced by heavy fortissimo chords in the final Allegro vivace, yet each time the simple rocking melody grew out of the turmoil was a moment of pure magic.
Volodos pushed the autumnal mood of Johannes Brahms' 3 Intermezzi, Op. 117 further down the timeline. Here too it can be argued that the many dynamic inflections and touches of rubato he applied sometimes tended to blur the natural melodic flow. However in the end you realize that they contribute to the atmosphere of melancholia and profound but dignified sadness of these pieces just as much as the fabulous array of colors and shades he obtains from his instrument. This was particularly true of the 2nd Intermezzo, performed in a slower tempo than it's Andante non troppo marking demands, but of a shattering vulnerability.
Volodos is considered a Liszt specialist and after hearing him play the Sonata in B minor we were duly reminded of what that implies. In Volodos' hands the Sonata becomes a downright psychedelic sonic voyage – although, in fact, his whole recital this evening could be summarized this way – which carries the listener to celestial heights as easily as to the edge of the abyss. It's an astounding virtuoso tour-de-force of extremes, delivered in an irresistibly theatrical way, dripping with fantasy, poetry and emotion, a diabolical trip which tests the range of the piano as much as the physical possibilities of the pianist and the endurance of the audience. Volodos again worked his magic with outsized contrasts in dynamics and in tempo, in light and darkness, with sometimes flashy rubato and love-or-hate mannerisms thrown in, but also an uncanny articulation, a perfect architectural grasp, unraveling a riot of colors and dazzlingly complex layers of sound which point at Liszt's modernism. The climaxes were earth-shattering blocks of sound (extremely loud but not ugly), the octave runs a total knockout, the cantando espressivo sections sung with virile softness, the pauses lingered full of meaning. It's the sort of performance that leaves you gasping for air and in wonder whether you will ever experience something like it again.
A Volodos recital is not complete without its encores and an appreciative audience was gratified by no less than five, further demonstrating the pianist's range and diversity. After Liszt's oneiric En-rêve (Nocturne) came an unassuming fragment from Frederico Mompou's Música callada contrasting with a sprightly, barely restrained rendition of Isaac Albeniz' Zambra granadina and Volodos' own killer transcription of Ernesto Lecuona's Malagueña. But it was with the gentle Schubert Minuet (D. 600) that he choose to conclude this magnificent recital. Indeed, Arcadi Volodos is a powerhouse virtuoso and yet this recital did everything to convince us he is foremost a fabulous musician.
Copyright © 2011, Marc Haegeman