Concert Review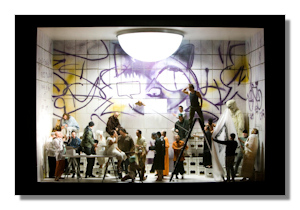 The Enchantress
By Marc Haegeman
Tatiana Pavlovskaya as Kuma
Valery Alexeev as Prince Nikita
Irina Makarova as Princess Yevpraxia
Dmitry Polkopin as Yuri
Symphonic Orchestra & Chorus of the Flemish Opera/Dmitry Jurowski
Directed by Tatjana Gürbaca
Flemish Opera, Gent, Opera House (4 November 2011)
The Enchantress (Charodéyka) is one of the least known operas from Piotr Tchaikovsky. Unlike Evgeny Onegin, Mazepa and The Queen of Spades, to this day The Enchantress never found a place in the standard opera repertory, neither in Russia or abroad. Stagings and recordings can be counted one hand. (There are a couple of old Soviet-era recordings and Valery Gergiev and his Mariinsky Opera revived it in the late 1990s although no commercial release ever saw the light of day.) To see The Enchantress staged by the Flemish Opera in Belgium is therefore nothing short of an event.
Based on a play by Ippolit Shpazinshky (who also wrote the libretto) and composed between 1885 and 1887, The Enchantress was premièred at the Mariinsky Theatre in St. Petersburg on 1 November 1887. The piece never caught with the audience nor the critics and was soon abandoned. This continuing state of near-oblivion seems to be undeserved. The Enchantress is perhaps not Tchaikovsky's most consistent opera, the subject nonetheless inspired him to one of his most experimental scores. Part of the instrumentation is unique for Russian music of the time and announces Richard Strauss. Tchaikovsky also continually switches between a palette inspired by Russian folk themes and a more impressionistic colorization.
In a nutshell, The Enchantress tells the story of a young widow Nastasya, or "Kuma" (godmother), who owns a wayside inn where men come to have a good time. Bad tongues call her an enchantress, a seductress, who allegedly casts a spell upon people. When the governor-general Prince Nikita as well as his son Yuri also fall for her charms, tragedy is bound to happen. Kuma herself is in love with Yuri but their decision to elope only leads to her being poisoned by the jealous Princess, Yuri's mother, while Prince Nikita slays his own son before succumbing to madness.
At first sight The Enchantress seems a mix of a drama of passion and a folkish opera set against the historical background of 15th-century Nizhny Novgorod, but under the surface it is closer to a dark fairytale. Especially when in the last act elements like a gloomy forest, an evil sorcerer, a poisoned drink and a disguised Princess out to murder the heroine, bring the plot to its dramatic climax. Yet it is a fairytale where nobody survives to live happily ever after. Evil prevails and hatred and revenge defeat innocence and love.
This genre ambiguity possibly confused contemporary audiences and may account for the lack of success just as much as the downbeat atmosphere of the opera (and the allegedly failing soprano at the St. Petersburg première). In the production for the Flemish Opera, however, the young German director Tatjana Gürbaca makes the choice for us. In pure Regietheater fashion the spirit of the creators is expunged and the opera duly turned into a farce. 15th-century Nizhny Novgorod is relocated to some indistinct cold and ugly modern-day city in neverland. So much for that. Unfortunately, as we know from her previous work, Gürbaca's idea of theatricality seems to be limited to the burlesque. The only tension that persists in her revision is between the drama of the music and the incongruous and absurd situations happening on stage. How credible is a man who swears to kill another with one blow when you see him waving with a fork? For the rest The Enchantress takes the top prize as inane and bloodless staging. Granted, the libretto may be far from flawless and characters remain undoubtedly underdeveloped, but here the protagonists don't stand a chance at all. Cartoonish and often silly, if not utterly unsympathetic, we don't care about any of them nor what they are going through. Gürbaca doesn't trust the music, nor for that matter the audience. She continuously pushes her singers to overact, as if music or libretto don't provide enough clues for us to understand what's going on.
In the last two seasons of the Flemish Opera Gürbaca had staged dubious versions of Tchaikovsky's Mazepa and Evgeny Onegin. They were already prime examples of misguided attempts at modernization that only succeed in lessening the dramatic impact. In Mazepa one of the most memorable scenes included Kochubey's execution in his soup, while in Evgeny Onegin Madame Larina's ball was taking place in a sauna. With The Enchantress which concludes her cooperation with the Flemish troupe Tchaikovsky is hijacked further down into Absurdistan.
The first Act, supposedly Kuma's inn but looking more like a depleted and badly lit kitchen with "Fuck" and other graffiti on the walls, is overpopulated by the obligate freakish characters, among others a guy disguised as a polar bear, an acrobat and two naked masked men. We are left guessing at the reason of their presence but in fact pointless sidetracking like this just mucks up the pace and weakens the plot's focus. Femme fatale Kuma, often regarded as a Russian version of Carmen, is a total anti-climax in this production. Gürbaca's treatment of her persona is symptomatic for her overall lack of dramatic vision. Why men would ever fall for such an uninteresting woman remains a mystery. There is little trace of a so-called strong-willed, independent woman in Gürbaca's Kuma and it is only by her Act I arioso where she sings of a free spirit that we learn something about her true nature. The crucial scene in Act 3 where Kuma rejects Prince Nikita, followed by the extended love duet between Kuma and Yuri is set within a claustrophobic and unattractively lit small space, devoid of all warmth and passion. Again Gürbaca scuttles all emotional momentum by offsetting it with daft situations.
Gürbaca seems obsessed with undressing and circus. When the old deacon Marmirov (in this production more a mafia boss than a cleric) is mocked by the crowd they take his trousers down, while music and libretto wants him to dance. (In order to make this embarrassing scene work, she dropped a whole dance number.) When Princess Yevpraxia is threatened by her husband with being send to a monastery, she starts to undress. Without doubt it is all meant to be extremely profound, but it makes the characters look like fools.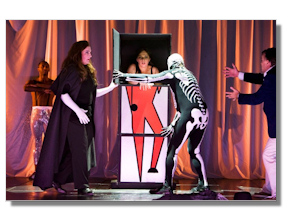 Fairytale? In Gürbaca's mind that's circus. Her Evgeny Onegin was already afflicted with the appearance of clown noses and white balloons. The last Act of The Enchantress collapses in total absurdity when, wary to show anything as "outdated" as tragedy, Gürbaca chooses for a poor-man's circus act in Tinseltown. Introduced by smiling chorus girls, poor Kuma is disposed of in a magician's zigzag box while everybody keeps singing they have thrown her body in the river Oka. Nikita kills his son by thrusting one of the dividing levels into his chest. Only the popcorn vendor was missing.
The only saving grace of this production was the quality of the singers. A mainly Russian cast was led by Tatiana Pavlovskaya as Kuma, Valery Alexeev as Prince Nikita, Irina Makarova as the Princess and Dmitry Polkopin as Yuri. Soprano Pavlovskaya sings with the Mariinsky since 1995. While dressed like a vamp on high heels for half the opera, she managed to transcend vocally the limitations of the staging. A powerful and flexible voice, she sang with strong projection but also revealed the ambiguity of her character and was moving in the final Act. Valery Alexeev, a member of the Mariinsky Theater as well, may not be the most subtle baritone, but his dark, menacing voice also compensated for the lackluster mise-en-scène. Mezzo-soprano Irina Makarova nearly stole the show as Yevpraxia. A big, dramatic voice and a strong stage presence, every bar in Tchaikovsky's vocal writing was fearlessly negotiated to grand effect. Nikolai Gassiev and Taras Shtonda were excellent in supporting roles but the a cappella male chorus following Yuri's demise lacked color.
Dmitry Jurowski, the youngest member of the Russian family of maestros and current chief conductor of the Flemish Opera, provided enthusiastic and attentive support from the pit. The Opera House in Gent may be small but its harsh acoustics are treacherous. From my place in the left side of the parterre, tenth row, the orchestra sounded alarmingly unbalanced, with the tuba and the trombones dominating the soundscape. Surely, something can be done about this?
The Enchantress is a complex opera. Regardless of its historical background, it offers directors several angles which could make it theatrically viable for a present-day audience: a political angle with its pondering upon the loss of power and the appearance of new social forces; a social one with its conflict of generations; or why not a family drama? Gürbaca however choose to dumb it all down and turn this opera into a grotesque farce. In view of the possibilities at stake it was a chance missed.
Copyright © 2011, Marc Haegeman