Concert Review
Mikhaïl Rudy Plays Tchaikovsky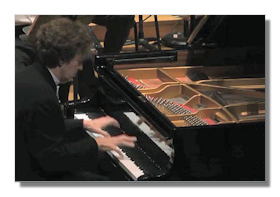 By Marc Haegeman
Mikhaïl Rudy, piano
Orchestre Philharmonique de Radio France/Alexander Vedernikov
Paris, Salle Pleyel, January 6, 2012
View this performance at Cité de la musique
Led by the Russian guest conductor Alexander Vedernikov, the Orchestre Philharmonique de Radio France inaugurated the year with an attractive all-Russian program, pairing Piotr Tchaikovsky's 1st Piano concerto, featuring Mikhaïl Rudy as soloist, with a suite from Sergei Prokofiev's ballet Cinderella. Founded in 1937 and directed since 2000 by Myung-Whun Chung, the orchestra has acquired a reputation as one of the finest European formations. If this concert was in any way representative for the standard of the orchestra, then this is indeed an ensemble that demands our attention.
Mikhaïl Rudy is a versatile man. Perhaps not that well-known outside of Europe, this pupil of Yakov Flier at the Moscow Conservatory choose France as his new motherland in the late 1970s and has always been showing great interest in other arts next to music. He founded and directed the music festival of Saint-Riquier for nearly twenty years, was active as TV and radio broadcaster, contributed to experimental video-films and is the author of a biographical book. With his latest project he is working with The Quay Brothers for their reinvention of The Metamorphosis from Franz Kafka.
As a musician Rudy is especially known for his performances of the Romantic repertoire, although it would be hard to label his Tchaikovsky Romantic. Rudy opted for a more classical approach, polished and polite, restrained and measured – in fact, very much like his recording with the St. Petersburg Philharmonic and Mariss Jansons back in 1990 (EMI CDC754232-2). He may do so with the greatest conviction, but the result was not always as convincing. Rudy cultivates a refined piano sound and it is easy to admire how he exposes the formal beauty of the music – just as it is easy to forget this Tchaikovsky has other sides as well. There were moments where a shot of energy, a bit of passion would have livened things up or simply offered some contrast, especially when Vedernikov seemed to hint in that direction. From the start, the more muscular chords of the orchestra distanced themselves from the rather obstinately relaxed piano playing and the discrepancy only became more marked during the recapitulation. Rudy's cadenza was slow, transparent, but sounded almost careful.
This approach paid off best in the slow movement where both soloist and conductor found tenderness as well as simplicity – aided by some excellent contributions from the woodwinds. The tempo remained fluent all the way through and Rudy's piano blended into the orchestral canvas with agreeable diffidence.
The "fuoco" in the final Allegro was predictably kept under control and while Rudy's unmannered playing will have pleased many (judging by the enthusiastic applause), by insisting on this climate of half-tones and downplaying the bravura he left me out in the cold.
A grateful audience was rewarded with the Nocturne in D Flat, Op. 27 #2 from Frédéric Chopin. Hyper-delicate in Rudy's hands, pensive, almost improvisational, this approach worked far better for this piece.
It is always a pleasure to find a ballet score performed in the concert hall. Ballet music remains the Cinderella of concert-programming, as if it is still considered second-rate compared to the great symphonic works and concertos. While there can be no doubt that many ballet scores from the 19th century stand little chance when taken out of their theatrical context, composers like Tchaikovsky, Prokofiev and Stravinsky left ballet music of a different caliber altogether. Not surprisingly, in many cases their music was considered undanceable by their contemporaries.
Sergei Prokofiev's Cinderella was created at Moscow's Bolshoi Theatre in 1945 and is together with Roméo and Juliet not only one of his most agreeable attempts in the genre, but also ranks as one of the finest ballet scores composed in the 20th century. Stuffed with irresistible melodies, colorfully orchestrated and boasting an illuminating sense of atmosphere, the complete score of Cinderella is an easily accessible canvas mixing unabashed lyricism and poetry against a magical fairytale background, spiced with a dose of humor and a touch of the grotesque.
Alexander Vedernikov proved quite the ideal conductor for this music. Vedernikov is since 2009 Chief Conductor of the Odense Orchestra in Denmark, yet he is foremost remembered as Music Director and Chief Conductor of Moscow's Bolshoi Theater between 2001 and 2009. During his time at the Bolshoi, I saw him conduct Cinderella in the theater. For this concert he made a judicious selection which respected the chronology of the story and took as well from the three suites which Prokofiev arranged, as from the complete score. This selection not only allowed us to follow the narrative, but also preserved the composer's three basic themes: the ill-treated Cinderella, the thoughtful and pure Cinderella, and finally Cinderella finding love and happiness.
The orchestra, now amplified with full brass section, extra woodwinds, percussion, piano and celesta, responded with alertness as well as verve. Vedernikov guaranteed a convincing orchestral balance, phrased the lyrical moments with uncanny flair, but also brought out Prokofiev's colorful solos and climaxes with the required theatrical emphasis and bite. Solos were brilliantly performed, especially the first trumpet and the woodwinds, while the magical atmosphere was rendered with finesse, all exemplifying the excellent quality of the Orchestre Philharmonique de Radio France.
Copyright © 2012, Marc Haegeman