Concert Review
Youthful Impetuosity and Poetic Sensitivity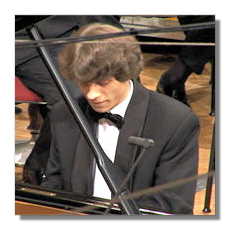 By Marc Haegeman
Johann Sebastian Bach: Partita #3 in A minor, BWV 827
Ludwig van Beethoven: Piano Sonata #7 in D Major, Op. 10/3
Ballade #1 in G minor, Op. 23
2 Polonaises, Op. 26
Karol Szymanowski: Piano Sonata #1 in C minor, Op. 8
Rafał Blechacz, piano
Brussels, Centre for Fine Arts, March 14, 2012
Coinciding with the international release of his Debussy-Szymanowski CD reviewed here, I caught the young Polish pianist and 2005 Warsaw Competition winner Rafał Blechacz in a solo recital in Brussels. The culminating point of the evening was without doubt his performance of the 1st Piano Sonata by Karol Szymanowski, which sounded even more impressive live than on disc. Blechacz has long been championing the music of his little-performed compatriot and here again he gave the kind of revelatory rendition to win anybody over to Szymanowski. Judging by the enthusiastic audience reaction, Blechacz made his point. But then again before arriving there, he had treated us to some stunning pianism, sufficient to win all present over… to Rafał Blechacz.
A recital by Rafał Blechacz is indeed pure delight in the sense that his playing radiates tons of enthusiasm, energy and joie de vivre, spiced with a boyish audacity and plenty of wit. He sends you home with a big smile. His tempos are often exhilaratingly brisk (but not breathless), and he owns the secret to make you think they need to be played that brisk. His articulation is crystal-clear and his piano sounds warm and refined. Pretty soon though you begin to realize that underneath, there is an extremely meticulous artist and a rarely sensitive and humble human being. He approaches his music with as much respect as imagination and his intelligence is never in doubt. Technique is not an issue for Blechacz and he never bothers us with it either. Vulgarity seems to be a notion unknown to him, he is not interested in cheap effects but rather in a distinctive timbre, delicate lyricism and a natural delivery.
Blechacz' Bach for a start was exuberant and sunny. The clarity of his articulation and the overall vivacity of his playing clarified the contrapuntal writing and rhythmic complexities of the 3rd Partita, most tellingly in the "Courante" with its superposing semiquavers and pointed rhythm. He found plenty of intimacy in the "Sarabande" but it didn't drag him down, and he emphasized with a smile the dynamic variety and color in the "Scherzo" and the a-typical "Burlesca".
His Beethoven Sonata #7 was engagingly high-spirited in the opening "Presto" as well, yet some well-judged dynamic control countered the swift tempo and prevented the movement from becoming too lightweight. The contrast with the following "Largo e mesto" was beautifully realized, even if the pervading melancholy of that tremendous movement was filtered by a sense of nobility. Blechacz intriguingly kept the climax for the coda and the passage where Beethoven lets the sound disintegrate into silence was movingly beautiful. A soft, good-humored touch brought plenty of luminosity to the "Menuetto" and Blechacz let us relish with him the many pauses, reprises and dynamic contrasts of the skittish "Rondo".
Chopin is of course extra special with Blechacz. His reading of the 1st Ballade didn't disappoint: volatile, superbly dramatic, at times stormy, with the outsized dynamic contrasts plumbing the emotional depths as much as the lyrical passages. He embellished the narrative with some theatrical changes in gear but avoided sounding mannered. Both Op. 26 Polonaises were brilliantly characterized, making perfect sense of their contrasting moods. Chopin's melodies often abruptly appearing within the most turbulent of passages, sang with a simple unaffectedness that was all the more moving.
As said, the Szymanowski 1st Sonata was given a towering reading, but Blechacz' main achievement is that he succeeded in presenting this youthfully confident and eclectic piece as a convincing whole instead of the collection of loose ideas it risks to be in lesser hands. With Blechacz the Sonata is carried by a powerfully passionate sweep that gives the wide range of sonorities and dynamics a distinct voice and provides the moments of reflection that little bit of extra tension, preventing them from sounding trite. The 2nd movement ("Adagio, molto tranquillo e dolce"), beginning like a traditional lied but soon interfered by an agitated middle section, was a case in point. The closing colossal fuga, working its way up to controlled abandon, amply demonstrated Blechacz' grasp of the work's structure. The jury at the 1910 Chopin Competition for composition was right after all to give Szymanowski's Sonata the Grand Prix. But so were their colleagues at the 2005 Warsaw Competition…
Copyright © 2012, Marc Haegeman