Concert Review
Alice Sara Ott Exhibits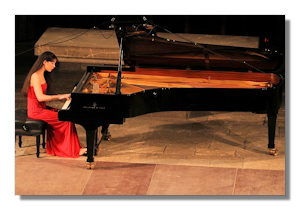 Variations on a Theme by Duport
Sonata #17 in D Major, Op. 53 (D. 850)
Pictures at an Exhibition
Alice Sara Ott, piano
Amsterdam, Concertgebouw, 31 July 2012
Alice Sara Ott isn't afraid of challenges. This summer the German-Japanese pianist came up with a hefty recital program that at first glance looked quite unusual for her (having ventured so far mainly in Beethoven, Chopin and Liszt territory), pairing two monumental but very different works – the Schubert D Major sonata and Mussorgsky's Pictures at an Exhibition. Yet for a pianist who used to perform the full set of Liszt's Etudes d'exécution transcendante in concert no mountain is too high to climb. After performances at the White Nights Festival in St. Petersburg and at Verbier, she repeated the Schubert-Mussorgsky tour de force at Amsterdam's Concertgebouw on July 31.
Mozart's Variations on a theme from Duport were in this respect an insubstantial if highly pleasant warm-up, played with irresistible verve and carefree joy. Ott's trademark clarity singled out the theme twisted through Mozart's inspiration with textbook lucidity and elegance.
On with the meatier stuff, Ott attacked Schubert's D Major in a fearless manner, taking the vivace in the opening allegro to the letter. The overriding optimism and youthful vigor of the "Gasteiner" Sonata were brought out with great conviction, whether in her hard-driven rhythmic pulse of the first movement, or her magnificent play of light and shade in the Con moto which made Schubert sound truly visionary as impressionist avant-la-lettre. Her dynamic control, however, wasn't as fine-tuned as usual and the Concertgebouw Steinway tended to become clangorous in the upper register during the hardest passages. While most technical demands were met effortlessly – what clarity of articulation, what superb polyphony – part of Schubert's lyricism got run over by relentlessness.
Mussorgsky's Pictures at an Exhibition was overall more balanced, even if a work boasting such variety of moods and sonority, will always leave some dissatisfaction in details. What I found admirable in Ott's traversal was that she never lost sight of the overall structure and led us with a thoroughly exciting buildup towards a properly grand finale. Alice Sara Ott has often been criticized for an allegedly small, limited sound, especially by those who have only experienced her through online clips. There surely was nothing small about it here, even if it wasn't as beautifully rounded as usual. Her straightforward approach may have robbed some of the scenes of their character – "The Old Castle" was too foursquare and lacked atmosphere, while I missed mystery and chills in the "Catacombs" – but for the most part this was tremendous piano playing. The linking promenades were acutely characterized as if the visitor was influenced by the pictures he saw. "Bydlo" stood out by its impressive buildup, the ballet of the chickens was hilarious, the bickering Jews were smartly portrayed, and the "Limoges" market chattered very lively indeed, with warm colors splashing all over the place, before a vertiginous dive into the "Catacombs". "Baba Yaga" was suitably frightening and provided a headlong rush towards "The Great Gate of Kiev".
This new recital is a beautiful achievement, even if parts will need to mature. But if Alice Sara Ott manages to expand her repertory this way in the years to come, we're in for many more thrills.
Copyright © 2012, Marc Haegeman