Concert Review
She Came, She Played, and She Conquered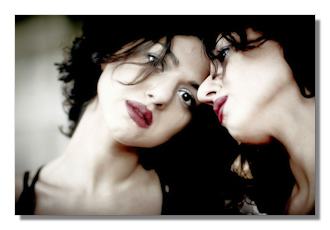 By Marc Haegeman
Khatia Buniatishvili, piano
Paris, Salle Pleyel, 19 November 2012
Since I first attended a solo recital by Khatia Buniatishvili in the smallish auditorium of the Cité de la Musique in Paris, hardly ten months ago, things have been going fast for the 25-year old Georgian pianist. Meanwhile she released her second solo CD (Sony 97129), media attention has soared, she was awarded the German "Echo Klassik" prize for most promising artist, and above all she has been touring extensively throughout Europe, and also recently San Francisco and Japan – either as soloist, with orchestras or as member of chamber music formations joining distinguished colleagues like Gidon Kremer, Truls Mørk and Renaud Capuçon. Buniatishvili had played Pleyel before in a concert with the Orchestre de Paris. But until now the big hurdle of a solo recital in the most prestigious concert venue in the French capital – which is currently her hometown – still needed to be taken. On 19 November it was taken, and how.
Khatia Buniatishvili came to Pleyel equipped with a commanding technique, a rich palette of sounds and an articulate touch to boast. But she also brought a mature imagination, the energy of two, and paired with her winning stage presence the determination to give it all flat-out that evening. At first glance the hefty program looked like a misprint: the Sonata from Liszt, the 4th Ballad and the 2nd Sonata from Chopin, and the 7th Sonata from Prokofieff. It wasn't. The booklet placed the Chopin Ballad first, but Buniatishvili took everybody by surprise by launching with her characteristic indomitable manner into the Liszt Sonata. An explosion of energy once the opening Lento had subsided. If anything, her performance of this monumental work has become more gripping still, going even more for the jugular than when I first heard her live. Full-blooded and unconditional, yet controlling with assurance the sonority, dynamics and especially the outsized tempi, she grabs you for a unique, sometimes risky ride. She knows perfectly where she is headed, but as a listener you are taken by surprise. In unabashedly romantic, "Faustian" fashion it's a confrontation of supreme beauty with almost demonic torment and darkness. What makes Buniatishvili's reading virtually impossible to dismiss, however, is that nothing she does sounds gratuitous in her hands. No matter that the Cantando espressivo is more contemplative than cantando, or that she sometimes hits the breaks a bit too emphatically before a slow passage; in the bigger picture they make as much sense as the infernally driven Allegros.
Chopin was offered in a no less passionate and dramatic light. Buniatishvili effortlessly turned the structural complexity of the F minor Ballad into an asset and one could really focus on the harmonic inventiveness of Chopin's writing, as much as its emotional diversity. The 2nd Sonata, one of the highlights of her last CD, was given an engrossing reading here too. At first glance Buniatishvili is rushing the Grave-Agitato and the Scherzo. Yet by enhancing the contrasts in tempo she magnified the tonal opposition of minor and major keys within these movements, and the moments of tender nostalgia that break the pervading emotional anguish and turbulence make an even bigger impact. Yet it was the Marche funèbre that truly showed her a profound artist. Grand but not implacable, by slightly changing the dynamics of the theme and trio Buniatishvili subtly shaded the emotional character of this movement; a tragedy in degrees of intensity as it were, reflecting the complexity of Chopin's personality. A stunning moment; and to be sure when she ended the incredible presto Finale of the Sonata like an icy whirlwind very few in the audience were left unscathed.
At the moment when most pianists would begin to think of possible encores, Buniatishvili ripped with unwavering focus into Serge Prokofieff's 7th Sonata. A totally different sound-world from what had come before, although the dramatic impact of this challenging war-scarred piece is equally formidable – as we would find out. Intensely felt and imaginatively performed, with a middle movement that died after a superbly crafted buildup in an almost unbearable sense of desolation (these bell-like chords and sonorities sounded really otherworldly), and capped by a blistering, knockout rendering of the Precipitato, this was tremendous artistry again.
By then the whole of Pleyel was up on its feet, loudly cheering – a personal triumph and a significant moment in her budding career. Nothing more needed to be proven or said, yet a generous Khatia Buniatishvili thanked with not only Liszt's Liebestraum #3 but eventually sat down one more time for an out of the blue performance of the Mephisto Walz #1 which is usually main-course material instead of an encore. One could have assumed she lost herself in the enthusiasm of the moment, but this too was a take-home performance. She once said in an interview that the most important for her as an artist is to give everything from herself. She did here at Pleyel for more than two hours. This was in many ways an extraordinary, unforgettable recital. Not only for its artistic achievement (magnificent as it was), but perhaps most of all because Khatia Buniatishvili attained there the level where the power of projection and communication becomes so intense that one feels as member of the audience proud and grateful to have been part of it all, and leaves the concert a richer person.
Copyright © 2012, Marc Haegeman