Concert Review
The Rite of Spring 100 Years Young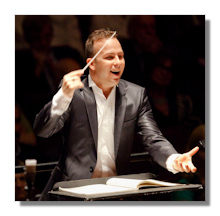 Rotterdam Philharmonic Orchestra/Yannick Nézet-Séguin
Brussels, Centre for Fine Arts, 15 May 2013
There is no way to escape it: on May 29 it will be exactly a hundred years ago that Igor Stravinsky's seminal Rite of Spring was premiered in Paris, as part of the famous Ballets Russes seasons masterminded by Serge Diaghilev. While the fascination of dance-makers with the work has never diminished since its notorious creation at the Théâtre des Champs-Elysées – very few scores have been so frequently choreographed throughout the years or triggered man's boundless imagination – the centenary promises plenty of concerts and music-related events commemorating the Rite. For that matter, one of the most original renditions were to be found at London's Royal Festival Hall where the complete Rite could be heard whistled in the lavatories – courtesy of João Penalva.
In a concert of the European Galas series at the Brussels' Centre for Fine Arts, the Rotterdam Philharmonic Orchestra under its Principal Conductor Yannick Nézet-Séguin brought a more traditional homage, but at least one we could comfortably sit out in its entirety. Preceded by Maurice Ravel's La Valse and Claude Debussy's La Mer the concert moreover proved to be an evening particularly rich in color and drama, daring in harmonic language, and illustrating that extraordinary Franco-Russian musical kinship of the early decades of the 20th century.
Montreal-born Yannick Nézet-Séguin has been at the helm of the Rotterdam Philharmonic since 2008, a post he not only combines with that of Principal Guest Conductor of the London Philharmonic Orchestra, but since the 2012/13 season also of Music Director of the Philadelphia Orchestra, as well as various opera engagements. A short, muscular man, radiating enough energy to light up a whole concert-hall, 38-year-old Nézet-Séguin succeeded Valery Gergiev, whose 13-year long tenure with the Philharmonic is widely considered as an age of rebirth for the Dutch orchestra. Discovered in his twenties while conducting a youth orchestra in Mexico City, Nézet-Séguin was immediately invited to Rotterdam, that eternal breeding ground for budding conductors, a move which by the looks of his current agenda evidently brought grist to his mill.
Nézet-Séguin emphasized the sophistication of Ravel's La Valse from the opening bars; elegant, analytical, with well-judged textures and balance, and punchy but transparent tutti. True, there were some slips in the ensemble of the strings, although this was less worrying than the meandering middle section and the Un peu plus modéré passage almost grinding to a halt. Nézet-Séguin did pick things up in the closing moments, even if the underlying current of anxiety and morbidity was mostly gone in the drawn out changes in tempo and dynamics. It was spectacular orchestral playing, but by then lacking in intent.
Nézet-Séguin also conducted La Mer from memory (only for Stravinsky did he use a score). To his credit he viewed Debussy's masterpiece essentially as a symphony without any desultory post-Romantic accents, perfectly illustrating the modernity of the score. The architecture of the work was clearly rendered, with again a fine sense for coloration and timbre. However, Debussy's moments of virtual orchestral immobility in the outer movements were not entirely convincingly handled, with the result that the ensuing climaxes lacked naturalness and genuine eloquence.
Nézet-Séguin's rendition of the Rite of Spring was clearly molded in today's ruling approach. The balletic past of the score is about as far removed as the era of primitive Russian paganism that inspired Stravinsky. Nézet-Séguin doesn't seem interested in telling any story, yet all the more so in bringing the startling virtuosity of the writing to the fore, capping tremendous dynamics and razor-sharp articulation with rhythmical flexibility. Buildups came loaded with a nerve-racking edge while climaxes were hammered home with seismic power and almost unbearable intensity. It accounted for the occasional lack of subtlety, notably in the Introduction of the Sacrifice which began immediately too loud, but overall within this symphonic approach this was an impressive bravura performance. The Rotterdam Philharmonic's silvery sound suited this approach to perfection; solo parts were commendably done and the whole ensemble crackled with energy. A loudly cheering audience greeted orchestra and conductor. After a hundred years of gestation, The Rite of Spring no longer shocks or moves, it's a streamlined crowd-pleaser.
Copyright © 2013, Marc Haegeman