Concert Review
An Italian in Paris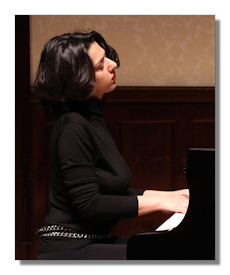 Fantasy Overture "Romeo and Juliet"
Rhapsody on a Theme of Paganini, Op. 43
Fountains of Rome
Pines of Rome
Khatia Buniatishvili, piano
Orchestre National de France/Daniele Gatti
Théâtre des Champs Elysées, Paris, 26 September 2013
The Italian connection was undeniable in this concert of the Orchestre National de France at the Paris Théâtre des Champs Elysées, even if the "Italianness" was offered in various degrees -Tchaikovsky's Romeo and Juliet by way of Shakespeare, Rachmaninoff's homage to the great Italian violinist Paganini, and finally Respighi's aural and visual impressions of Roman scenes.
The concert was masterminded by Daniele Gatti, the 51-year old Milan-born maestro who has been Music Director of the Orchestre National since 2008. Gatti successively headed the Orchestra di Santa Cecilia in Rome (1992-1997), the Royal Philharmonic Orchestra in London (1996-2009), combined with opera house posts in London, Bologna and Zürich, as well as frequent appearances in Bayreuth and Vienna. Although he recently prolonged his contract with the Orchestre National de France until 2017, Gatti is mentioned as possible successor to James Levine at the Boston Symphony Orchestra.
Opening with Romeo and Juliet, as a prelude to a complete Tchaikovsky symphonies cycle scheduled later this season, the work on the orchestral timbre was immediately apparent, especially with the first violins and the woodwinds. Gatti already recorded the work with the London Philharmonic in 2004. Now conducting from memory, he coaxed transparency and plenty of orchestral detail. He obtained a balanced sound, elegant and polished as one would expect from a French orchestra, but in the end it was Gatti who refused to go all the way. Overall he secured an efficient orchestral display, topped by the excellent brass and percussion section, yet eventually this Romeo and Juliet failed to move. The love scenes remained emotionally rather cool, while the fights missed this headlong energy which can turn this magnificent score into a devastating experience.
There was no lack of emotional involvement, however, in Khatia Buniatishvili's performance of Rachmaninoff's Rhapsody on a Theme of Paganini and, interestingly, maestro Gatti followed suit, as if her mere presence was sufficient to raise the temperature considerably. They launched into the work with an enchanting mix of daredevilry and impishness – swift, virtuosic and witty, this was the kind of performance that kept you on the edge of your seat from start to finish. Buniatishvili's piano sound was beautifully rounded, at times powerful and virile, then again diaphanous, tender and beguiling. Her dynamic range seemed unlimited and the occasional bit of demonstrativeness sounded totally apt within the context of this homage to the demonic Italian virtuoso.
Gatti's care for transparency and balance proved a remarkable asset again. It was moreover good to hear how orchestra and soloist complemented each other, whether in mutual support or by giving each other a turn in the spotlight. The result was particularly enchanting when Buniatishvili's piano dialogued or blended with the woodwinds (as in Var. XVI), or in the lovely shaped famous lyrical Andante cantabile (Var. XVIII). The final variations were carried by her characteristic nearly superhuman dynamism towards an irresistible climax, after which the jesting ending sounded even more out of this world. This was a magnificent performance, a real tour de force, stunning by its effortlessness and maturity of vision, which should be committed to disc. It was deservedly loudly cheered and she gratified with her trademark Precipitato movement from Prokofiev's Seventh Sonata and an alluringly short Menuet from Haendel.
After the break, the rarely heard Respighi triptychs Fountains and Pines of Rome were brilliantly performed, as atmospheric, colorful and theatrical as one could want. Postcard snapshots from a bygone era they may be, yet Gatti and his orchestra gave them a refreshing facelift that any lover of the Eternal City couldn't fail to appreciate even today. Vividly painted, but always taking great care of the harmonic textures and instrumental detail, these scores became pure magic in Gatti's hands. The Orchestre National was in tremendous doing; solo playing was remarkably good – notably the first clarinet of Patrick Messina in Pines of the Janiculum and the cor anglais – and convincingly embedded within the ensemble. The mysterious Pines near a Catacomb was hauntingly beautiful. The brass and percussion were particularly impressive during the massive climaxes, and the buildups superbly negotiated by Gatti as in the grand Trevi Fountain at noon. The closing Pines of the Appian Way became with its cumulative effect a fantastic orchestral feast, enhanced by placing extra brass in the upper galleries of the theatre to create a spectacular three-dimensional sound.
Some minor quibbles, like the rather loud opening of the Fountain of Valle Giulia already taken at a slower than usual pace, or the quick tempo of the marching legions in the closing part, didn't matter much in the overall picture. There was no doubt that Gatti was in his element here (the Respighi Roman triptychs made his debut CD recording back in 1997) and not only did he know exactly where he wanted to go, he also obtained precisely that from his orchestra. Brilliant.
Copyright © 2013, Marc Haegeman