Concert Review
Abdel Rahman El Bacha Saves the Day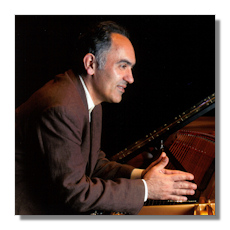 Abdel Rahman El Bacha, piano
Belgian National Orchestra/Andrew Litton
Brussels, Centre for Fine Arts, 2 October 2013
With ballet music – Poulenc's Les Biches and Act 2 from Tchaikovsky's Nutcracker – framing the Piano concerto from Ravel, the Belgian National Orchestra under American guest conductor Andrew Litton promised an evening full of elegance, color and sophistication. Soloist for the Ravel was the Franco-Lebanese pianist Abdel Rahman El Bacha, laureate of the Queen Elisabeth Competition in this very same place in 1978, then a mere 19-year old. The present concert was in aid of CAP 48, a fundraising initiative of the Belgian TV network working hard for the integration of disabled people – though sad to see in this respect that the concert hall was only two thirds filled this evening.
Sophistication, however, isn't the Belgian National Orchestra's forte. Poulenc's five-part suite from his ballet Les Biches, premiered in 1924 for Diaghilev's Ballet Russes, needed a lot more than was given here. Maestro Litton went for an ebullient rendition, yet this was far too much interpreted as playing at a constant high volume, with often raucous instrumental passages – a robust peasants' riot rather than Poulenc's drawing-room party scene. Orchestral detail was also blurred behind a wall of strings, which gave the suite a monochrome reverb in spite of the rich orchestration.
The gap became even wider when Abdel Rahman El Bacha joined for Ravel's Piano concerto. Interestingly, El Bacha was taught by Zvart Sarkissian, a Palestine-Armenian pianist who was herself a pupil of Marguerite Long, the dedicatee and first performer of the concerto in 1932. El Bacha gave an utterly compelling reading, luminous and bright, underpinned by his effortless technique and straightforward musical sense. He sounded perfectly at home in the sparkling outer movements, but his true moment of grace came in the Adagio assai where the long opening solo piano part highlighted his articulation and extraordinary evenness of touch – a moment of time-suspending serenity and innocence. All the more a shame that the Belgian National Orchestra nowhere matched his refinement. The enthusiasm couldn't hide the occasional problems of intonation (horn, woodwinds) and insufficient dynamic control.
El Bacha was rightfully cheered for his performance and returned with an exciting but beautifully shaped rendition of Rachmaninoff Prelude in G minor, Op. 23/5.
After the interval Litton brought the complete 2nd Act of Tchaikovsky's Nutcracker, a rarity in the concert hall, Christmas time or not. Tchaikovsky's last ballet is an irresistibly delightful score, even without the snowflakes and sugar plums dancing on stage, that sends you home humming and with a large smile on your face. Andrew Litton has proven to be a fine Tchaikovsky conductor with several remarkable recordings. He evidently loves the music and his understanding of this particular score was undeniable, whether by relevant inflections in the phrasing or nuances in tempi. What he couldn't help though was the rough-and-ready playing and indifferent sonority of the orchestra. That Litton quite naturally opted for a symphonic approach was no reason for downplaying the innate elegance and particular atmosphere of the music. The national dances, which belong to the most popular sections of the Nutcracker, were boisterous but short on flavor. The larger canvases (the opening sections, waltz and Andante maestoso) were string-dominated, if not necessarily well defined (the basses lacked presence, the violins warmth), with the woodwinds underexposed again. Tutti were loud and ugly. A prime example was the Andante maestoso (the Pas de deux) where the gradual buildup following the E minor passage went for nothing because the orchestra had started too loud and lacked reserve to hit the real climax.
The concert ended in an anti-climactic fashion, when the timpanist broke off two bars too early before everybody else in the Valse finale et Apothéose. A lackluster finale for an uneven evening, saved by Abdel Rahman El Bacha, who is definitely an artist deserving to be better known, and not only in Europe.
Copyright © 2013, Marc Haegeman