Concert Review
A New Maestro in the Making and a Pianist on Fire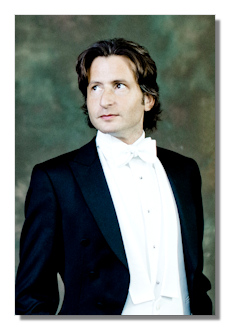 * Khatia Buniatishvili, piano
Munich Philharmonic Orchestra/Gustavo Gimeno
Gasteig, Munich, 15 May 2014
Cancellations always carry their bit of disappointment. 84-year-old Lorin Maazel had to sit out all concerts with his Munich Philharmonic Orchestra in May due to illness; he was already replaced on the orchestra's New York tour in April, but we are told the maestro is recovering. Enter Gustavo Gimeno, totally unknown as a conductor in the international arena. The 37-year-old Spanish-born principal percussionist of the Royal Concertgebouw Orchestra stepped in for his music director Mariss Jansons earlier this year and made a favorable impression in Amsterdam. Needless to say he has conducting experience and previously worked assisting old masters like Claudio Abbado and Bernard Haitink besides Jansons. Amsterdam clearly meant a huge break which put him on the map. Gimeno will soon quit playing percussion and devote himself full-time to conducting.
In his Munich debut Gimeno took over from Maazel with a major change of program. Wagner's Siegfried Idyll and Rachmaninoff's Rhapsody on a Theme of Paganini featuring Khatia Buniatishvili were kept, but Tchaikovsky's complex Manfred Symphony was replaced by a somewhat bizarre pairing of his Romeo and Juliet Fantasy Overture with fragments from Prokofieff's ballet of the same name. This was perhaps not the best concert to make statements about a budding maestro, but still enough to ascertain both his strengths and shortcomings. To his credit, he is no showman. His conducting style is sober and his hands are a marvel to watch; a clear beat, but also this graceful drawing left hand that is more than just a little reminiscent of the late Abbado.
Gimeno's ear for balance and transparency became immediately apparent in the Siegfried Idyll. He coaxed a reading without emphasis or pathos, caressing the rich sonority and warmth of the writing, whether in the superbly textured Munich strings (antiphonally placed), or the gorgeous winds and excellent brass. The occasional lapse in tension wasn't avoided, but Wagner's birthday present ended in appropriate serenity.
Tchaikovsky's Romeo and Juliet was graced by similar qualities, but at the same time hinted at Gimeno's limitations. The orchestral textures were again carefully rendered, but the long legato arches ideally would have needed more respiration and flair. It all remained rather neutral and predictable, in spite of an orchestra that was obviously brimming with power - and keen to demonstrate that. As many conductors today, however, Gimeno underplays the theatrical side of the music and seems wary to be caught for being too overtly lyrical. A possible alternative approach, of course, as long as other ideas are offered, but Gimeno didn't seem to have many. And what is Romeo and Juliet without a bit of passion or even excess?
The selection of five fragments chosen from Suites 1 and 2 from Prokofieff's Romeo and Juliet made an uneven impression after Tchaikovsky's concise fantasy-overture. Without any narrative or dramatic development, this became a purely demonstrative display. Brisk, rhythmically alert, with magnificent solos from the Munich woodwinds and brass, not to forget the lovely solo violin from orchestra leader Julian Shevlin in the Balcony Scene, there was nonetheless much to enjoy, even if it left us begging for more.
The blistering performance of the Rhapsody on a Theme of Paganini, with Georgian pianist Khatia Buniatishvili, left little to desire though. Here's an artist who dares instead of sanitizes Rachmaninoff. In an admirable entente with Gimeno she repeated her tour de force from the Paris concert last year. Whether solo or in dialogue with the orchestra Buniatishvili spontaneously opposes the tempi, dynamics and emotional content of the variations (the fast ones have a daredevil quality, the slow ones are teasing and full of suspense) and builds up a long arch of tension that only temporarily subsides with the famous 18th variation, brought as a moment of blissful repose instead of Hollywoodian schmaltz. The final part is taken again as in one breath, culminating in a thoroughly exciting climax. The Munich Philharmonic offered lucid textures, brilliant solos (what ravishing woodwinds again), and as if inspired by Khatia Buniatishvili, highly charged enthusiasm - enough in fact to forgive the occasional overload of volume and slips in the ensemble.
As of writing, Gimeno started touring with the Munich Philharmonic in Germany and for the coming months his agenda is filled with engagements with other formations in Sweden, Spain, Australia, and the UK. High time then to prove us he is more than a promising young conductor, but one with a voice of his own.
Copyright © 2014, Marc Haegeman