Related Links
Recommended Links

Site News
Concert Review
Halloween in London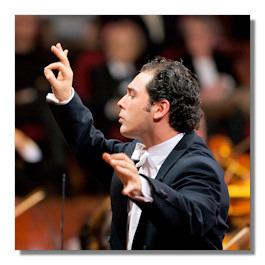 Khatia Buniatishvili, piano
Philharmonia Orchestra/Tugan Sokhiev
London, Royal Festival Hall, 30 October 2014
Beethoven, Liszt and Berlioz formed an explosive Romantic trio in the hands of Tugan Sokhiev and the Philharmonia Orchestra in this London concert. The opening moments of Beethoven's Coriolan Overture made it clear that this wasn't going to be an evening for relaxation. The Roman general's dilemma was initially brushed with such muscular vigor and dark colors it made you wonder whether he was ever going to give in. It was quite a large-scaled formation for Beethoven, too, but Sokhiev has been a regular guest with the Philharmonia Orchestra and easily carved a convincing balance and lightness of texture, preventing our hero from tipping from grand into heavy.
When Georgian pianist Khatia Buniatishvili joined for the Liszt, the temperature rose even higher. We know her as an inflammable artist and particularly convincing in Liszt, but compared to an earlier performance of the A major Piano Concerto in Paris just over a year ago, Buniatishvili upped contrasts of dynamics and pacing considerably. It took orchestra and soloist a while to find each other and the idea of Liszt's "Concerto symphonique" floundered somewhat with Buniatishvili's sulfuric virtuosity, but once adjusted the combined effect was utterly exhilarating. The obvious passages of grace, including the ravishing cello from Timothy Walden or the no less attractive oboe from Christopher Cowie, were rendered with undeniable fervor. Sokhiev proved that he too could pull out the stops when needed, and with orchestra and pianist sparking each other off the rush towards the end gained tremendous momentum. By contrast, Buniatishvili returned with a soothing encore, the Handel Menuet taken from her latest solo album "Motherland".
It was Hector Berlioz's Symphonie fantastique that gave most thrills and chills of the evening though. Sokhiev conducted an irresistible hell-bound trip – indeed, Halloween was near – keeping you on the edge of your seat from start to finish. Building up the tension from the opening phrases of the Rêveries, passions he fluidly and often quite subtly managed Berlioz's mood swings – hinting at the deceitful elegance of the ball and adroitly coaxing a tangible change of climate in the countryside scene; everything reflected Sokhiev's masterful structural grip and keen ear for detail, but also his vivid sense of drama. The hallucinatory Marche au supplice and the Songe d'une nuit de sabbat were harrowing tableaux in this performance, powerful enough in fact to deter anyone from ever touching that stuff again. The Philharmonia Orchestra was wholly attuned to Sokhiev's approach and performed brilliantly throughout; alert, flexible, while always offering limpid textures and solos full of character – the pastoral duet between Jill Crowther's cor anglais and Timothy Rundle's offstage oboe comes to mind, as do the shrieking woodwinds and formidable brass sections in the last movements. In short, the kind of reading that reminds you what a stunning piece of music the Symphonie fantastique is.
Copyright © 2014, Marc Haegeman