Concert Review
Janine Jansen's Tchaikovsky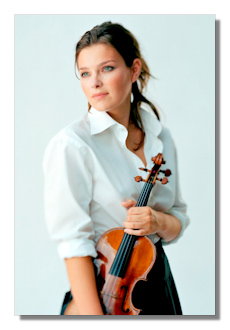 Paul Dukas: The Sorcerer's Apprentice
Pyotr Ilyitch Tchaikovsky: Violin Concerto in D, Op. 35
Robert Schumann: Symphony #4 in D minor, Op. 120
Janine Jansen, violin
Orchestra dell' Accademia Nazionale di Santa Cecilia, Rome/Antonio Pappano
Brussels, Centre for Fine Arts, 4 March 2015
It was a packed and enthusiastic Centre for Fine Arts that greeted Sir Antonio Pappano, leading his Roman Orchestra della Santa Cecilia. Their visit guaranteed a notable Italian presence but of course music lovers in Brussels also fondly remember the glory days of the Monnaie Opera when Pappano headed it for some ten years before moving to London's Royal Opera House in 2002. As it turned out, however, this evening it was Dutch violinist Janine Jansen who quickly became the focal point, delivering the most remarkable performance in an otherwise unremarkable concert.
When I first heard Janine Jansen perform Tchaikovsky's Violin Concerto in November 2002, in London with the Philharmonia Orchestra under Vladimir Ashkenazy, she was still totally unknown. That concert proved a real eye-opener. Now, more than 12 years later and an established star, Jansen must have played the Tchaikovsky countless times, yet it is clear that she still has a lot to say with it. In fact, her rendition in Brussels was in a different league altogether: a stunning tour de force brought with a rare power of conviction. The Tchaikovsky Violin Concerto has evidently been of great importance in Jansen's career and this was as much an unabashed declaration of love for this masterpiece as a sincere confession of what this music means to her.
Often leaning closely towards the conductor, at times almost facing the orchestra, Jansen left no doubt she wanted to draw them into her performance. Yet while she wrung every inch of passion out of the Tchaikovsky, the accompaniment remained merely prosaic. It wasn't so much that Jansen and Pappano weren't on the same wavelength – they were – but the orchestral response nowhere matched her continuous state of grace. The colors she conjured out of her beautiful 1727 "Barrere" Stradivarius were only mildly reflected by the orchestra. Effortlessly virtuosic and volatile, opposing the most tender and subtly nuanced lyrical evocations with devilishly intense, almost frenzied outbursts, this was a reading that went for the jugular and only let go long after the final chord had died out. Jansen's musicality was never in doubt and the few moments of indulgence, as in the statement of the main theme, were easily forgiven. More ravishing Tchaikovsky followed as an encore in the form of the Mélodie from his Souvenir d'un lieu cher, in an arrangement for violin and strings.
The concert had opened with Paul Dukas' Sorcerer's Apprentice which in spite of some fine textures in the quiet opening stubbornly failed to take flight. It was loud alright, but buildups were ineffective and colors too blurred. With hindsight this reading hinted at the basic flaws which would mar most of the evening: Santa Cecilia's indifferent sonority, where only the strings seem to be of any distinction, but also Pappano's often uninspired conducting.
Schumann's Fourth (in its 1851 version) programmed as the main course suffered most of all and both conductor and orchestra share the blame for the disappointment. This was the sort of performance to convince you the Schumann critics were right to consider him a poor orchestrator - as we know many have disproven this, but here the naysayers would have scored a point. With a huge ensemble, anchored on 8 basses, this old-time Schumann lumbered in an opaque sonority and was sluggishly conducted. Drowned by the strings, from where I was sitting the woodwinds and brass were virtually inaudible and only came into play in the last movement. Inner detail was blotted out. Pappano conducted without breaks between the movements, yet within the sections his reading was fragmented, often too relaxed (where was the drive in the first movement?) and predictably demonstrative in a few passages (a robust Scherzo, a hard-driven coda at the expense of accuracy in the last movement). The solo violin from the orchestra leader was attractively played in the Romanze, but for the most part this was pretty uneventful Schumann. The transition between the Scherzo and the last movement started to sound like it could be the moment of truth, but just before the Lebhaft section began Pappano let the tension slip again and eventually the impact of this most dramatically charged of all Schumann symphonies remained too insignificant.
Three bits from Italian operas were generously given as encores. Verdi's Forza del Destino Overture, a Dance from his Aida and the Galop from Rossini's Guillaume Tell Overture highlighted the real forte of this orchestra. The issues of balance were suddenly gone and there was a sense of enthusiasm going through the ensemble I hadn't noticed before. An evening of Italian repertory might perhaps have been a better idea, but then again this would have deprived us of Janine Jansen's stellar performance.
Copyright © 2015, Marc Haegeman