CD Review
Lazar Berman Rarities - Volume 2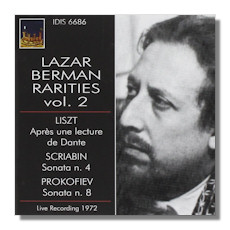 Etude in B Flat minor, Op. 8, #11
Etude in D Sharp minor, Op. 8, #12
Piano Sonata #4 in F Sharp Major, Op. 30
Franz Liszt: Après une lecture de Dante, S. 161, #7
March from the Love for Three Oranges, Op. 33ter
Piano Sonata #8 in B Flat Major, Op. 84
Sergei Rachmaninoff: Prelude #5 in G minor, Op. 23
Lazar Berman, piano
Istituto Discografico Italiano IDIS6686 69m Mono
This recording is derived from a live recital in Milan, Italy on November 25, 1972, according to the album information. It was captured in pretty decent mono sound, though there are intrusive noises periodically and at least one instance (the Liszt Dante Sonata from 13:43 to 13:50) when the sound fades, as if someone began adjusting the volume and accidentally turned it the wrong way. There is some bleed-through in the sound mastering as well: that is, in quiet sections you sometimes hear echoes of what's about to be played a moment or so later. Another problem: a key seems to go bad in the Prokofiev Eighth first movement. In addition, the two Scriabin etudes are misidentified on the album materials as being from Op. 12 instead of the correct Op. 8. Okay, so the sound reproduction can hardly be described as ideal, even for sonic standards of the early 1970s, and IDIS fails to correctly identify the works on the program. But, no question about it, the performances are sensational.
At the time of this recital Lazar Berman was about to burst onto the international scene as the third of an imposing trio of Soviet pianists – Richter and Gilels were the other two. Berman's rise to stardom in the West began with his 1975 American tour, after which a clutch of acclaimed recordings for DG and other labels further bolstered his reputation.
Here he delivers a scorching account of the Liszt Dante Sonata, alternating lovely poetic playing with virtuosic passages of searing intensity. Berman captures the mixture of eccentricity and boldness in Scriabin's Fourth Sonata with perfectly judged dynamics and deft sensitivity to the composer's otherworldly lyricism. I don't know if I've ever heard anybody play the Prestissimo volando with such alertness to its nervous-tic rhythms and bursts of ecstasy. Bravo!
The Prokofiev Eighth is a tremendously difficult sonata both technically and interpretively, but Berman delivers it with a sure and knowing grasp on the first movement's hushed sadness and profound conflicts. Has the haunting alternate theme ever sounded so arresting, so mesmerizing in any other performance, except maybe in Berman's own studio recording for DG some years later? (To tell you the truth, I haven't listened to that performance on LP in many years, but recall it as not quite this exciting.) The massive development section here is played with the utmost of insight and commitment, as it builds in tension and explodes with a powerful statement of the alternate theme. The second movement goes well and the finale – challenging as it is – gets a splendid performance too. True, there are some mistakes here, but Berman still turns in an impressive effort, all things considered.
I suspect the last four pieces here were encores and that there must have been another work on the program – perhaps something else by Liszt or Rachmaninov. Sixty-nine minutes would, after all, have been short shrift for any recital then or now. Whatever the case, the four shorter works receive fine performances too. The Rachmaninov may be the least successful, as it seems a little fussy in places. The Prokofiev March sounds almost demonic in its intensity, and the two Scriabin Etudes are filled with passion and urgency. Overall, one can opine that this is the kind of playing that gave Berman his great reputation. Some of his later work divulged a growing tendency toward ponderousness and restraint, though he remained an artist of considerable stature. Berman fans won't be disappointed by this disc, despite its sonic and other defects.
Copyright © 2014, Robert Cummings