Blu-ray Review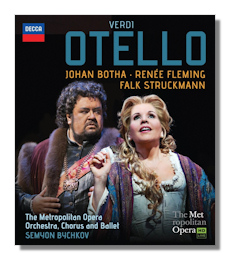 Otello
Otello - Johan Botha
Desdemona - Renée Fleming
Iago - Falk Struckmann
Cassio - Michael Fabiano
Emilia - Renée Tatum
Roderigo - Eduardo Valdes
Montano - Stephen Gaertner
Lodovico - James Morris
A Herald - Luthando Qave
Metropolitan Opera Chorus & Ballet
Metropolitan Opera Orchestra/Semyon Bychkov
Production - Elijah Moshinsky
Set Designer - Michael Yeargan
Costume Designer - Peter J. Hall
Lighting Designer - Duane Schuler
Choreographer - Eleanor Fazan
Stage Director - David Kneuss
Recorded Live at the Metropolitan Opera, NY - Oct. 27, 2012
Bonus Feature - Backstage at Otello (includes interviews of cast members and other features)
Decca Blu-ray 07438923 157:00+10 (Bonus); PCM Stereo DTS-HD Master Audio
When this Otello was staged at the Met in 2012 it was widely believed that Renée Fleming could well be making her last appearances on stage in the five scheduled performances. As it turned out, that wasn't the case – fortunately so, as she still has her voice pretty much intact, not to mention her splendid dramatic skills as well. True, she's lost a tad of her youthful sheen and a bit of power in the lower ranges and maybe in general, but she's still arguably more effective as Desdemona than probably ninety-five percent of other major sopranos singing the role. Her big last Act numbers, Piangea cantando nell'erma landa… (the Willow Song) and Ave Maria, are sung beautifully and with great passion, and she's consistently excellent throughout the rest of the opera. If she's in decline, then she's my kind of declining soprano!
But, great as she is here, the Iago of Falk Struckmann may be even more sensational. His acting skills are outstanding, as he is so subtly, so cleverly evil, and his vocal talents are more than a match: try his Act 2 Era la notte or, for a look at one of his more effective evil moments, the final scene from Act 3, just after Otello collapses. Speaking of Otello, Johan Botha is also extremely impressive here, at least vocally, but he is often somewhat poker-faced in his acting. Still, he makes a strong Otello. I should mention that Botha had missed the three previous performances owing to a cold, but his return here in the final one shows a healthy, powerful voice with not the least encumbrance. Michael Fabiano is very convincing as Cassio and the rest of the cast is quite good. Thus, from a vocal perspective this is a truly excellent Otello.
On the other musical side of things, Semyon Bychkov draws splendid playing from the Met Orchestra and shapes the score well with judicious tempos and sensitive phrasing. As usual the Met Chorus sings magnificently, and the ballet dancers turn in fine work. As for the Elijah Moshinsky production itself, it is most satisfying on all counts even if it's been around since 1994. It's a traditional take on this Verdi masterpiece, with lavish sets and gorgeous period costuming. This was a "Live in HD" transmission from the Met, and was thus viewed by hundreds of thousands across the globe. Camera work, picture clarity and sound reproduction are all quite fine. The performance is introduced and has commentary by Sondra Radvanovsky, herself a leading soprano especially known for various Verdi roles. The bonus track features interviews conducted by Radvanovsky with Fleming, Botha, Fabiano and members of the production team.
As for comparisons, I have reviewed a couple of other Otello performances on video here: the 2003 DVD that featured Placido Domingo and Barbara Frittoli in the leads, with Ricardo Muti conducting (TDK DVD DVOPOTEL) and the 2014 Blu-ray with Gregory Kunde and Carmella Remigio in the leads and conducted by Myung-Whun Chung (Unitel Classica/C Major Blu-ray 716604). There is also the Opus Arte DVD of Otello with José Cura and Krassimira Stoyanova from 2006 that is very good. All of these have their strengths, but I think the choice comes down to the newest ones here, the Unitel Classica/C major and this Decca version. A tossup? Well, for star power and production values, I would opt for the latter: how could you choose against Renée Fleming and the splendid Iago of Falk Struckmann? Highly recommended.
Copyright © 2015, Robert Cummings