Related Links
Recommended Links

Site News
DVD Review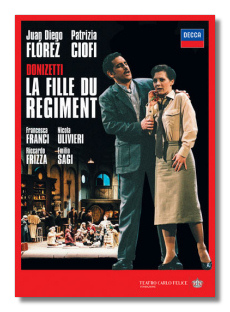 La Fille du Régiment
Juan Diego Flórez
Dario Benini
Patrizia Ciofi
Francesca Franci
Nicola Ulivieri
Filippo Bettoschi
Soloists and Orchestra of the Carlo Theatre, Genoa/Riccardo Frizza
Decca DVD 0743146 2DVDs 160m
Unlike other Donizetti favourites, 'La Filled u Régiment' has not been that well served on DVD so this release is more than welcome. This acclaimed production is set in the final days of the Second World War. Marie is the daughter of a captain in the American Army while Tonio is a handsome young French villager whose love for Marie induces him to join the American forces.
As the story unfolds, the secret of Marie's birth is discovered, and her mother would not let her marry if not to a suitor of distinguished class. A plea to the memory and virtues of true love concludes this elegant opera on a happy note. Although the background and matching stage décor might not please the purists, this DVD has many outstanding features going for it, and none more so than the protagonists who are considered amongst today's top singers.
Florez's encore of 'Ah' mes amis' with its 9 high C's drove the audience to a delirium of applause. The rest of the ensemble cast are mostly superb in both their acting and singing while vision and sound are of the quality we have now come to expect of Decca.
The set has the added plus of a second DVD which takes a detailed look at the Carlo Felice Theatre and the backstage drama with exclusive interviews with the main artists too. Highly recommended to the Donizetti enthusiast.
Copyright © 2007, Gerald Fenech