Related Links
Recommended Links

Site News
DVD Review
Tomás Bretón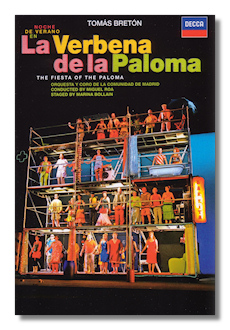 La Verbena de la Paloma
The Fiesta of Our Lady of the Dove
José Antonio López
Amparo Navarro
María José Suárez
David Rubiera
Emilio Sánchez
Manuel Cloves, piano
Graffiti Orchestra
Orchestra and Chorus of the Comunidad of Madrid/Miguel Roa
Decca DVD 0743262 74m Dolby Digital DTS LPCM Stereo Widescreen Anamorphic
The information contained on the front of the jewel box cites Bretón's 48th work for the stage as the most popular of "zarzuelas", and after this splendid viewing experience, I certainly do not dare disagree. Catchy tunes, an excellent but very down to earth story of love and life, a wholly ingenious set design by a superb trio in the form of Natasha von Steiger, Marie Greffrath and Josanne Lasa (also responsible for the costumes) and Marina Bollain's memorable adaptation and stage direction complete an irresistible issue overflowing with fun and joy.
Indeed, my only disappointment is that the show ends only too quickly. The cabaret section, where two swinging numbers and a love song are thrown in for good measure, is most certainly Bollain's masterstroke. Although this concoction is not part of the original, its impact is infectious and being very close to the end leaves one with a sugary desire for more.
The short but very informative documentary explains why such insertions were always an integral part of zarzuela entertainment, whilst Bollain's conception of the staging is vindicated by a very involving and passionate cast, meticulously directed by the veteran but still bouncy Miguel Rosa. This is an evening at the Festival de San Lorenzo de El Escorial buzzing with a sparkle and wit that is not easily forgotten.
Copyright © 2008, Gerald Fenech