Related Links
Recommended Links

Site News
CD Review
Space Suites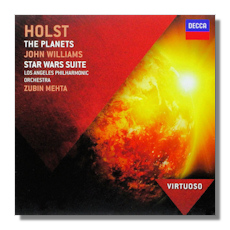 Gustav Holst: The Planets, H. 125
John T. Williams: Suite from "Star Wars"
Los Angeles Philharmonic Orchestra/Zubin Mehta
Decca Virtuoso 4783358
Although these performances were mentioned in a 2006 review of Mehta's 70th Birthday tribute from Decca, this is their most logical and economical release to date. Although The Planets really has nothing to do with space (or the mythological titans, either) it remains a popular item for space-themed albums such as this one. And the Williams Suite is equally special, here played by an orchestra that arguably does this music better than any of the various pick-up bands over the years under the composer's own baton.
The Los Angeles Philharmonic made an earlier recording of The Planets under Leopold Stokowski for EMI. That performance is delightful, a rare case of Stokowski staying relatively true to the score while drawing typically excellent and impassioned playing from the orchestra. Mehta's is even better, a thrillingly executed and daringly virtuosic reading that holds nothing back. It's very well recorded, too. The swift tempos and brazenly confident ensemble are consistently memorable, and only in a few places – the possibly rushed conclusion to Jupiter, for example – do you feel like Mehta lets things go a little too far. What this recording is not is "English", in the sense that it does lack some of the nobility and stateliness that say, Boult and Previn brought to the work. Still, what Gerald Fenech referred to in these pages as "serviceable" is to my ears a good deal more than that.
The Star Wars Suite has been recorded a few times, and of course Williams himself has set down various compilations in addition to leading the official soundtracks. I've never warmed to the London Symphony Orchestra in this music (fine as they are on the original soundtrack), nor have I ever appreciated the "Skywalker Symphony" and other ensembles created especially for the music of Williams. I do enjoy the Boston Pops, with whom the composer still enjoys a working relationship, but often those albums are a hodgepodge of various excepts and pieces from other films. All of this is a long-winded way of saying that I feel there is no finer intro to this music on disc. The Philharmonic sounds spectacular, and the Decca engineers capture the cinematic element of these pieces as well as anyone ever has. While the Suite admittedly lacks some of the greatest (or at least favorite) pieces in the films, fans will love hearing this great orchestra tackle these truly epic tunes. Mehta is excitable and engaged as he is in the Holst, but is also clearly respectful of Williams score. Unlike earlier Eloquence releases, there are brief notes on both composers. This is an ideal introductory disc for kids who love "space" music or the movies, while also a clear winner for veteran collectors as well.
Copyright © 2016, Brian Wigman