Article
The Journey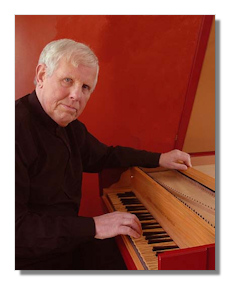 Notes on Recording the Complete Sonatas of Domenico Scarlatti
by Richard Lester
In the year 2000, I embarked on an epic project to record all 600 or so sonatas of Domenico Scarlatti which was subsequently released by Nimbus Records; an enterprise that took around six years to complete, coinciding with the 250th anniversary of the composer's death in 1757. My passion for Scarlatti's music had been ignited by Fernando Valenti's recordings of over 300 sonatas for Westminster Records in the 1950s. Although I had already recorded an LP under Sutton Sound of Scarlatti sonatas in 1976, well received by the critics and chosen as Dame Janet Baker's 'favourite' on BBC 'Desert Island Discs' in 1982, Valenti's memorable performances gave me the inspiration to undertake the Herculean task of recording the complete set. When I had finished recording the 555 known sonatas, several more authenticated works came to light which I also put on disc. It is amazing that when a composer's anniversary crops up, other works are miraculously discovered.
Valenti and I had worked together at Dartington in the early 80s and I was honoured that he had sought my opinion on so many issues during his master classes; he later became my mentor and a great friend. Since those recordings of Scarlatti, Nimbus have released volumes of 16th century Italian harpsichord and organ music, organ masses by Cavazzoni, Gabrieli and Merulo, the works of Girolamo Frescobaldi, Padre Antonio Soler, Franz Joseph Haydn and Wolfgang Amadeus Mozart, all of which provided a most rewarding musical journey for me. In 2016 a CD entitled "A Musical Journey Around Europe" was released which celebrated 400 hundred years of keyboard music.
The decision to record the complete keyboard works of Bach was not taken lightly, especially as at 71, I really should be thinking of settling down to quiet gardening in our lovely Dartmoor home or taking gentle strolls on the Moor with my wife. Fortunately I am able to cover both activities and still find time to explore the works of Johann Sebastian Bach in greater detail.
The release in April/May 2017, of volume one consisting of the Goldberg Variations, Italian Concerto, Chromatic Fantasia and Fugue, Capriccio on the departure of a beloved brother, amongst other works is initially designed to coincide with the 100th anniversary of my teacher, George Malcolm (1917-1997) whose kindness and generosity to me is something I will never forget.
I had learned the piano from the age of five and began organ lessons at twelve. By age seventeen I was appointed organist and choirmaster at All Hallows Church in Twickenham, where I had sung as a chorister since I was six. About that time, my father had bought a ten inch LP of George Malcolm playing the Italian Concerto and the Chromatic Fantasia and Fugue. It was then that I decided that the harpsichord was the instrument for me and although I didn't own an instrument, I was fortunate in having access to one and began to teach myself. After two years with a few recitals under my belt, I remember cheekily contacting George Malcolm through his agent, Ibbs and Tillett who gave me his private phone number. You could do that in those days as there was no data protection. George was very kind and seemed interested in the repertoire I was working on and said that owing to a busy schedule, he didn't usually give private lessons, but suggested I sign up to Dartington Summer School in Devon that year, as he was on the teaching staff and would like to hear me play. I signed up for two weeks and George gave me lessons for a good hour and a half every single morning after breakfast for the fortnight. He refused remuneration, and also fitted in private lessons after Dartington around his hectic schedule. In return I was privileged to turn his pages at concerts and tune his harpsichord. Turning pages for him though, was a nightmare as his music was extremely old and frayed. I remember on one occasion assisting him at the Queen Elizabeth Hall and after turning the penultimate page of the Italian Concerto, the last page simply wasn't there. As I sat nervously wondering if I'd turned two pages by mistake his eyes finally rested on the blank music desk. Undeterred, he simply memorised it. When I enquired afterwards where the page was, he casually said, "probably at home somewhere." After that concert I drove him home along the Chelsea Embankment at high speed, because apart from going on the scariest funfair rides, there was nothing he enjoyed more. It was in 1972 that he suggested I gave a debut recital at the Wigmore Hall in London as it was the venue where most artists made their mark. He was generous enough also to sponsor and attend that concert which was favourably reviewed by the national press.
He also came to the Royal Festival Hall Purcell Room a year later and was delighted, as was I, at the Daily Telegraph review the following morning which began 'Richard Lester, one of our leading players, further consolidated his position in works of stature…' "Hardly the sort of crit' you trample underfoot" he quipped.
Years later, I remember Jane Grey, concert manager at Ibbs and Tillett contacting me to say that George had been taken ill and was unable to fulfil an engagement and had suggested me as a substitute. When I asked when the concert was, she replied, "Tonight" and when I enquired where, she replied "Northumberland." I literally stuffed a load of music in my case, went up to Ibbs in Wigmore Street, collected my train ticket, and from Euston caught the train heading northwards. The concert as it happened went rather better than expected with such short notice and I refused the huge fee as a thank you to George. In the 1980s, again at George's instigation, I was invited to Dartington Summer School to teach and give a late night concert of Soler sonatas. The packed audience consisted of Imogen Holst, Fernando Valenti, Sir William Glock and Peter Maxwell Davies. That also went well as I had remembered the advice given me by the great harpsichordist, Valda Aveling who, when asked how I could conquer nerves, replied in her strong Australian accent, "Darling, if you know the notes, just go out there and enjoy yourself." Thankfully to this day, I still do. On the strength of that concert I was invited by Sir William Glock to play at the Bath International Festival.
All the works I studied with George Malcolm form the basis for Volume one. The project should take around eight years and will be presented in recital format with the probability of releasing them in a more academic configuration later; Preludes and Fugues, Partitas, French Suites, English Suites, etc.
I will always be indebted to George Malcolm for his generosity and inspired teaching, and to Fernando Valenti for his support and friendship: not forgetting Adrian Farmer of Nimbus Records for his faith in me and affording the opportunity to record some important early music.
I am also fortunate that I have an excellent recording engineer, Paul Arden Taylor who records in my studio and really sets you at ease: a consummate professional. A CD usually takes me about six hours to record as I like to be well prepared; it is then edited by Paul which involves using the best takes and ensuring that silences are completely noiseless etc. I generally record a piece three times for safety ensuring that the expression and interpretation is exactly what I wish to put across. I am my own worst critic. I like to have the booklet notes completed first having consulted original sources where available, and also a sense of historical context. In the case of Suites where dance movements are involved, it is imperative to consult historical documents on how they were performed and a general feeling of tempo and spirit. The instrument also has to be in tip top working order and although I tune myself, Colin Booth, the maker, always ensures that the harpsichord is evenly voiced. When completed, I send booklet and master CD to Nimbus to decide on marketing.
Copyright © 2016, Richard Lester