CD Review
Thomas Ashwell/Hugh Aston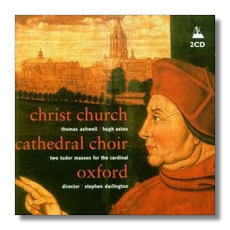 Masses
Thomas Ashwell: Missa Jesu Christe
Hugh Aston: Missa Videte manus meas
Christ Church Cathedral Choir, Oxford/Stephen Darlington
Metronome MET CD 1030/31 DDD 2CDs: 43:21, 49:27
I was intrigued by the idea of hearing one of the world's finest choirs singing music by two English composers previously unknown to me, and on a label with which I was unfamiliar. (These are first recordings.) I was not disappointed!
Both masses come from a collection of Tudor-era music called the Forrest-Heather Partbooks, whose home is the Bodleian Library at Oxford University. We know little about either composer. Thomas Ashwell, who was born around 1482 and died after 1513, was a boy chorister active in Windsor and Lincolnshire, and who eventually came to Durham, where he was master of the cathedral's priory choir. Hugh Aston was born around 1485 and died in 1558. He also held posts in several of England's important intellectual centers. He seems to have been an esteemed musician, and he, like Ashwell, apparently was spoken of in the same breath as John Taverner, who is much more familiar to us today. It also seems likely that Cardinal Thomas Wolsey was a patron, directly or indirectly, of both men's professional lives.
The masses are scored for six voice parts (boy treble, alto, two tenors, baritone, and bass) and are based on a cantus firmus. Of course both are performed a cappella. On the basis of these two masses alone, it is difficult for me to identify what stylistic features distinguish Ashwell from Aston, and Aston from Ashwell. What I can say is that both of these masses are extraordinarily beautiful. The writing is expressive and very long-lined, and the harmonies are luxurious. They are as inspiring now as they must have been in the early 1500s. My relatively limited experience with music from this era inhibits me from making sweeping statements, but to me, this music sounds as alive and imaginative as anything I've heard by Taverner.
The performances are very impressive; the only shortcoming I noticed, and it is minor, is that Christ Church's boys can sound hooty in their upper registers when they are asked to negotiate a trickily melismatic passage. The engineering is outstanding; Christ Church Cathedral itself is as much as a musician here as the men and boys of the Choir. Metronome indicates that further Christ Church recordings are coming. If they are as good as the present one, I will be happy to hear them, no matter how rare or common the repertoire may be.
Copyright © 1999, Raymond Tuttle